Longest serving wrongly convicted inmate claims civil rights were violated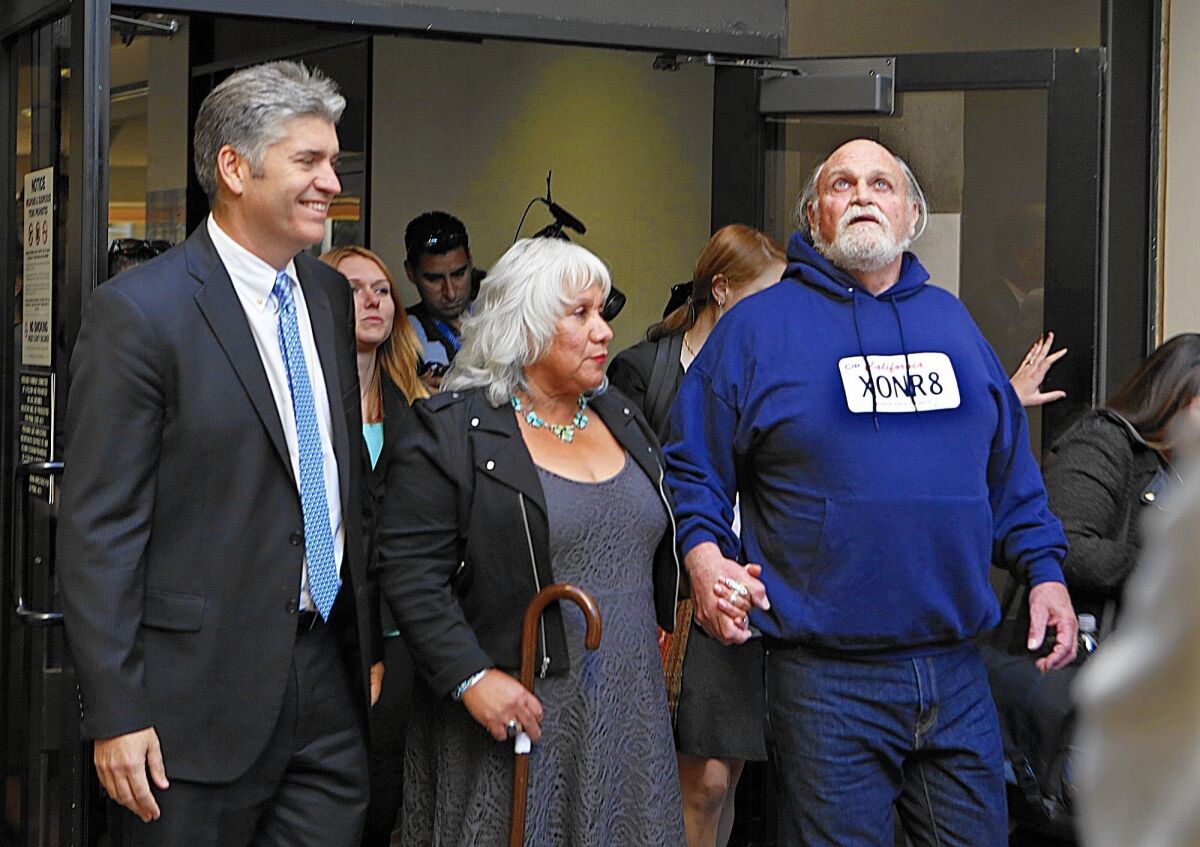 A wrongfully convicted man says in a lawsuit filed this week that Ventura County prosecutors and sheriff's officials violated his civil rights when they imprisoned him for 36 years for a murder he didn't commit.
Michael Ray Hanline, who was freed from custody last year, filed the lawsuit Thursday in U.S. District Court against the Ventura County district attorney's office and sheriff's department, saying his youth and the years he could have spent with his family were taken from him as he wrongfully sat behind bars. The lawsuit did not specify damages.
"Mr. Hanline's resilience and knowledge of his innocence allowed him to survive and even be productive while in prison, but tragically, some of the best years of his life were taken from him based on the unconstitutional acts of employees and agents of the Ventura County Sheriff's Department and the office of the Ventura County district attorney," the lawsuit said.
The district attorney and the sheriff's office did not respond to requests for comment.
Hanline was released from the Ventura County jail in November 2014 after a judge overturned his 1980 conviction in the death of J.T. McGarry, who was shot to death two years before. Hanline has served the most time of any inmate wrongfully convicted of a crime in California.
The decision ended a 15-year effort by Hanline's wife and his attorneys with the California Innocence Project to free him.
"He was deprived of his rights and privileges our society holds most dear: freedom, justice, the ability to raise a family, pursue a career and pursue all of his other dreams," the lawsuit said.
After years of legal wrangling, the district attorney's office acknowledged that the case against Hanline was flawed. Prosecutors said last year that interviews with several people suggested that there were others who had the motive and means to kill McGarry.
After his conviction was overturned, Hanline was required to wear an ankle monitor while prosecutors reviewed his case.
Then in November 2014, the Ventura County district attorney's office decided to drop murder charges against him, citing a lack of evidence.
The prosecutor's office said the case against Hanline was "still supported by probable cause, but cannot be proven beyond a reasonable doubt."
Prosecutors had theorized that Hanline became jealous after learning that he and McGarry were romantically involved with the same woman. They alleged that Hanline and an accomplice killed McGarry in 1978. Hanline was sentenced to life in prison without parole.
Years later, officials discovered that DNA evidence collected at the crime scene did not match Hanline's or that of his alleged accomplice, according to court documents. A key witness was also under the influence of drugs when she testified against him, they learned.
Hanline's lawsuit alleges that prosecutors and deputies were desperate to convict him, so they steered the investigation toward a false conclusion: that he killed McGarry.
The lawsuit alleges that the deputies and prosecutors withheld the names of witnesses, refused to turn over reports, provided false evidence in statements and reports, concealed evidence and improperly influenced testimony.
Prosecutors and deputies acted "maliciously, callously, oppressively, wantonly, recklessly and with deliberate indifference," the suit claims.
For breaking news in California, follow @VeronicaRochaLA.
---
Life is stressful. Our weekly mental wellness newsletter can help.
You may occasionally receive promotional content from the Los Angeles Times.