Column: Bye-bye Silver Lake, hello Pacoima: How one couple tackled L.A.'s sky-high real estate prices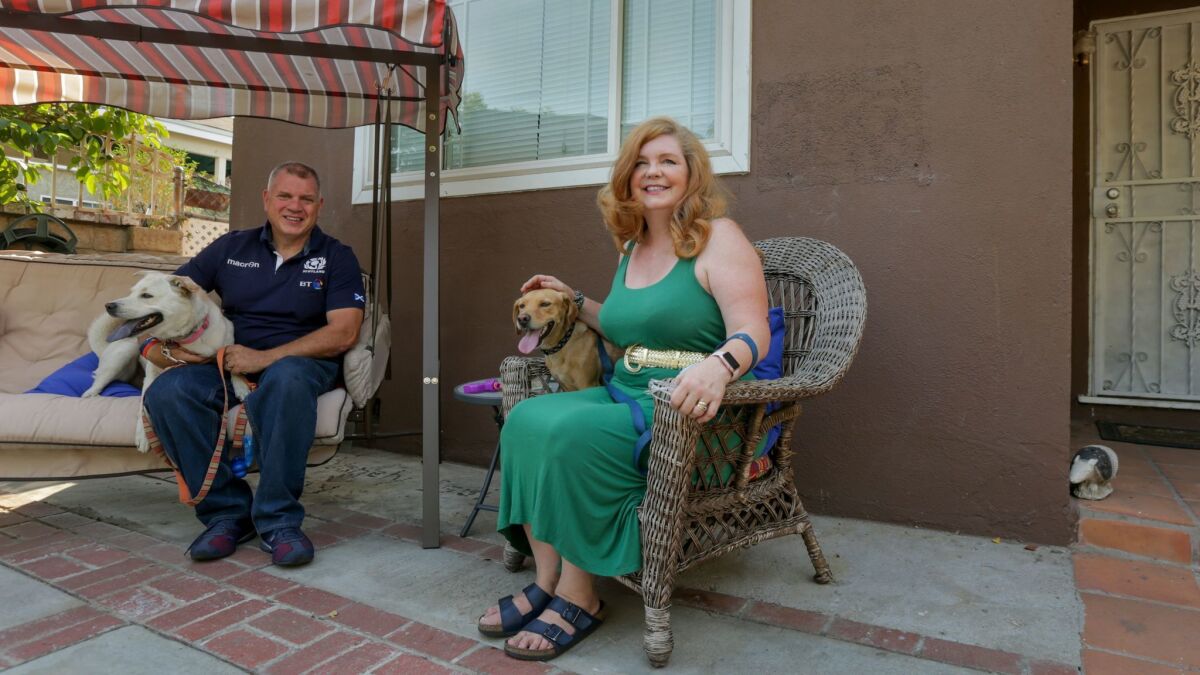 Steve Adams, a nurse, and Rebekah Adams, a funeral director, arrived in Los Angeles five years ago from Minnesota, ready for a new adventure.
They weren't naive about it. No illusions of living on a beach compound or anything like that. But they did not expect the sticker shock to feel like an electrocution.
They've seen their rent spike. They've survived the drama of bidding wars. They've moved farther away from where they hoped to be.
In other words, they're officially Angelenos now.
Let's go back to Minneapolis, though, and their roomy four-bedroom house in the suburbs, where they raised two kids. Several years ago, a car accident left Rebekah with a head injury. She had to stop working, the bills piled to the ceiling, and she and her husband — both Air Force veterans — lost the house.
Steve got into one of those roving nurse programs, and when Children's Hospital of Los Angeles offered him a job, he suggested they make the big move west so Rebekah could continue her recovery in a warm climate.
"I didn't want to be too far from work," said Steve, who likes commuting by bicycle and public transit.
So the Adamses, in their 50s, settled on a one-bedroom apartment on Riverside Drive — where Silver Lake and Los Feliz come together — even though they thought $1,500 a month was steep for a small one-bedroom. In Minneapolis, the monthly mortgage on that big abode was a mere $1,100.
Little did the couple know that they had chosen to live in what has been called, by some, the hippest neighborhood in the U.S. They certainly didn't think of themselves as hipsters,and Rebekah is sure she saw an eye or two roll when she and Steve hit some of the hot spots. But they enjoyed occasional outings to the Dresden, the Red Lion and Hyperion Public. Rebekah particularly liked dropping into the Tam O'Shanter in Atwater Village.
As they settled into local life, Rebekah recovered from her injury, found work as a funeral director, and all was well for the Midwestern transplants.
Except for one thing.
The rent could not be tamed.
When they were notified that another bump this year would catapult them above $2,000 a month, they began looking for a new place to live.
That's when they found out rents were cuckoo everywhere, and you don't get much for your dollar. They thought they'd look into buying — making an investment, in other words — instead of throwing money at constantly rising rents.
Good luck there.
Silver Lake and Los Feliz were out of the question, even with two decent salaries. Steve had switched to Keck Hospital of USC, so they started checking the listings in Boyle Heights. Too expensive. Then Lincoln Heights. All the Heights were too high.
"I was dumbfounded to see that even on our budget of roughly $400,000 … the only houses we could find looked like they had been crack houses," Steve wrote to me, saying he had seen my column on a former legal secretary living in her car in a hospital parking lot while undergoing dialysis and waiting on a kidney transplant.
"A lot of us are one catastrophic illness away from being homeless," he wrote. "What kind of city is Los Angeles going to be when the only people who can afford to live [here] are the very wealthy or the upper middle class? I'd be hard-pressed to imagine how anybody who is a construction worker, or a policeman … or city worker can afford to live [here]."
Often, they don't. They head north, or inland, or to the southeast.
As The Times' Andrew Khouri reported Tuesday, high demand, short supply and low interest rates drove home prices up again in July, to near all-time highs. The median price in L.A. County was $575,000, an 8% increase from a year earlier. In Orange County, a 7.9% rise took the median price to $690,000.
Relative bargains were still available in the counties of Riverside ($365,000 median price) and San Bernardino ($305,000), but the Adamses are not willing to join the many long-distance commuters who burn away precious hours of their lives every day.
"We've lived all over the United States and I've never seen this disparity between the haves and have-nots," said Steve.
"The middle class is becoming a mythical beast," said Rebekah.
She and her husband may not have been here long, but they were on target when they attributed part of the problem to the long-ago loss of blue collar jobs in manufacturing, aerospace and other industries.
"When we looked at what we could qualify for and still be in Los Angeles, that was Pacoima, San Fernando and Sylmar," said Steve. "I thought, 'Well, it's a fairly blue collar area. It's not Beverly Hills and it's not Santa Monica.' "
But if they could find a place near a Metrolink station, he could do a bike/train commute to work and get in his daily exercise. And Rebekah would have a relatively easy drive to her job in Reseda. In the Air Force, they lived in a Latino neighborhood while stationed in San Antonio, and Steve speaks a little Spanish. So as they shopped for a home in the Valley, the Adamses felt comfortable about the prospect of "being the only Anglos for blocks around," as Steve put it.
"As a funeral director," Rebekah added, "I work with a lot of different cultural groups, so that didn't really concern me."
Naturally they wanted to feel safe wherever they ended up, so Rebekah studied blocks for bars on windows and general upkeep. Some streets looked a little risky. Others looked just fine. All they had to do was find the right house.
One thing the Adamses did not count on— a universe away from the hot property hysteria of high-rent, hipster L.A. — was bidding wars. They found a house they loved, put in an offer, and didn't come close. In their second bid, they whiffed again. Houses were going for above asking.
Is Pacoima going to follow Highland Park, Boyle Heights and other communities where gentrification has brought transformation and friction, with waves of both winners and losers?
After two disappointments, the Adamses found a two-bedroom, two-bath number in Pacoima, just under 1,000 square feet of living space, with a tidy fenced-in front yard where they could let their two dogs and cat have a romp. It had been listed at $399,999 in the spring, then the price was upped to $425,000 in May.
The Adamses offered close to that amount, got the house and moved in this summer.
"I guess you could say it hasn't been 100% roses," said Steve. He told me a neighbor's dog got loose and attacked the Adamses' Chihuahua, which didn't survive. "But that's been the only negative thing."
Neighbors welcomed them, they said. There's no Red Lion, like there was in Silver Lake, but there's Chabelita's. There's no Tam O'Shanter, but there's El Indio.
"You've got ice cream trucks, and you've got dads coming out with their kids to buy them ice cream. I didn't see that in Silver Lake," said Steve. "You drive up Van Nuys Boulevard and they've got spectacular murals of Ritchie Valens, Frida Kahlo, Danny Trejo."
Thursday night, I sat with the Adamses in their living room. Their new dog, Lady, joined their pup Stogie and a cat named Elmer, and everyone seemed comfortable in the new house.
They pay close to $2,600 a month now, which is more than they paid for their apartment, but they've got way more space, and they're playing the L.A. equity game. Steve said Rebekah recently checked their home on one of those sites that estimates real estate prices.
Their home has "already gone up $10,000 in value."
Good thing they bought when they did.
ALSO
After six months in immigrant detention, taquero whose arrest was videotaped walks out an advocate
You'd never guess this luxury beach house in Malibu is actually a double-wide trailer
---
The stories shaping California
Get up to speed with our Essential California newsletter, sent six days a week.
You may occasionally receive promotional content from the Los Angeles Times.