In event of a Newport Pier blaze, wait time for fire boats is a major concern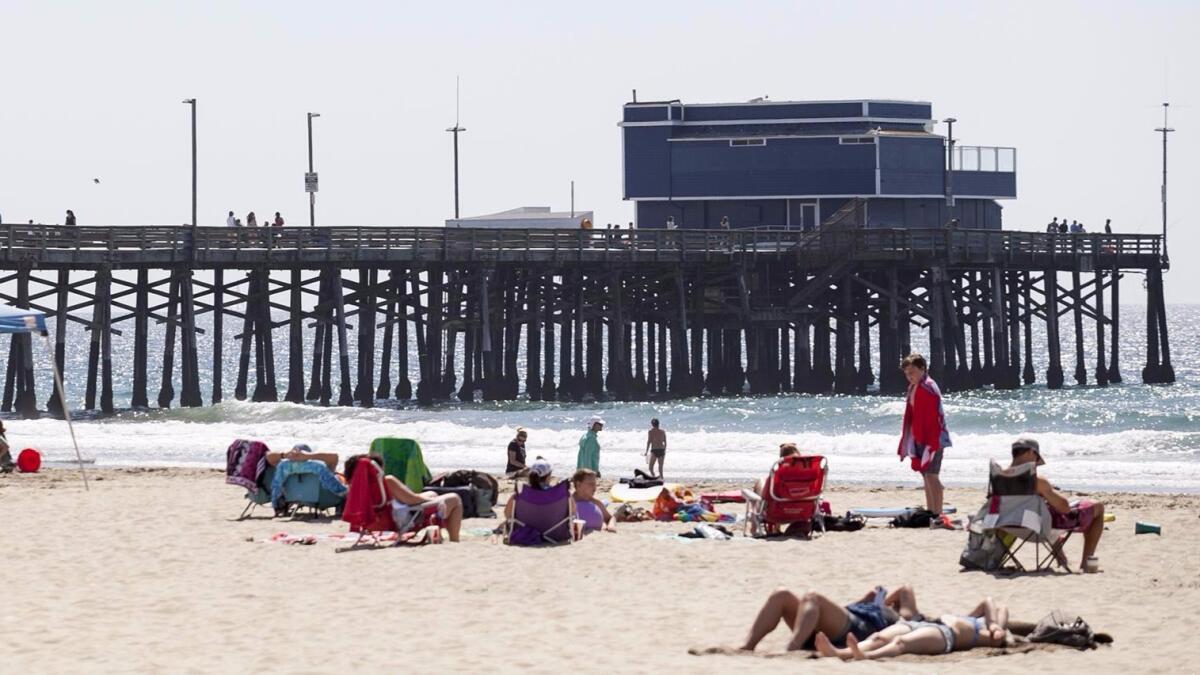 Newport Beach could have to wait up to 90 minutes for large fire boats from nearby agencies if one of the city's wooden piers catches fire.
In the aftermath of a dramatic blaze that destroyed the vacant Ruby's restaurant building on the Seal Beach Pier in May, Newport officials are evaluating their resources and determining how they would react if the Balboa or Newport piers were in flames.
"Use of fire boats is one of the main things we're looking at," Fire Capt. Ty Lunde said.
In fact on Sunday, less than a week after Asst. Fire Chief Chip Duncan had explained to the City Council the intricacies of fighting a pier fire, hundreds of beach-goers were evacuated because of a small blaze on the end of the Newport Pier.
By the time four fire engines and paramedics arrived, the fire, started by smoldering cigarettes, was already out.
"It was a great reminder of why we need to be prepared," Mayor Diane Dixon said Wednesday.
During the council meeting, Duncan presented challenges that his staff could face in a large-scale pier fire.
"Probably the biggest difficulty for us that was a benefit for Seal Beach was they had direct access to the fire boats from Long Beach and L.A. Harbor," Duncan said. "They're right there, so they responded quickly."
Though there are enough resources to fight a pier fire from land, access to boats with the ability to combat a large blaze is the main challenge, Duncan told the council.
Since both piers have a 3-ton weight limit, it would be impossible for crews to drive a firetruck onto either of them. Instead, Duncan said, they would rely on firefighters running the length of the pier with their equipment, as well as help from fire boats, which can shoot water underneath the structure, where electrical and plumbing lines run.
The Orange County Sheriff's Department Harbor Patrol has one boat in Newport Harbor that could be used to fight a pier fire. The rest of its boats are too small, more equipped to extinguish fires on vessels.
Newport would need to rely instead on other agencies, Duncan said.
Long Beach's larger fire boats could take up to 90 minutes to get to Newport Beach. Smaller boats likely would take up to 40 minutes.
"The time it would take to get out there would make it questionable how effective they would actually be when they arrived," Duncan said.
After watching some of the fire-protection systems on the Seal Beach Pier fail while the Orange County Fire Authority was attacking that blaze, Newport firefighters checked and repaired similar systems on the city's piers.
The City Council will probably hold a study session on the issue, Dixon said.
Fry writes for Times Community News
ALSO
Two babies in California born with microcephaly from Zika, officials say
'Something you see in the movies': Motorcyclist opens fire on L.A. freeway motorist
Deadly 51,000-acre wildfire near Big Sur spreads into footprint of massive 2008 Basin Complex fire
Sign up for Essential California for news, features and recommendations from the L.A. Times and beyond in your inbox six days a week.
You may occasionally receive promotional content from the Los Angeles Times.