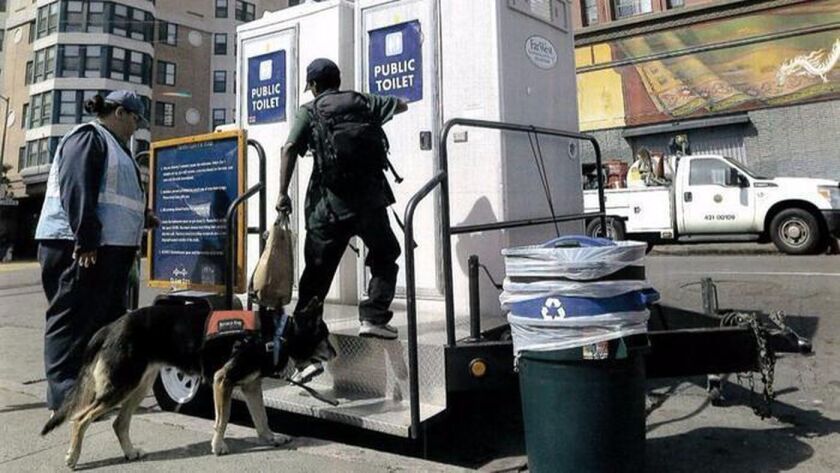 An Orange County agency has dropped a long-discussed proposal to develop new public restrooms aimed at serving the local homeless population.
Though Costa Mesa Sanitary District board members didn't take an official action at their meeting Thursday, they appeared in agreement that there isn't enough community support for the idea — a perspective recently reflected in a survey that showed many local businesses opposed the concept.
"At this point, I believe the proposition is dead," said district General Manager Scott Carroll.
Sanitary district officials have discussed the public restroom proposal for more than a year. Such facilities, they said, would give homeless people a safe and hygienic place to relieve themselves and help improve public health and sanitation by reducing public urination and defecation.
They eventually focused on the idea of mobile restrooms — in which portable toilets would be placed on a trailer so they could be stationed wherever they were needed. A paid attendant would be present at all times to make sure the restrooms were clean and used for their intended purpose.
That kind of program, the district believed, would keep the restrooms from becoming hotspots for drug use or other illegal activity. Such issues have popped up in other public restrooms in Costa Mesa, including those at Lions and Wilson parks.
In November, the district committed $21,500 to cover half the estimated cost of a six-month mobile restroom pilot program and asked the city of Costa Mesa to devote the remainder. City Councilman John Stephens took the proposal to his colleagues in February, but the full council decided the idea needed additional study and public outreach before moving forward.
The sanitary district subsequently commissioned a survey of select local businesses regarding homelessness.
Though the vast majority — about 80% — of the roughly 280 businesses that participated in the survey said local homeless people have affected them in some way, 49% said supervised public restrooms would not alleviate the issues. More than half said such facilities would not have a positive effect on their operations.
Sanitary district board President Mike Scheafer said he was surprised the survey results were so negative but added he's "proud that we took the humane approach and looked for alternatives."
"Even though we were labeled not just 'idiots' but 'freaking idiots' by a council member, I'm really proud of this body," he said, referring to a February comment by Councilman Jim Righeimer about district board members who supported the proposal.
Board Vice President Jim Ferryman, who first raised the public restroom idea in January 2017, also seemed taken aback at the unfavorable reaction in the survey.
"What do they think, this is going to go away on its own?" he said, referring to the homeless issue.
But, he added, "We should just drop it at this point."
Stephens said Friday that he thought the survey provided useful information about how homelessness affects local businesses. Respondents cited loitering and littering among their major complaints.
Stephens said outreach efforts should continue and that he plans to ask the council to devote additional funding to address issues like those raised in the survey.
"The whole survey kind of fired me up to really focus on addressing the impacts of homelessness on our business community, because it's obviously a very serious issue," he said.
Money writes for the Daily Pilot.
---