O.C. pushes homeless off the street but can't find anywhere to shelter them
Anaheim removed bus benches near Disneyland in response to complaints about homeless people sleeping on them and loitering nearby.
Then Orange County pushed hundreds out of an encampment along the Santa Ana River trail. Officials have also vowed to remove the tent city that has taken root at the Santa Ana Civic Center.
But as the county and some of its cities take steps to push out homeless people, the problem of where they should go remains unsolved. And it became abundantly clear Tuesday that finding places willing to host new homeless shelters is going to be a huge political challenge.
More than 1,000 people converged on the Orange County Board of Supervisors meeting to protest a plan to relocate those removed from along the river to temporary shelters in Irvine, Huntington Beach and Laguna Niguel.
The large protest concluded with a 4-0 vote to scrap what had been the center of an ambitious plan, leaving the affluent county at square one as it faces a federal lawsuit aimed at finding more homes for the unsheltered.
Just a week earlier, the board had voted to move forward on the shelter proposal, only to face a public backlash and threats of lawsuits.
Many of the homeless people who were moved from the Santa Ana River trail are staying in motels, but the last of the remaining vouchers handed out to them will expire this week. No one is sure where they will go next.
Some protesters at Tuesday's meeting said they shouldn't have to worry about where to put the homeless.
"Who cares? This is not our responsibility," said Abby Moore, a retiree from Laguna Niguel. "We are not elected to handle this crisis. I just don't want to be near the homeless."
Angela Liu of Irvine said she did not know where the homeless should go. But it should not be in her city, she said.
"They need to put them somewhere, maybe somewhere else in California," said Liu, who owns a legal services company. "I really don't know where they can go. But Irvine is beautiful and we don't want it to get destroyed."
Others suggested the government should simply do nothing. U.S. Rep. Dana Rohrabacher (R-Costa Mesa) criticized "the spectacle of county-financed homeless compounds setting up shop in our local communities."
"As a parent who owns a modest home in an Orange County neighborhood, I join the outrage that we are assuming responsibility for homeless people, taking care of their basic needs and elongating their agony by removing the necessity to make fundamental decisions about the way they live their lives," he said in a statement.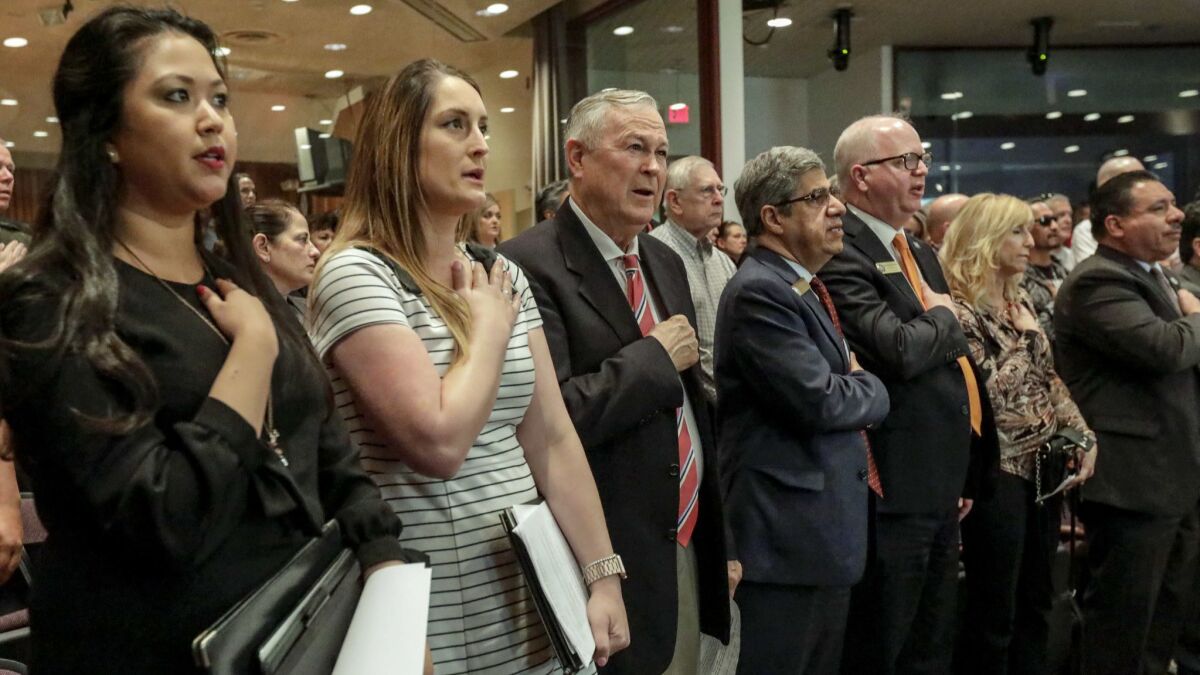 The political drama began in January when Orange County officials began clearing out the sprawling river encampments in response to complaints from nearby residents about crime and blight. But the county's existing homeless shelters are already at capacity, and a federal judge, David O. Carter, has ordered local governments to find places for the evicted people to live.
Carter temporarily halted the evictions and toured the camps.
Supervisor Shawn Nelson said that after Carter's order "we were not given time to go on a tour to talk to cities" where the temporary shelters would be located.
"Of course, you're criticized on having created a plan but with limitations," Nelson said. "We did the best we could."
Following the vote Tuesday, Nelson said county and city officials will meet with Carter on April 3. Nelson said he expects the judge to "push a lot of cities to see if we can come up with a host of emergency shelter beds."
A large homeless encampment remains in the Santa Ana Civic Center. But Supervisor Andrew Do said last week that officials plan to eventually remove about 200 people from there soon. It's unclear where they would go.
Santa Ana City Councilman Juan Villegas said his city has taken on an outsized burden of the homeless crisis and that it was time for other cities to help out.
"We have taken the brunt of this issue," he said. "We have taken the brunt for decades and our residents deserve to feel safe, and we want public safety also."
Some homeless activists expressed dismay at the supervisors for changing course and bowing to political pressure.
"They lost their moral courage," said Joshua Collins, founder of Homeless Advocates for Christ.
Last week's vote in favor of establishing temporary shelters in Huntington Beach, Irvine and Laguna Niguel marked the county's most concrete effort yet to find housing for the unsheltered. But the move immediately drew rebukes from residents of the cities, and Irvine and Laguna Niguel both sued to block the county's plan.
Huntington Beach officials contended that a site on Gothard Street proposed for a shelter is contaminated with methane.
On Tuesday, ahead of the supervisors' meeting, a caravan of 22 chartered buses arrived at the Hall of Administration carrying more than 1,200 Irvine residents. They circled the building, repeatedly shouting "No tent city!"
During the meeting, Supervisor Lisa A. Bartlett apologized to residents of the three cities where the temporary shelters had been proposed.
"There has been a lack of clear information and that has caused unnecessary pain," she said. "Nothing was approved or built and no homeless were ever relocated to any of the cities."
Orange County faces special challenges because it has a relatively sparse infrastructure of services and support for homeless people.
Last year, Anaheim removed benches from bus shelters near Disneyland after callers alerted City Hall to reports of vagrants drinking, defecating or smoking marijuana in the neighborhood near the park's entrance, officials said.
Kelvin Hsieh, a tech company manager who has lived in Irvine since 1996, said that he and fellow demonstrators were compassionate, but "we just don't want to create more problems."
"They know that we are an affluent city with lots of immigrants, so they think we will automatically welcome other people," he said before the supervisors' vote. "They don't tell us how they will solve potential safety and environmental issues when they bring strangers here."
Hsieh attended the protest with his 10-year-old daughter, Ava, who is on spring break.
"I don't feel good about this because I don't like drugs," she said. "My dad says there are needles everywhere where the homeless live."
---
Life is stressful. Our weekly mental wellness newsletter can help.
You may occasionally receive promotional content from the Los Angeles Times.