New charges added to corruption case against Palmdale mayor and two others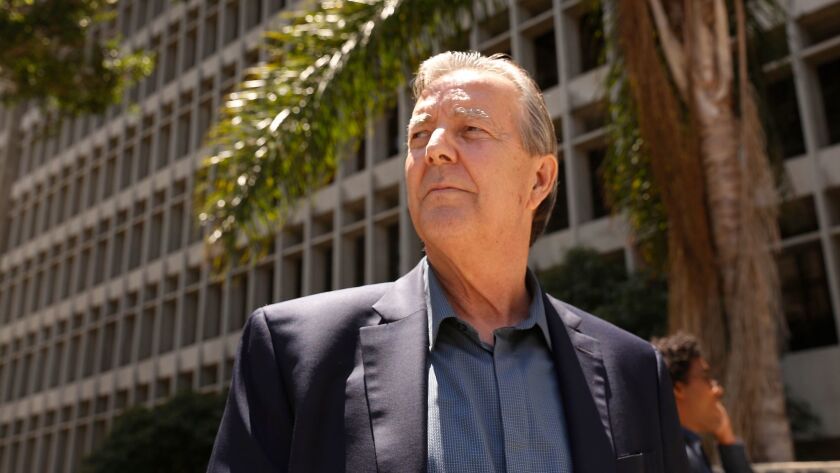 Palmdale Mayor Jim Ledford — who is awaiting arraignment on five felony counts accusing him of illegally receiving more than $60,000 a year from local consultants and failing to publicly disclose the income on economic disclosure statements — was charged Wednesday with a misdemeanor count of using an official position for personal gain.
Ledford, 64, appeared in a downtown Los Angeles courtroom, but his arraignment was postponed to March 28 at the defense's request.
Ledford, who was elected to his 13th two-year term as Palmdale's mayor in November 2016, was charged in June with one count each of conspiracy to commit a crime and conflict of interest, and three counts of perjury by declaration.
Prosecutors added four new felony counts of filing a false tax return against Kimberly Anne Shaw, 62, of Yorba Linda, who had been a consultant for the city of Palmdale for two decades. Shaw and co-defendant Susan Burgess Miller, 69, of Las Vegas, were charged last year with one count each of conspiracy, embezzlement and misappropriation of public funds.
Ledford, Shaw and Burgess are all free on $75,000 bond.
"As everybody knows in the United States of America, even politicians ... are entitled to the presumption of innocence," Ledford's attorney, Anthony Falangetti, told reporters outside court shortly after the case was filed last year. "At this point, no evidence has been presented. All we have is accusations, and those accusations have been filed in court — that's all we know. So as long as they pend, we will find out the truth over time as evidence is taken, but until that time my client, of course, is presumed innocent."
Falangetti said his client has "dutifully served the city," telling reporters that Palmdale has seen "positive growth, a number of things that have benefited the city, including the subject matter of the charges, the AERO Institute."
"My client has consistently been aboveboard with his involvement both in that and in other projects with the city," Falangetti said.
The criminal complaint alleges that the defendants used various shell companies to pay Ledford about $5,200 a month.
Miller, doing business as Complex Culture Change Consulting, hired Ledford in August 2009 as a consultant at or around the same time the AERO Institute began paying Miller's firm nearly all of its monthly income, the criminal complaint alleges.
AERO Institute paid Miller's consulting firm more than $13,000 a month over a four-year period, and the company, in turn, allegedly paid Ledford $5,200 a month. Prosecutors allege that Ledford did not perform any substantive work for AERO Institute during that time period.
The criminal complaint alleges that Ledford "willfully made or influenced a contract in which he knew he had an indirect financial interest" when he voted in favor of a seven-year contract between the city of Palmdale and Shaw, but that he "failed to disclose that he was indirectly receiving substantial income from AERO Institute, a non-profit corporation controlled by defendant Shaw."
Ledford is also accused of "knowingly, intentionally and deliberately" failing to disclose on economic disclosure statements in 2015, 2016 and 2017 "that he had received substantial income the preceding year from AERO Institute, a business with which the city of Palmdale had a contract for rent and other services."
If convicted as charged, Ledford could face up to four years and eight months in state prison, and Shaw and Miller could each face up to four years behind bars, according to the district attorney's office.
---
The stories shaping California
Get up to speed with our Essential California newsletter, sent six days a week.
You may occasionally receive promotional content from the Los Angeles Times.