Another day of grim discoveries as death toll rises to 42 in Camp fire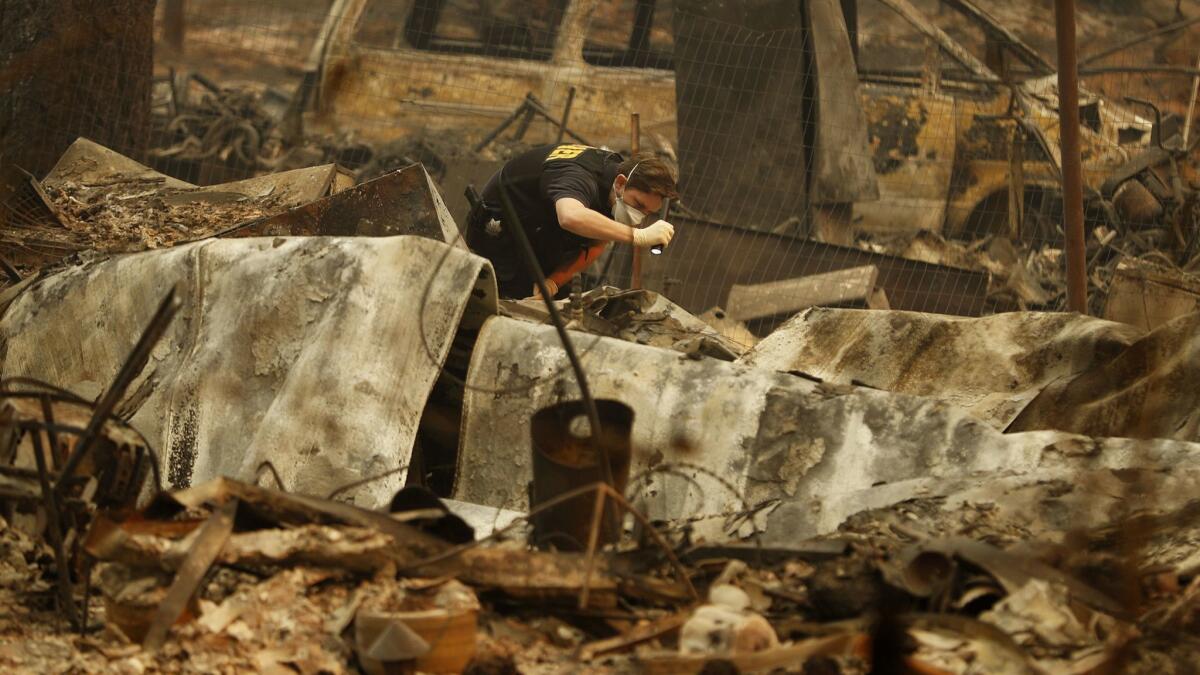 Reporting from Paradise, Calif. —
The death toll from the Camp fire climbed to 42 on Monday, making it the deadliest wildfire in California history, as search teams sifted through rubble and ash in and around Paradise for additional victims.
One search crew checking addresses of people reported missing found a body on the front steps of a burned-out trailer in the Ridgewood Mobile Home Park. Team members spent the rest of the day picking their way through debris, turning over metal frames and shattered furniture.
By the time the hearse arrived, the body was in a blue bag. Victims' remains were found in cars and homes, in Paradise and surrounding communities, authorities said.
"If you've been up there you understand the magnitude of the scene we're dealing with," Butte County Sheriff Kory Honea said at a news conference Monday night.
Other teams brought cadaver dogs to canvass neighborhoods with no particular addresses or individuals in mind. At a home on Fawndale Road, a crew bagged up the remains of a family pet in sandwich-sized blue bags.
Honea said anthropologists from Cal State Chico and the University of Nevada, Reno with expertise in identifying human remains were helping in the grim search effort into mass casualties. In addition, Honea has requested 150 additional search and recovery workers, two military mobile morgues and a rapid DNA identification system.
"I understand the toll that it takes on people not knowing what became of their loved ones," the sheriff said. "My sincere hope is I don't have to come each night and report a higher and higher number."
The fire started Thursday near Camp Creek Road in Butte County, racing through 117,000 acres and burning hot enough to melt metal. The fire was 30% contained Monday evening.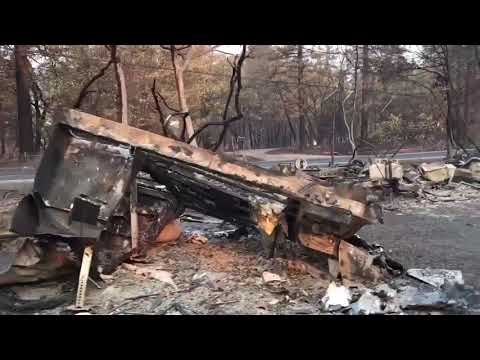 An eerie aftermath settles over areas scorched by the Camp fire in Butte County.
At least 29 people died Oct. 3, 1933, in the Griffith Park fire, until now the state's deadliest wildfire. The rising death count of the Camp fire — which already notched the biggest property loss in state history, with more than 7,100 lost structures — edged out the Depression era-conflagration.
The toll is likely to rise again. Authorities said Monday they have cleared less than 1 in 7 of the more than 1,500 reports of people unaccounted for in the disaster.
On Monday, Paradise resident Teresa Moniz's hand shook as she added her husband's name — "Albert Moniz, aka Pete" — to a list of missing persons taped to a board at the Neighborhood Church in Chico.
She was in nearby Magalia on Thursday when her husband called from home, saying "There's a fire, I have to get out," she recalled, her eyes filling with tears.
He called again from a friend's house, but that was the last time she heard from him. Their house burned down, and Albert Moniz, 67, is disabled and has no cellphone, his wife said.
"I've been checking the motels," she said.
The stark reckoning of the fire's toll was broken Monday by news of one pet reunion. Wade Lovett found his husky Luna — ears burned and fur singed — through a social media posting.
"She had this pout, and that's her face. As soon as I saw that, I said, 'That's Luna,'" Lovett said. "She's a beautiful dog, but when she pouts, she pouts."
On Thursday, Luna somehow rolled down the passenger side window with her paw and leaped out as Lovett barreled out of Paradise in a neighbor's truck. Lovett chased her by truck and on foot for nearly an hour until the flames got too close.
Lovett made it to Chico and so did Luna, who arrived aboard a bus carrying fire escapees to an evacuation center.
Nicole Clift, a center volunteer, took in the dog. Luna had a collar but no tags or chip, so Clift posted her photo, looking highly disgruntled, on social media.
Lovett claimed Luna on Saturday night by identifying the words written on her collar: Service Animal.
"We were ecstatic," Clift said. "I was anticipating a lot of different endings but this one was the best."
Lovett's family helped settle Paradise in the 19th century. He and his father, as well as other family members, all lost their homes in the disaster, but Lovett said he remains remarkably calm because Luna's return instilled "a sense of normalcy."
"We'll do things like housing and all that as the time comes," Lovett said. "I feel complete now that my family is safe and Luna, who's also part of my family, is also safe."
Times staff writer Gale Holland contributed to this report.
Twitter: @JosephSerna
Twitter: @melmason
dakota.smith@latimes.comTwitter: @dakotacdsmith
Sign up for Essential California for news, features and recommendations from the L.A. Times and beyond in your inbox six days a week.
You may occasionally receive promotional content from the Los Angeles Times.