Southern California Gas to pay $4-million settlement over massive Porter Ranch gas leak
Southern California Gas Co. pleaded no contest to end a case filed by Los Angeles County prosecutors over a gas leak.
Southern California Gas Co. agreed to pay $4 million to settle criminal charges over the massive gas leak near Porter Ranch last year, but the utility still faces potentially costly civil actions from both residents and regulators.
The settlement ends a prosecution brought by the Los Angeles County district attorney's office, which accused the gas company of failing to properly notify authorities when the largest recorded methane leak in U.S. history first occurred. The leak forced thousands of residents to flee their homes for months as officials worked to cap the leak.
The gas company pleaded no contest to one misdemeanor count of failing to immediately notify the California Office of Emergency Services and Los Angeles County Fire Department of the leak that began on or around Oct. 23, 2015, in the Aliso Canyon natural gas storage field.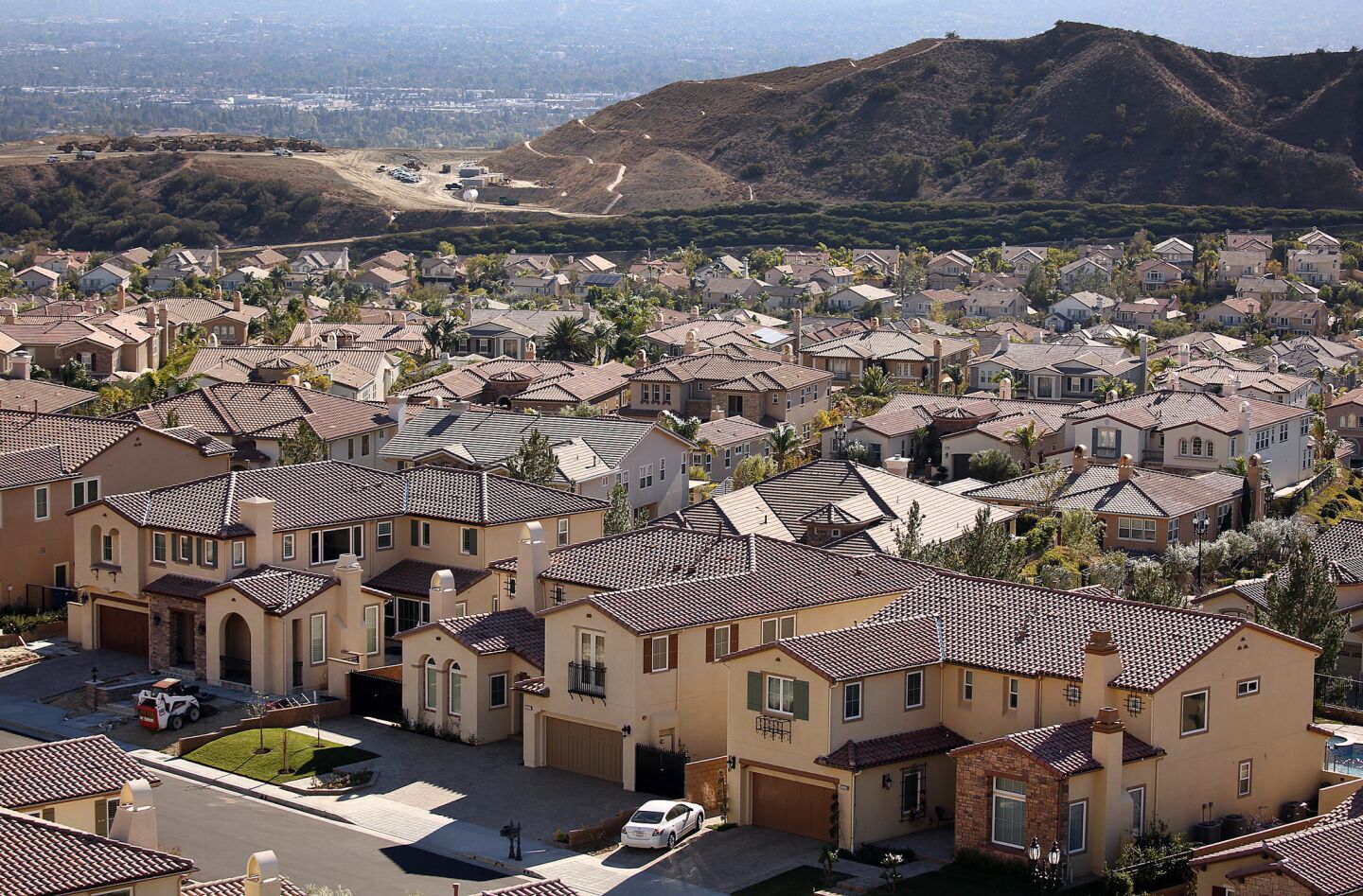 The Southern California Gas Co. leaking well forced thousands of residents in and near Porter Ranch to temporarily relocate.
(Al Seib / Los Angeles Times)
Signs and gates on the Porter Ranch hillsides indicate the boundary of Southern California Gas Co., where an ongoing gas leak has prompted hundreds of complaints.
(Al Seib / Los Angeles Times)
Porter Ranch resident Jaimee Choi prepares for her first day at work as a manager at a restaurant while her father, Francis Choi, hugs the family dog in a Burbank hotel after they were displaced by a gas leak near their Porter Ranch home.
(Marcus Yam / Los Angeles Times)
Lori Choi, right, and her daughter, Jaimee Choi, walk their dogs outside the Burbank hotel where they are staying after they were displaced by a gas leak near their Porter Ranch home. "We've come to Burbank for the clean air," Jaimee joked.
(Marcus Yam / Los Angeles Times)
Jaimee Choi prepares for her first day at a new job by studying work material in a Burbank hotel where she is staying with her family.
(Marcus Yam / Los Angeles Times)
Parents pick up their children at Porter Ranch Community School in the North San Fernando Valley just south of the Southern California Gas Co. Aliso Canyon Storage Facility. Filters are being installed in the school's ventilation system to help with the smell caused by a nearby gas leak.
(Al Seib / Los Angeles Times)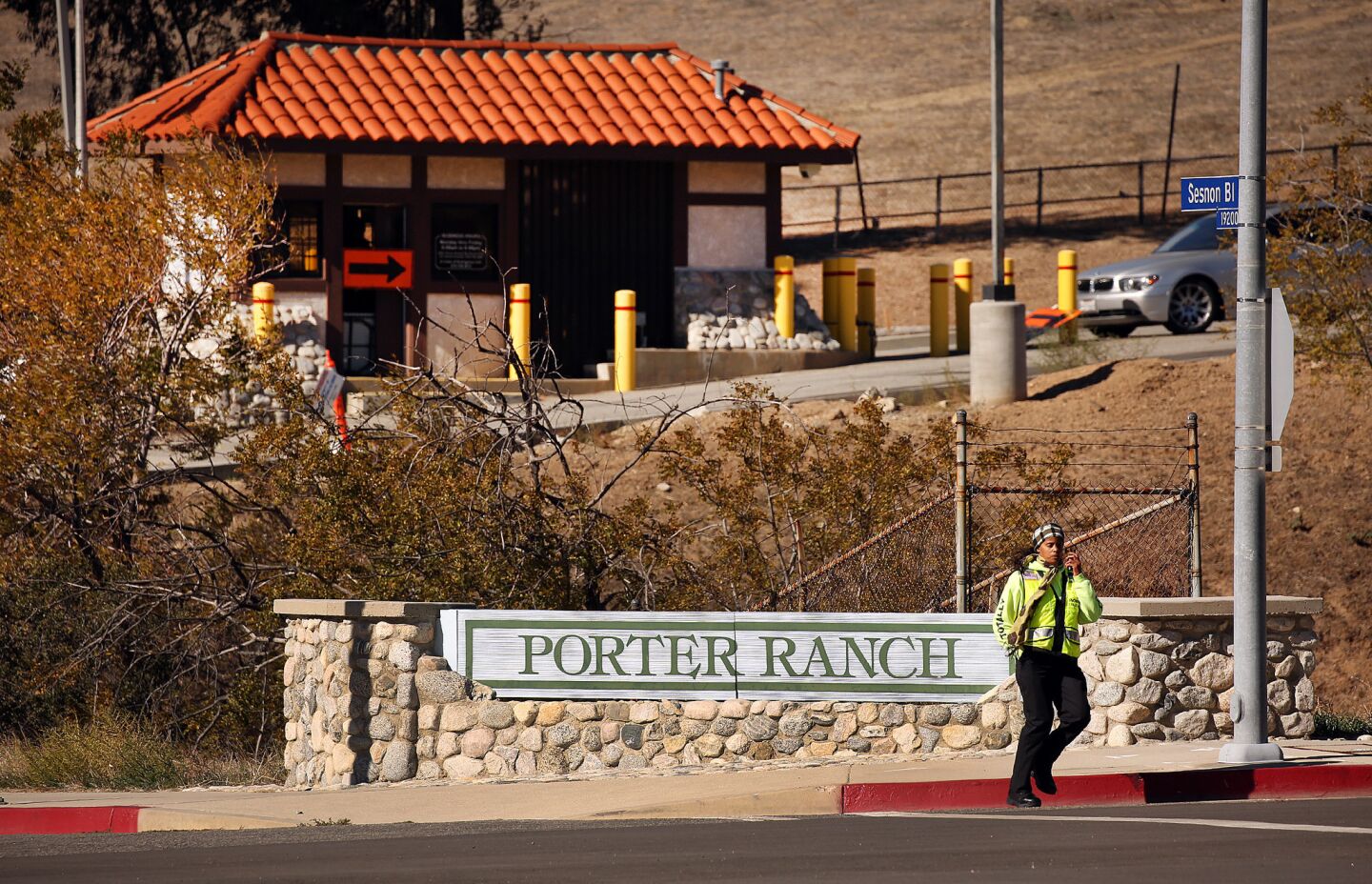 The entrance to the Southern California Gas Co. Aliso Canyon Storage Facility sits at the intersection of Tampa Avenue and Sesnon Boulevard in Porter Ranch.
(Al Seib / Los Angeles Times)
The leak has cost the utility more than $700 million, according to filings with the U.S. Securities and Exchange Commission. But the utility is still dealing with more than 100 lawsuits representing thousands of residents, some of whom say the leak caused health problems and reduced the value of their homes.
The gas company also faces a lawsuit by the California attorney general, who accused the company of violating the state's health and safety laws by failing to promptly control the leak and alert authorities. That lawsuit seeks financial penalties, as does a third case brought by Los Angeles. Los Angeles County sued to force the utility to install safety valves on its wells. And the South Coast Air Quality Management District is also seeking a fine from the company.
It's unclear how much this will end up costing the utility. Gas officials told federal regulators that they are insured for as much as $1 billion.
The settlement with L.A. prosecutors includes a host of safety measures that go beyond what is already required by state and local laws.
The gas company will install eight infrared methane leak detection systems along the southern border of the Aliso Canyon gas field. It will also install real-time pressure monitors at each storage well. An outside company will be brought in to test and certify the instruments.
The gas company agreed to hire six full-time employees to monitor those detection systems over the next three years. Employees will also undergo training related to leak detection.
In a statement, utility officials called the settlement "another important step in our efforts to put the leak behind us and to win back the trust of the community."
But people living in nearby Porter Ranch pointed out that the settlement doesn't do much to prevent a leak — the measures instead focus on identifying a leak once it's begun. In fact, the night before the settlement was announced, gas company officials said they found a leak in an above-ground pipe used to withdraw gas from Aliso Canyon.
"There is no change in the way the wells are configured in the field and the way they tap into the storage of gas," said Issam Najm, president of the Porter Ranch Neighborhood Council. "Therefore, to that end, we don't see that there's any substantive change in the safety of the system."
Alexandra Nagy with the environmental group Food and Water Watch put it more bluntly: "This fine is barely a slap on the wrist for SoCal Gas, whose parent company made $10 billion in revenue last year."
The district attorney filed four misdemeanor criminal charges against the company in Februrary, accusing it of releasing air contaminants and neglecting to report the release of hazardous materials until three days after the leak began.
Three other misdemeanor counts will be dismissed when the utility is sentenced on Nov. 29.
"This agreement ensures that Southern California Gas Co. is held accountable for its criminal actions for failing to immediately report the leak," L.A. County Dist. Atty. Jackie Lacey said in a statement.
Full coverage: Porter Ranch gas leak »
State officials with the Public Utilities Commission and Division of Oil, Gas and Geothermal Resources are still studying the cause of the leak and their findings could lead to fines against the gas company.
The rupture forced at least 8,000 residents out of their homes for months. As people moved home, the gas company cleaned the interiors of 1,500 homes and the exteriors of 1,200 homes, along with schools, playgrounds and public parks.
Residents have complained of headaches, nosebleeds and nausea, which are short-term symptoms associated with an odor-causing additive in the natural gas.
A hearing is set for November on the civil litigation.
"The criminal plea does not alter the responsibility Southern California Gas has to all residents and businesses damaged and harmed as a result of this significant event," said plaintiff's attorney Paul Kiesel.
Some residents living near Aliso Canyon want it to be permanently shut down.
"SoCal Gas themselves demonstrated why this unneeded facility must be permanently shut down and their guilt will be further proven as civil litigation proceeds," said Matt Pakucko, president of Save Porter Ranch. "And we are concerned about what happens with the leak-detection system after three years. Residents of the area will still need to breathe in three years."
But gas company officials have repeatedly said that Aliso Canyon is an essential piece of Southern California's energy infrastructure — a point that was reiterated by the utility Tuesday.
"Aliso Canyon is critical to the reliability of natural gas and electricity services in Southern California. We are diligently working with state officials to complete a comprehensive safety review of the facility," according to a statement from the utility.
Also Tuesday, Sempra Energy, the parent company of Southern California Gas, announced that the utility's president and CEO, Dennis Arriola will leave at the end of the year to become the executive vice president of corporate strategy and external affairs for Sempra. Patricia K. Wager, CEO of Sempra U.S. Gas & Power, will become the new CEO for the gas company.
ALSO
Porter Ranch's future after massive gas leak is in the eye of the beholder
First fall weather of 2016 brings powerful winds, rain and snow to California
After he spent time on the street and in prison, this East L.A. gym saved him. Now, he's fighting to save it
---
UPDATES:
6:50 p.m. This article has been updated with additional details.
2:45 p.m.: This article has been updated with additional comments and background.
1:10 p.m.: This post was updated with additional details about the settlement.
This article was originally published at 11:50 a.m.
---
Life is stressful. Our weekly mental wellness newsletter can help.
You may occasionally receive promotional content from the Los Angeles Times.