Former guard pleads guilty to smuggling drugs and phones into San Diego prison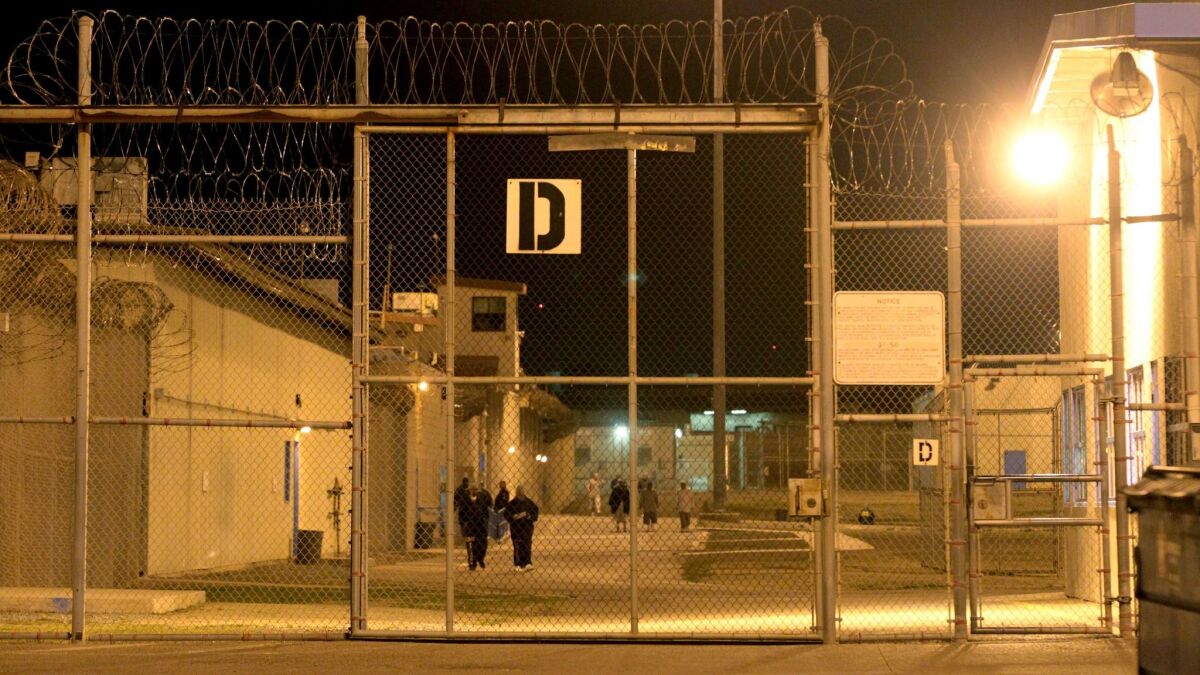 Reporting from San Diego —
A former guard at the Richard J. Donovan Correctional Facility pleaded guilty in San Diego federal court Thursday to smuggling drugs and cellphones into the prison for bribes, the U.S. attorney's office said.
Corrections Officer Anibal Navarro, 39, admitted to being paid about $45,000 over a two-year period to bring methamphetamine, heroin and phones to inmates. He was paid by inmates and their family members and associates, according to his plea agreement.
The illicit loads would come two to four times a month, from 2014 to 2016.
Navarro was arrested by the FBI and state Department of Corrections and Rehabilitation's internal affairs unit in June 2016 as he attempted to smuggle 10 ounces of meth and 4 ounces of heroin inside the prison in Otay Mesa, according to court documents.
About a month earlier, San Diego police had pulled over an inmate's girlfriend and found drugs hidden in the engine compartment, plus a vacuum-sealed baggie of cellphones and $2,000 cash, according to the complaint. The police took the drugs, cited her and let her go.
A short time later, FBI agents saw her meet with Navarro in Imperial Beach and give him cellphones and $1,000, the complaint stated. He admitted in a recorded conversation the next day that he smuggled the load into the prison.
Inmate Martin Gomez is accused of recruiting Navarro. Gomez coordinated with four others on the outside to get the contraband to the officer, and then five other inmates would distribute the goods inside the prison, according to the indictment.
Prosecutors said the phones were used to plan crimes outside and inside the prison.
Gomez was moved to another prison at some point during the scheme but continued to run it by phone, prosecutors said.
Navarro, who began working at the prison in 2003, remains free on bond.
kristina.davis@sduniontribune.com
Davis writes for the San Diego Union-Tribune
ALSO
Malnourished 5-year-old found in chains in Mexico may be returned to U.S.
Driver sped up and slammed into Oceanside officer, witnesses say
Targeted immigration arrests in San Diego area have more than doubled under Trump
More than 500 students in San Diego must retake their AP tests
Invasive weevil spreads north, endangering California's palms
---
The stories shaping California
Get up to speed with our Essential California newsletter, sent six days a week.
You may occasionally receive promotional content from the Los Angeles Times.