Malnourished 5-year-old found in chains in Mexico may be returned to U.S.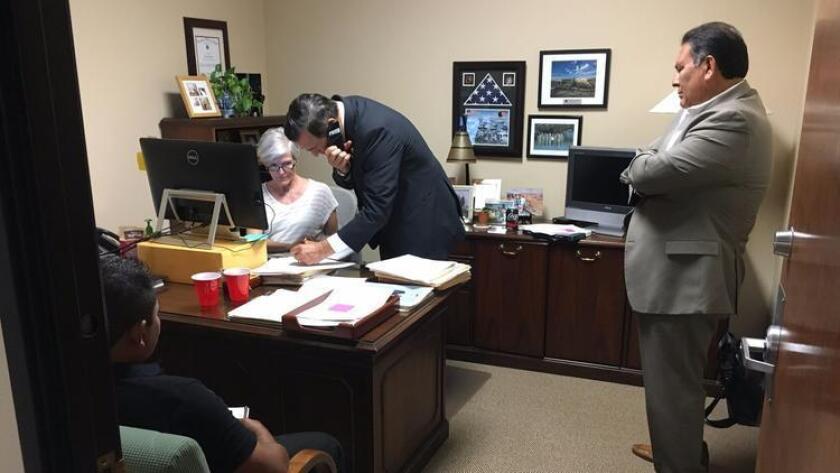 Reporting from San Diego —
A 5-year-old U.S. citizen found chained, starving and beaten in Mexico City last month soon may be reunited with family in Escondido.
Mexican police rescued the boy, Anthony Castro, on June 27 from a relative's home in the Gabriel Hernández neighborhood and took him to a hospital for treatment, according to a statement released by the local prosecutor's office.
His father's sister and her husband were arrested by Mexican police on suspicion of illegal deprivation of liberty for the purpose of causing harm. They were taken into custody and face up to 60 years in prison if convicted.
The boy's father, Pascual Castro, is not a U.S. citizen. He went to the office of Rep. Darrell Issa (R-Vista) for help, even though he was afraid.
"Darrell turns to the father, puts his arm out and says, 'I'm not worried if you are a citizen or not. A little boy — your son — is in a hospital in Mexico. Let's get him home,' " a district office staff member said, according to Issa spokesman Calvin Moore.
Issa got on the phone with the State Department and pushed Anthony's case to the highest priority.
"We will do everything in our power to get him out of this abusive situation and into a safe and stable environment where he can get the help he so desperately needs. I'm grateful we were able to step in, just in the nick of time," Issa said in an emailed statement. "This is absolutely heartbreaking."
Marcela Celorio, the Mexican Consul General in San Diego, said that what happens to the boy ultimately will depend on the special prosecutor for the rights of children in Mexico City. Anthony might be returned to family in the U.S. or be placed in foster care in Mexico City.
We have to take into consideration that we're talking about human life and, even more, a kid, a child.
Marcela Celorio, Mexican Consul General in San Diego
Celorio said Anthony most likely will be placed in foster care, at least temporarily, while he waits for the legal process to unfold.
"We have to take into consideration that we're talking about human life and, even more, a kid, a child," Celorio said. "We have to be very responsible with what we do."
She said that the U.S. and Mexico have treaties for how to handle international custody cases and that a similar process would happen for a Mexican child found in the U.S. She said some cases take less than a month, while others take years.
The Mexican Consulate got involved because Anthony's father is from Mexico. Celorio said Pascual Castro told her office that he was "regularizing" his immigration status but could not travel down to Mexico City to see his son during that process.
Castro did not respond to requests for comment. Neither did Dawn Sanderson, 34, the boy's mother.
Castro is in the U.S. illegally and Sanderson is a citizen, said Anthony's great-grandmother, Virginia Sanderson, 84, of Escondido.
The two were married for a short time but are no longer together, according to Sanderson, who said Castro was granted custody of Anthony after the couple's separation. She said her granddaughter, who is on probation, has turned her life around and would now be able to take care of her son.
"He's a U.S. citizen," Sanderson said. "He needs to be brought back here. He needs to be reunited with his mother. We're doing all we can."
Sanderson said she had not known that Castro left Anthony with relatives in Mexico City. She cares for her granddaughter's other children.
"I'm just appalled," Sanderson said. "I never thought that the child was in any danger."
She said she found out about her great-grandson's situation when she saw a story about it on the news and was worried about Anthony being placed with Castro again.
Castro told the Mexican newspaper El Universal by telephone that he left his son with his sister and her husband while he came to work in the U.S. They'd sent him videos of his son in February and March, and he thought everything was fine, he said.
He'd previously left Anthony with his grandparents, he said, but he thought the schools were better where the boy's aunt lived.
"I never thought they would treat him like this. It hurts me a lot, my poor son," he said in Spanish. "I feel terrible about this."
kate.morrissey@sduniontribune.com
Morrissey writes for the San Diego Union-Tribune
ALSO
Amber Alert issued in Los Angeles after woman carjacks vehicle with 16-year-old boy inside
Animal control officers uncover 80 snakes and a pool full of alligators at Thousand Oaks home
She was his rock. Now a failed NFL player is accused of killing his mother
---
For reporting and exclusive analysis from bureau chief John Myers, get our California Politics newsletter.
You may occasionally receive promotional content from the Los Angeles Times.