California wastes most of its rainwater, which simply goes down the drain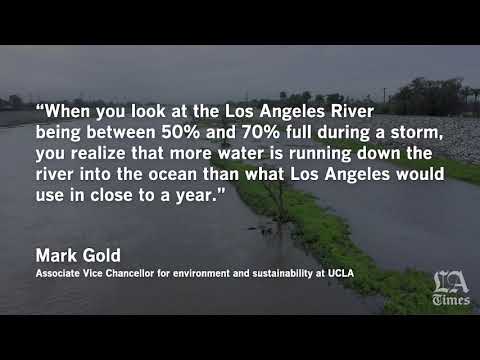 Flyover of the Los Angeles River in Long Beach. (Travis Geske / For The Times)
California's wet winter has dumped an estimated 18 trillion gallons of rain in February alone. But much of it is simply going down the drain.
In what has become a source of much concern in a state prone to droughts and water shortages, the vast majority of rainwater in urban areas flows into storm drains and is eventually lost to the Pacific Ocean.

For the record:
8:05 a.m. Feb. 20, 2019An earlier version of this article said the Los Angeles Department of Water and Power captured 22 billion gallons of water during the most recent storm. In fact, the Los Angeles County Department of Public Works has captured that amount in the storms since Oct. 1, the most recent water year.
"When you look at the Los Angeles River being between 50% and 70% full during a storm, you realize that more water is running down the river into the ocean than what Los Angeles would use in close to a year," said Mark Gold, associate vice chancellor for environment and sustainability at UCLA. "What a waste of water supply."
For Southern California, this is shaping up to be the wettest winter in years — serving as a reminder of how much water is wasted when the skies open up.
Local agencies did step up water capture efforts after the region's most recent drought, but officials admit it's going to take time and a lot of money to save the significant amounts of rainwater now being lost.
Climatologist Bill Patzert estimates that more than 80% of the region's rainfall ends up diverted from urban areas in Southern California into the Pacific.
"All those trillions of gallons of rain, which sound so sweet, really end up in the ocean," he said. "There are some catchment basins, but it's been so dramatically dry for the past two decades that it's not filling them up. Roots and soil are sucking up the water and preventing it from getting to the groundwater basins."
The storms have significantly boosted the snowpack in the Sierra, which is a major source of California's water. As the snow melts, it's collected in a series of rivers, dams and reservoirs and sent to farms and cities.
Fighting to capture more runoff
Cities have been exploring what can be done to capture urban runoff.
Among the ideas being tried are slowly feeding rainwater underground, a process known as aquifer recharge, and creating more permeable surfaces where the water flows, such as removing some of the concrete around the Los Angeles River bed.
But it hasn't been enough to make a significant dent.
"We still lose a tremendous amount of water to fast runoff that we know can be captured. We're not doing all the things we need to be doing," said Peter Gleick, president emeritus of the Pacific Institute. "We get our rain in big storms. The [river] flows get huge. We have to remove some of that water to prevent flooding, but we can also capture more of it."
In 2012, Los Angeles leaders passed an ordinance that requires most new developments to collect the runoff from three-quarters of an inch of rainfall and reuse it on site or let it percolate into the ground, in essence "un-paving Los Angeles and capturing more runoff," Gold said.
This happens when rain seeps into underground storage tanks through the soil and is pumped, treated and ultimately used to supplement the region's increasingly irregular imported water supply. Gold said there will be greater potential for rainwater capture when money collected through Measure W — a property tax passed by voters last year that's projected to raise about $300 million annually to capture and clean up stormwater — becomes available next year.
The Los Angeles County Department of Public Works said it was able to capture about 22 billion gallons of water since Oct. 1, which officials said shows steady progress.
"This year, we're doing great," said Keith Lilley, assistant deputy director of stormwater planning at L.A. County Public Works.
Experts, however, say there is much room for improvement.
In its latest study in 2014, the Pacific Institute estimated that stormwater capture in Southern California and the Bay Area has the potential to increase the state's water supply by at least 420,000 acre-feet annually.
One acre-foot equals about 326,000 gallons, or enough water to cover an acre of land, about the size of a football field, one foot deep. An average California household uses between one-half and one acre-foot of water per year for indoor and outdoor use.
Cities not designed for this
Gleick said there has to be a shift in thinking about water that changes how cities are designed.
"It's the fault of 20th century thinking about water, which was to get rid of stormwater; get rid of wastewater, treat it as a liability," he said. "That's the infrastructure we built. We channeled our rivers and we lined them with concrete so we could get rid of water. Now we know that's a valuable resource."
In the early 20th century, rain was seen as a threat to Los Angeles' rapid economic development. Heavy rain spurred a deadly debris flow in the 1930s known as the Montrose flood, which swept away people and destroyed about 100 homes. Historical Society of Crescenta Valley photos show half-buried cars, houses and businesses sitting askew, as well as a 70-ton boulder sitting in the middle of a busy street.
Folk singer Woody Guthrie even wrote a song about the disaster, which was followed by another flood about four years later.
The great flood of 1938 caused widespread losses across Southern California
Flood-control efforts that began before the disasters were kicked into high gear. By 1960, the L.A. River had become a 51-mile engineered waterway stretching from the San Fernando Valley to the Pacific Ocean.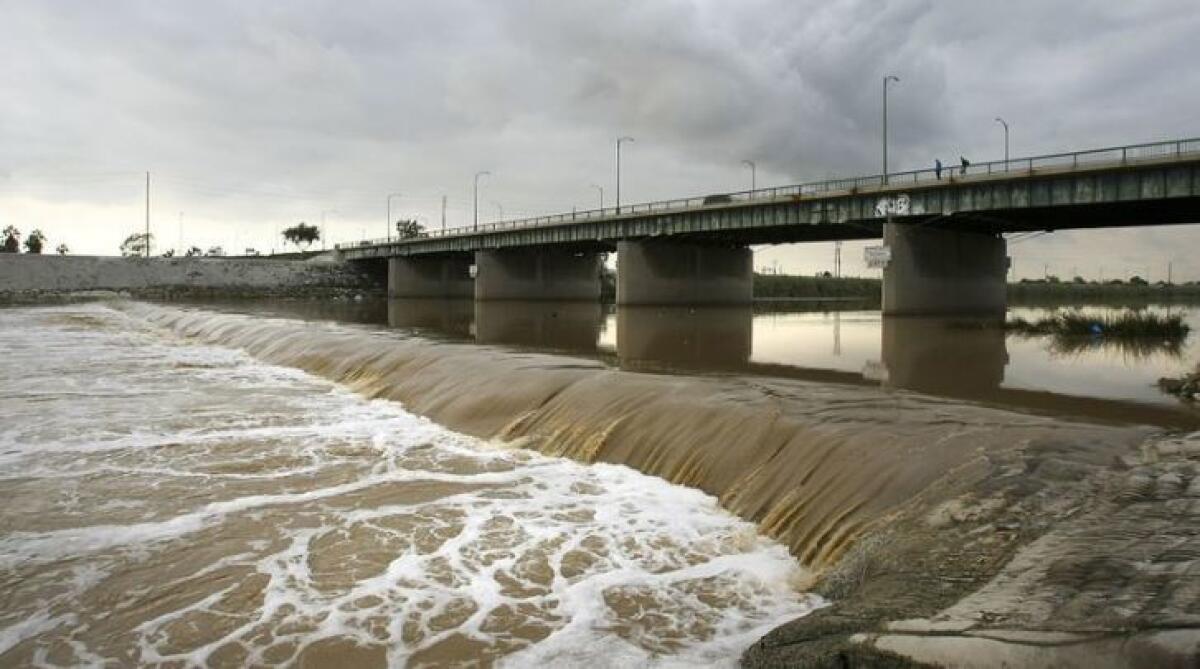 A series of storms, including a moisture-packed atmospheric river that slammed the state last week, has brought consistent rainfall in February that has reached nearly half the volume of Lake Tahoe. Los Angeles has received its fair share of the rain, with more than 4 inches falling on the Southland since Feb. 1.
San Diego has had more than 10 inches of rain this month, passing its average for the entire winter season. The totals are likely to increase this week — though not by much — as another storm rolls into the region Wednesday night. That low pressure system is expected to bring less than a quarter of an inch of precipitation through Thursday, said Lisa Phillips, a meteorologist with the National Weather Service in Oxnard.
Drought map gets better
The wet winter so far has helped keep much of the state out of serious drought conditions that have plagued California for years.
A third of the state was considered to be in normal conditions and more than half was considered only abnormally dry as of last week. None of the state is considered to be in extreme or exceptional drought, the worst conditions possible. However, experts caution that it's not a matter of whether another drought will hit, but when it will happen and how long it will stick around.
California is still reeling from the effects of the last drought. Groundwater basins that were greatly depleted when rain was scarce from 2012 to 2016 will take years to refill, experts say.
"In the short term, this rain is certainly sweet and we were overdue, but it took us years to get into a drought situation. And during those years, there's been tremendous population growth, so there's no quick fix for the underground drought," Patzert said. "Conservation is forever now. It's a new lifestyle."
Sign up for Essential California for news, features and recommendations from the L.A. Times and beyond in your inbox six days a week.
You may occasionally receive promotional content from the Los Angeles Times.