Raul Ruiz, journalist and activist for the Chicano movement in L.A., dies at 78
When Raul Ruiz took to the podium last year at Self-Help Graphics for a history symposium, many in the packed house were at first perplexed.
The longtime reporter, activist and professor was there to talk about his role in the Chicano moratorium, the 1970 antiwar march in East Los Angeles that ended with law enforcement indiscriminately assaulting protesters and killing Los Angeles Times columnist Ruben Salazar. Ruiz's gripping photo of a sheriff's deputy firing a tear-gas canister into the bar that Salazar had ducked into to escape the violence had run on the front page of The Times and became one of the most iconic images of the Chicano movement.
But many of the veteranos (elder activists) at the Self-Help Graphics event hadn't seen Ruiz in years. College students in attendance had read about him only in history books. And the general public "had no idea who Raul was," said symposium co-organizer Carlos Montes.
The confusion ended as soon as soon as Ruiz spoke. "Everyone was just fixated," Montes said. "He was just real."
Ruiz died Thursday in his sleep, friends said. He was 78.
FROM THE ARCHIVES: A witness is still suspicious about Ruben Salazar's death »
The son of a railroad worker, Ruiz was born in El Paso before moving to South Los Angeles as a teen. After working at a draftsman in Orange County, Ruiz enrolled at Cal State L.A. to major in engineering but quickly found himself on academic probation.
His life changed after he took classes on Latin American history taught by Tim Harding. The professor challenged Ruiz to dive into Chicano history, giving him a copy of "North From Mexico," a 1949 book by Carey McWilliams considered the first serious study of Mexicans in the United States.
The tome, Ruiz told a biographer decades later, "made me understand that men and women — not only by knowing themselves but also by reacting to their social conditions — make history."
The political awakening came just as the Chicano movement began to bubble up in Los Angeles and the Southwest. While pursuing a master's at Cal State L.A., Ruiz helped found two underground newspapers, Inside Eastside and Chicano Student News, that criticized police brutality, apathetic school administrators and the mainstream media's stereotypical depiction of Mexican Americans.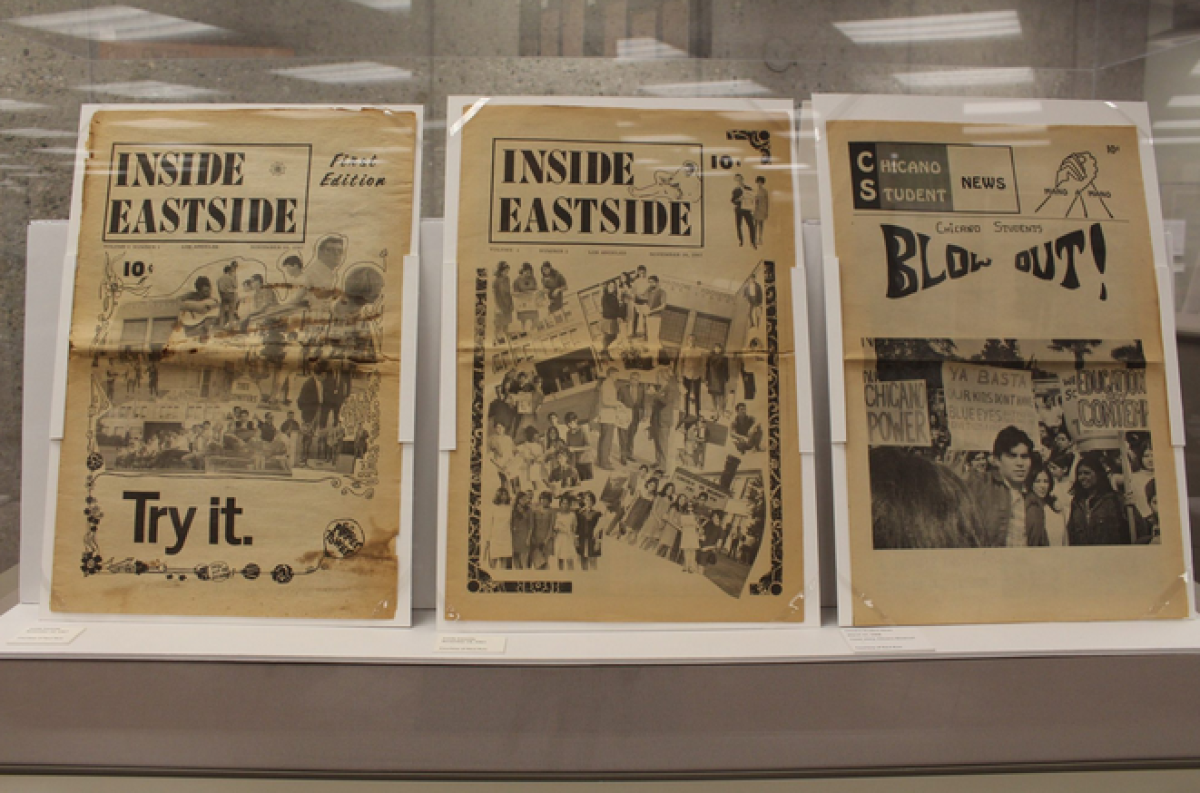 Making no pretense of objectivity, Ruiz simultaneously reported on and helped to organize el movimiento, even getting arrested for everything from sit-ins at Los Angeles school board meetings to disrupting a Christmas Eve midnight Mass at St. Basil Church led by Cardinal James Francis McIntyre, whom Ruiz and others accused of slighting poor Mexican Catholics.
"He always had a camera, he always was asking questions," said Montes, a longtime activist. "All the major things of that era, he was there."
Eventually, Ruiz became co-editor of La Raza, a pioneering Chicano newspaper that documented Mexican American life across the country until it folded in 1977. The publication ran Ruiz's photo of Salazar's purported killer on its cover under the headline in English and Spanish, "The Murder of Ruben Salazar."
He let the Times reprint and syndicate the shot worldwide to expose what he called a "farce" of an investigation into the columnist's death. A coroner's inquest jury asked him to testify during a public hearing, but their open skepticism about Ruiz's eyewitness account infuriated him.
"You are questioning my integrity, but of course I expect that," he told them. "Because I am a Mexicano."
His advocacy eventually brought Ruiz to La Raza Unida Party, a political party created by activists who felt the Democratic Party ignored Chicanos. He ran under the party's banner in 1971 for a state Assembly seat that analysts predicted would easily go to Richard Alatorre, then a rising star. Ruiz earned 7% of the vote, enough for Alatorre's Republican opponent to pull off a stunning upset — angering the Eastside political machine.
Ruiz was unapologetic. He told the media he hoped his race would inspire activists to "never let a Democrat have an easy election in a Chicano district again."
While he reported and protested, Ruiz also taught in the Department of Chicana and Chicano Studies at Cal State Northridge; he retired in 2015 after 45 years.
"He created a pathway for my generation to follow and grow the discipline," says Denise Sandoval, who first met Ruiz as a graduate student at CSUN in the early 1990s and eventually became a colleague. "I will remember those moments I stopped and looked into his classroom while he was teaching so I could just listen for a few moments."
Though Ruiz never formally returned to journalism after La Raza, Los Angeles reporters frequently leaned on him for a good quote on anything Chicano. He even got into musical productions in his final years, producing sold-out shows at the Ford Amphitheater that highlighted Mexican legends such as Juan Gabriel and Jose Alfredo Jimenez.
But even then, Ruiz couldn't resist politics. Last year, according to Montes, he spoke harshly about President Trump, which didn't sit well with some in the crowd.
"He didn't apologize," Montes said. "He told it like it was. He didn't hold back. He stood his ground."
Twitter: @GustavoArellano
Sign up for Essential California for news, features and recommendations from the L.A. Times and beyond in your inbox six days a week.
You may occasionally receive promotional content from the Los Angeles Times.