Sacramento issues directive on when police officers may mute body cameras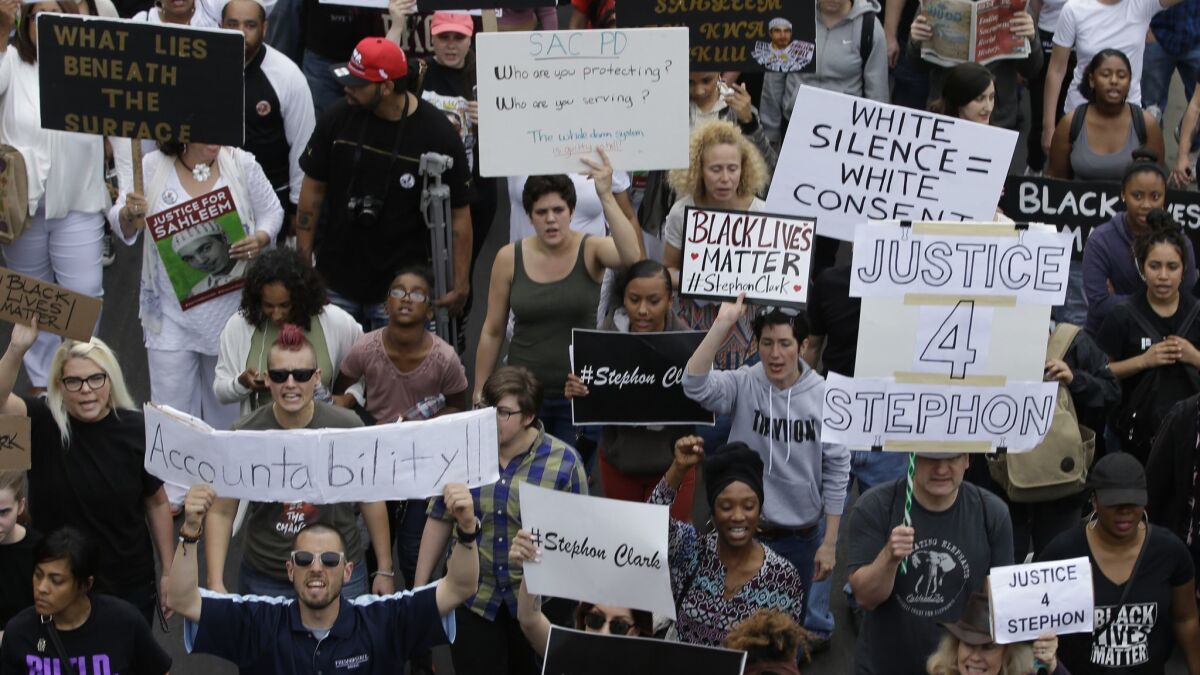 Reporting from Sacramento —
Sacramento police have issued their first written policy on when officers may turn off body cameras after two officers muted their microphones following the fatal shooting of an unarmed man in his grandparents' backyard.
Deputy Chief Ken Bernard discussed the memo Monday at a meeting of the Community Police Review Commission after it was issued to officers last week.
Body camera footage of the killing of 22-year-old Stephon Clark reveals that two officers were told to mute their microphones several minutes after the shooting.
The March 18 killing sparked two weeks of protests and calls for police reform.
The new policy requires officers to verbalize their reason for turning off the microphone.
Body camera use is covered in training, but officers haven't received any written direction on when the equipment can be turned off until now, police spokesman Sgt. Vance Chandler said. He couldn't immediately provide details on what directives officers were given during training.
The policy was in the works before Clark's shooting, but his death prompted the department to issue the guidance more quickly, he said.
Sacramento Police Chief Daniel Hahn previously said officers should turn off their microphones only when having personal conversations or dealing with a confidential informant.
The new memo says officers may turn off their cameras while dealing with a victim of sexual assault or if a supervisor instructs them to do so.
Officers also may turn off the equipment if a victim or witness is refusing to provide a statement on camera and the situation is non-confrontational, or when speaking to a doctor, nurse or paramedic.
---
The stories shaping California
Get up to speed with our Essential California newsletter, sent six days a week.
You may occasionally receive promotional content from the Los Angeles Times.