Can tiny Los Alamitos take on California's 'sanctuary state' movement?
Now comes the hard part: Getting legal clearance to opt out.
The small Orange County suburb of Los Alamitos has picked a big fight with California by passing a resolution saying it wants nothing to do with "sanctuary state" laws aimed at protecting people here illegally from President Trump's promised immigration crackdown.
Now comes the hard part: Getting legal clearance to opt out.
While legal experts said they are doubtful Los Alamitos can prevail, the city's action has been viewed by some as a shot across the bow in a liberal state that has clashed with Trump on immigration and a variety of other issues. And there are questions about whether other red cities will follow suit.
A crowd of more than 100 people descended on a raucous meeting Monday night when the City Council voted to exempt the city from a California law that limits cooperation between local agencies and federal immigration agents.
Mayor Pro Tem Warren Kusumoto, who proposed the initiative, admitted the city is still figuring out what to do next.
"We don't know what the effect will be on the public and the police," he said. "I don't know."
Kusumoto said in an interview that he didn't consult with the city attorney, city manager, police chief or any other member of his staff before introducing the ordinance. He said he wanted to insulate city staff from any kind of backlash.
He said he told them "you get to blame me on this one. I just want to put it out there and get an up-and-down vote," he said.
The mayor acknowledged the ordinance might set off a legal battle but said that doesn't concern him, adding the vote has important symbolic meaning.
"Is it going to hold up? I don't know," he said. "I just want to protect our community. It's that simple."
Kusumoto and other Los Alamitos city leaders take issue with SB 54, which Gov. Jerry Brown signed after the Legislature passed it last year. It prohibits state and local police agencies from notifying federal officials in many cases when immigrants potentially subject to deportation are about to be released from custody.
The initiative is in addition to sanctuary city laws passed by numerous communities and other state laws that protect those without legal residency, including one that makes it a crime for business owners who have been notified of a workplace audit to voluntarily help federal agents find and detain unauthorized workers without having given employees prior notification. Another law creates a state inspection program for federal immigration detention centers.
The Trump administration went to federal court to invalidate the state laws, claiming they blatantly obstruct federal immigration law and thus violate the Constitution's supremacy clause, which gives federal law precedence over state measures. That case is pending. Los Alamitos leaders voted Monday to file an amicus brief to the Justice Department's lawsuit.
The ordinance probably will instigate a lawsuit, some law experts said.
Sameer Ahmed, staff attorney at the ACLU Foundation of Southern California, called the measure a "blatant violation of the city's obligation to follow state law," stating that the foundation was ready to launch a lawsuit if the measure is given final approval.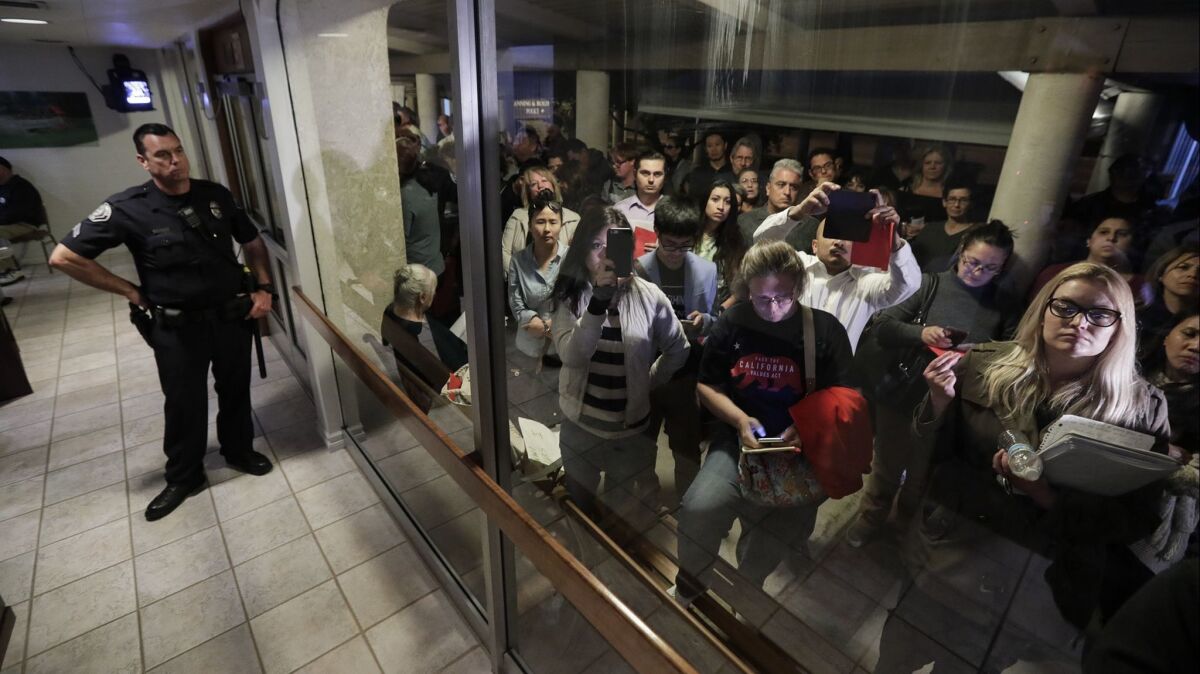 Kathleen Kim, a professor at Loyola Law School who specializes in immigration law, said the city won't prevail because there isn't any evidence that SB 54 is unconstitutional.
"And the Los Alamitos ordinance relies on the presumption that SB 54 is unconstitutional," Kim said. "That issue has not been adjudicated. One part of me thinks that it seems premature to pass an ordinance like the one in Los Alamitos without seeing first how the constitutional challenge plays out in court. It doesn't make sense for Los Alamitos to come out with this ordinance. It seems like a waste of resources."
Localities have a lot of discretion but they cannot contravene state law, said Jessica Levinson, a professor at Loyola Law School.
"That's essentially what they are trying to do. I think this is a political statement and not one that is necessarily legal," she said. "Can you imagine the consequences if cities and counties could do this on a regular basis…. You shouldn't make a political statement through potentially impermissible laws."
If the ordinance gets a final vote of approval, Levinson believes the courts probably will stay it until it makes its way through the legal system.
Meanwhile, the ordinance has led to a lot of confusion on how it will affect daily life in the city.
Kim said it would be complicated and possibly lead to conflicts of interest for agencies such as the Los Alamitos Police Department.
For example, if an officer detained a community member who hadn't committed an aggravated felony and in turn shared that information with federal immigration agents, the officer would be in compliance with the local ordinance but in violation of state law.
"Would the district attorney's office or attorney general of California who is following state law then prosecute the Police Department?" Kim asked.
Calls to California Atty. Gen. Xavier Becerra were not returned Tuesday, but he did release a prepared statement:
"Here in California, we respect the Constitution and follow the law. As I've said many times, our state laws work in concert with federal laws. That means all of the laws, including the Values Act," he said. "We are in the business of public safety, not deportation. We will continue to defend attacks against the Values Act."
Some Los Alamitos residents on Monday strongly backed the city's action, while others asked why the city wanted to enter such a heated immigration debate.
Denise Miller, a 60-year-old who lives in the unincorporated bedroom community of Rossmoor, spoke to the council in opposition to the ordinance.
"I think it's a publicity stunt by the members of the City Council," she said.
Robin Hvidston, executive director of We The People Rising, an anti-illegal immigration organization, praised Kusumoto for his actions and said it was not a concern that the mayor didn't consult with the city attorney before proposing the ordinance.
"He consulted with the highest source of the land, the U.S. constitution," Hvidston said. "He's just trying to do the right thing for his constituents and uphold the law."
---
The stories shaping California
Get up to speed with our Essential California newsletter, sent six days a week.
You may occasionally receive promotional content from the Los Angeles Times.