Single mom of three attacked by shark is fighting for her life, doctors say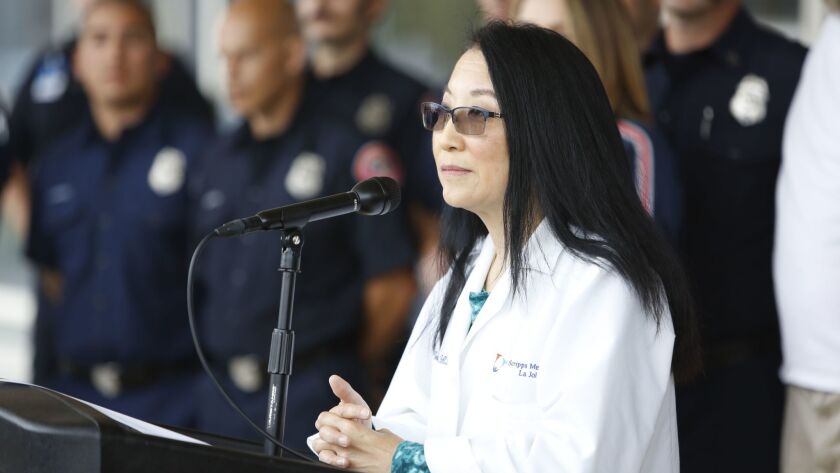 The woman attacked by a shark at San Onofre State Beach last weekend remains in critical condition, with doctors having completed two surgeries and preparing for several more in coming weeks.
The family of Leeanne Ericson released a statement on Friday through Scripps Memorial Hospital in La Jolla, where she's being treated.
"We are grateful for all of the concern, prayers and good wishes we have received in recent days from the many friends and strangers who have reached out to us from across the country, and indeed, the world," the statement read.
On the evening of April 29, a shark bit Ericson's right buttock and upper leg down to the bone while she was swimming at a part of San Onofre beach known as Church.
The 35-year-old single mother of three from Vista was at the beach with her boyfriend, who was surfing next to her at the time of the attack. Witnesses said she disappeared under the water and he dived in after her, pulling her onto his surfboard.
With the help of some bystanders, he was able to get her to shore. She was taken by helicopter to the hospital. A group of surfers in the area, one trained as an emergency medical technician, played a significant role in helping get Ericson stabilized at the scene, including using a surfboard leash as a makeshift tourniquet around her injured leg.
According to various reports, a little more than 30 minutes elapsed between the attack and when Ericson was admitted to the hospital — approximately 15 minutes from the ocean to the shoreline, just a few minutes from the ambulance to the medical-evacuation helicopter and some 15 minutes to reach Scripps Memorial.
During that period, Ericson suffered "significant" blood loss because of the trauma, the statement said.
"[W]e know the situation could have been far graver had it not been for the number of emergency response personnel and others who provided the care she needed and saved her life," her family said in the statement.
Doctors initially put Ericson in a medically induced coma. She's now awake but heavily medicated, and she's receiving help from a breathing machine, Scripps Memorial officials said during a news conference Friday at the hospital.
It's unclear whether Ericson will be able to walk on her right leg again, the Scripps team said, but physicians will try to restore more function in that leg. Future surgeries will attempt to repair tissue and muscle in the wounded area.
"She will have a long recovery, but she's doing remarkably well for her critical condition," said Dr. Gail Tominaga, a Scripps trauma surgeon.
"She's had two surgeries to clean up the wounds," Tominaga added. "She is going to be going into some surgeries with a team of plastic surgeons to reconstruct her nerve and to do things to improve her muscle injury, but she will most likely need more surgeries."
Tominaga also praised the quick thinking of the bystanders on the beach, who used a surfboard leash as a tourniquet around the bitten leg and applied pressure with towels to slow the bleeding.
Sharks have multiple rows of teeth that can rip away large sections of tissue, cause significant blood loss, fracture bones and leave behind debris and harmful bacteria. After bleeding is controlled and dead tissue is removed, medical professionals are careful to clean victims' wounds meticulously to prevent infection.
Ericson's mother, Christine McKnerney Leidle, has raised more than $65,000 through a GoFundMe page. The family now asks people who want to help Ericson to make donations with Pacific Marine Credit Union — care of "Support Leeanne" — or donate blood in her honor.
Other than issuing the statement, the family asked for privacy during the extended medical ordeal.
The stretch of beach in northern San Diego County where Ericson was attacked is a popular surfing site. It's also a "hot spot" for great white sharks, experts said.
According to a number of sources, from eyewitness accounts to tagging data, San Onofre, Ventura, Santa Monica Bay and Huntington Beach are locations often used by sharks for rearing their young.
Although shark attacks are uncommon, half of the 12 that occurred along San Diego County's coast since 2004 happened at San Onofre, according to the Shark Research Committee, a nonprofit organization that tracks shark attacks on the West Coast.
Smith writes for the San Diego Union-Tribune.
ALSO
California Supreme Court deliberates on seawall case
Athletes swim across U.S.-Mexico border in immigrant-rights protest
Sharks are thriving in Southern California but dying in the San Francisco Bay, experts say
---
For reporting and exclusive analysis from bureau chief John Myers, get our California Politics newsletter.
You may occasionally receive promotional content from the Los Angeles Times.