A veteran lieutenant announces candidacy for L.A. County sheriff, the first to challenge Jim McDonnell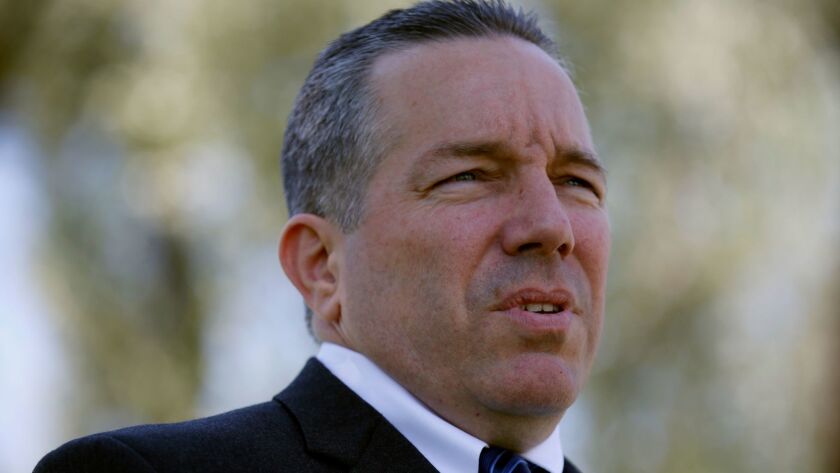 Three years ago, candidates for Los Angeles County sheriff jostled over who had the best claim to be the type of "outsider" who could clean up a department mired in jail abuse and corruption scandals.
Alex Villanueva says it's time to flaunt being an insider again.
Standing next to the East Los Angeles station where he once served as a young deputy, Villanueva, now a lieutenant, said Wednesday that his three-decade tenure with the agency gives him the insight needed to improve the department.
He is the first to challenge incumbent Jim McDonnell in next year's election. McDonnell, who had served as Long Beach police chief after a long career with the Los Angeles Police Department, was the first outsider in a century to win the sheriff's job in 2014.
That shift — in an insular agency where long-serving sheriffs were known to handpick their successors — came after a jail abuse controversy that ultimately ended in convictions for numerous department officials, including former Sheriff Lee Baca. Baca was sentenced this year to three years in prison for his role in obstructing an FBI investigation of his jails.
Villanueva, 54, says he had been hopeful McDonnell would deliver on a pledge to bring "fresh eyes" to the troubled department. Three years into McDonnell's term, Villanueva says too many officials who fueled the corrupt culture of the agency are still in high-ranking positions.
He says it takes an intimate knowledge of the department to reshuffle its players. In trying to get rid of wrongdoers, McDonnell has been disciplining only low-level deputies, Villanueva claimed.
"It's management by 'gotcha,' " he said.
McDonnell, through a spokeswoman, declined to comment.
Villanueva says he would add 3,000 deputies to the department's patrol operation, in part by removing deputies from roles that don't involve policing and assigning them to work the streets. Among the programs he would shrink are the department's public relations campaigns. Villanueva also said he would look for opportunities to assign civilians to some jobs currently being performed by deputies.
A La Habra Heights resident, Villanueva ran and lost a City Council race there in 2015. He's now an appointed planning commissioner in that city, in addition to serving as a watch commander at the Sheriff's Department's Pico Rivera station.
After starting in the county jails in 1986, he went on to work at several patrol stations and became an academy instructor. Prior to joining the department, he served a year in the U.S. Air Force and has also served in the California Army National Guard.
Twitter: @mayalau
---
The stories shaping California
Get up to speed with our Essential California newsletter, sent six days a week.
You may occasionally receive promotional content from the Los Angeles Times.