Civilian oversight group tells L.A. Sheriff's Department to ground its drone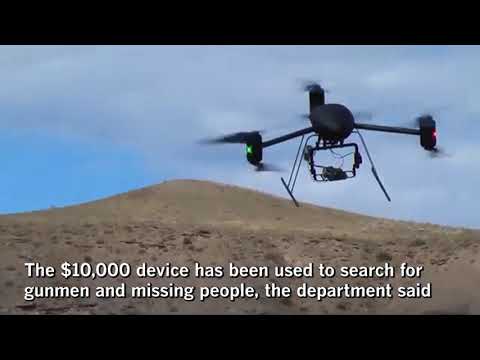 A civilian oversight group has called on the L.A. Sheriff's Department to permanently ground its drone. (Sept. 29, 2017)
In its first nine months, the $10,000 device has hovered over hard-to-reach spots in Los Angeles County, searching for gunmen and missing people.
Los Angeles County Sheriff's Department officials say the 20-inch-long unmanned aircraft system, equipped with a camera, has been deployed only five times out of the 1,000 events this year that could have used the special set of eyes.
But after months of public debate over possible surveillance and weaponization, the Sheriff Civilian Oversight Commission voted Thursday to call on the department to permanently ground its drone.
"The community has told us they're already feeling over-policed and over-surveilled," said Commissioner Priscilla Ocen, a Loyola Law School professor who's been the most vocal opponent of the drone on the panel. She said the department's search-and-rescue operation has done "an amazing job" for years, but can continue that work without the drone.
The decision — supported by five members and opposed by four — is not binding on the department, which can continue to fly the aircraft. The oversight group can issue formal advice to the department and the Los Angeles County Board of Supervisors but cannot subpoena documents or force the sheriff to act.
Capt. Jack Ewell, who heads the department's special operations bureau, said members of the public have raised valid concerns about surveillance and safety, but he asked that they also look at the agency's track record with the aircraft, which he called a "life-saving device."
The aircraft doesn't fly over people's backyards except when a warrant has been obtained, and each flight is publicized on the Federal Aviation Administration's website for at least 30 minutes before each deployment, he said.
Only four people in the department, all of whom hold the rank of lieutenant or higher, are allowed to handle the aircraft, Ewell said.
The discussion came two months after a majority of the members of the Sheriff Civilian Oversight Commission said they wanted to ground the department's drone, but they hadn't formalized that position until Thursday.
The Los Angeles Police Department, which destroyed its two drones last month, is working on a pilot program for unmanned aircraft.
Twitter: @mayalau
Sign up for Essential California for news, features and recommendations from the L.A. Times and beyond in your inbox six days a week.
You may occasionally receive promotional content from the Los Angeles Times.