Epic snow in Sierra as atmospheric river storms keep on coming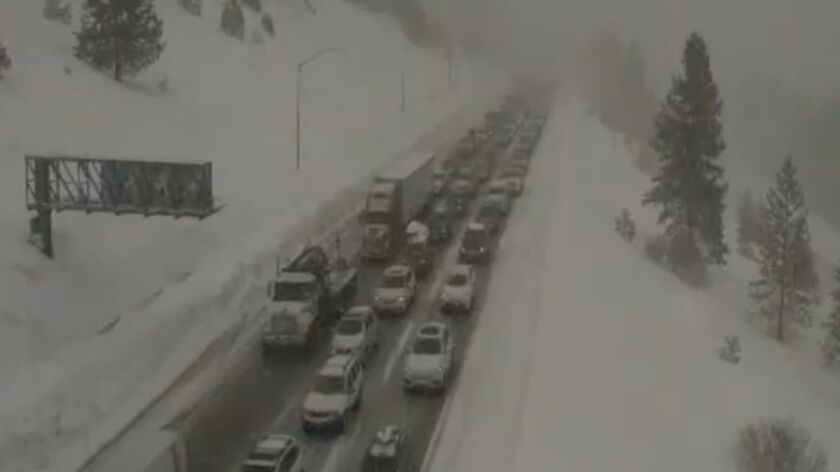 Atmospheric river storms pounding Northern California with rain have also brought epic snow to the Sierra.
Meteorologist Jim Mathews says that since 1950 only six years have surpassed the total "snow water content" that California has right now.
The state's snowpack — measured using the snow's water content — is at 130% of its usual level on April 1 (after that date, the snow tends to begin to melt). It's at 150% of the amount that's normal for this time in February.
"Even if it doesn't snow another flake," the National Weather Service meterologist said, "we already have about a third more" snow water content than average.
In 2011, the snow water content reached 171% of normal. On the current track, Mathews said, the chances of beating that total is pretty good.
That's because of the very active storm system that's been centered over California for most of this winter. And there are several more storms on the horizon that will bombard the state just after this system lets up, Mathews said.
On Tuesday, high elevations of the Sierra Nevada — over 5,000 feet — had 2 to 3 feet of snow, with another 1 to 2 feet added overnight. This weekend will see another couple of feet.
"So we're not done with it yet, there's plenty of snow," Mathews said.
In an atmospheric storm, water content of snow is even greater than with a regular bout of snowfall, Mathews said.
The flooding in Sonoma County is not from melting snowpack, however, but the torrential rain in Northern California. "It's been a very wet month in Sacramento. We're at the fifth wettest February on record," Mathews said.
Interstate 80 has been closed since Tuesday because of snow, and the freeway has been closed several times this winter due to snow accidents, Mathews said. Snow has affected travel over the trans-Sierra passes, and with the heavy rain and runoff, rivers have been on the rise, resulting in numerous road closures in Northern California and even some evacuations in Redding and, now, the area around the Russian River.
"There's a lot of standing water and it will be slow to recede," he said. "And once there's a let-up, there are a lot of storms on the horizon. So we'll have flooding issues well into next month."
---
The stories shaping California
Get up to speed with our Essential California newsletter, sent six days a week.
You may occasionally receive promotional content from the Los Angeles Times.