The law finally catches up with Suge Knight: A timeline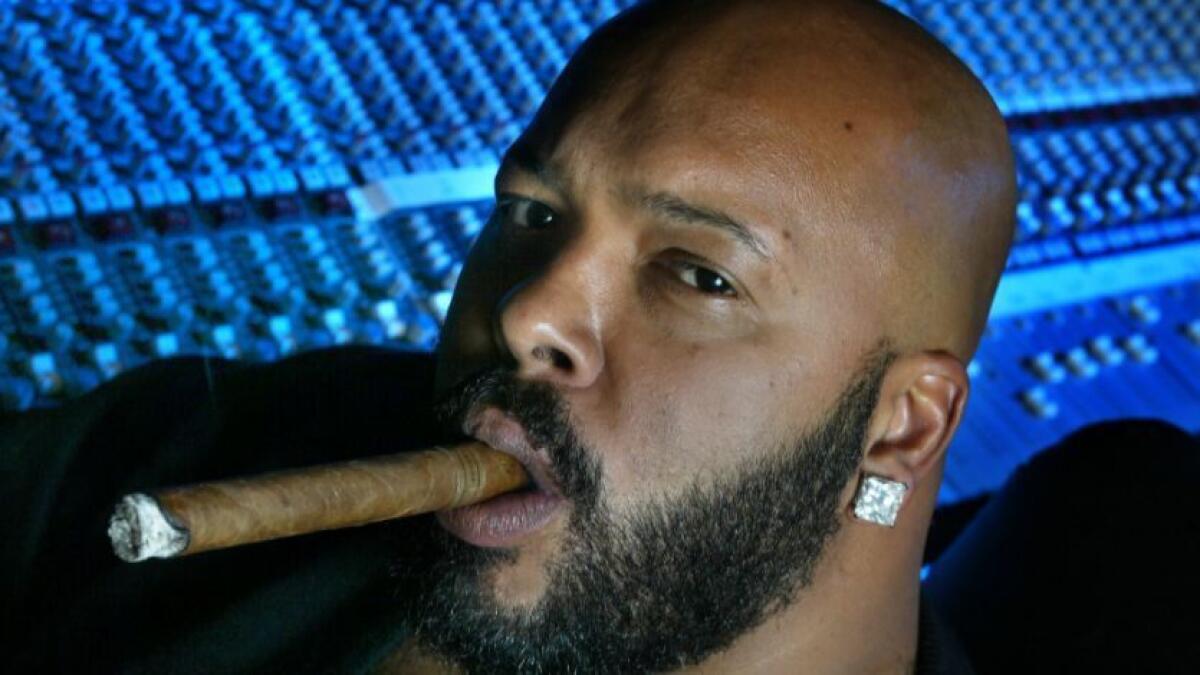 The law appears to have finally caught up with Marion "Suge" Knight.
The rap producer and mogul had danced with law enforcement for much of his storied career, including stints behind bars.
But on Thursday, he pleaded no contest to voluntary manslaughter in connection with the 2015 hit-and-run death of a man outside a Compton restaurant after a dispute related to the film "Straight Outta Compton."
Knight, 53, has agreed to be sentenced to 28 years in prison.
It's an epic downfall for the co-founder of Death Row Records, whose outlaw image helped sell millions of albums.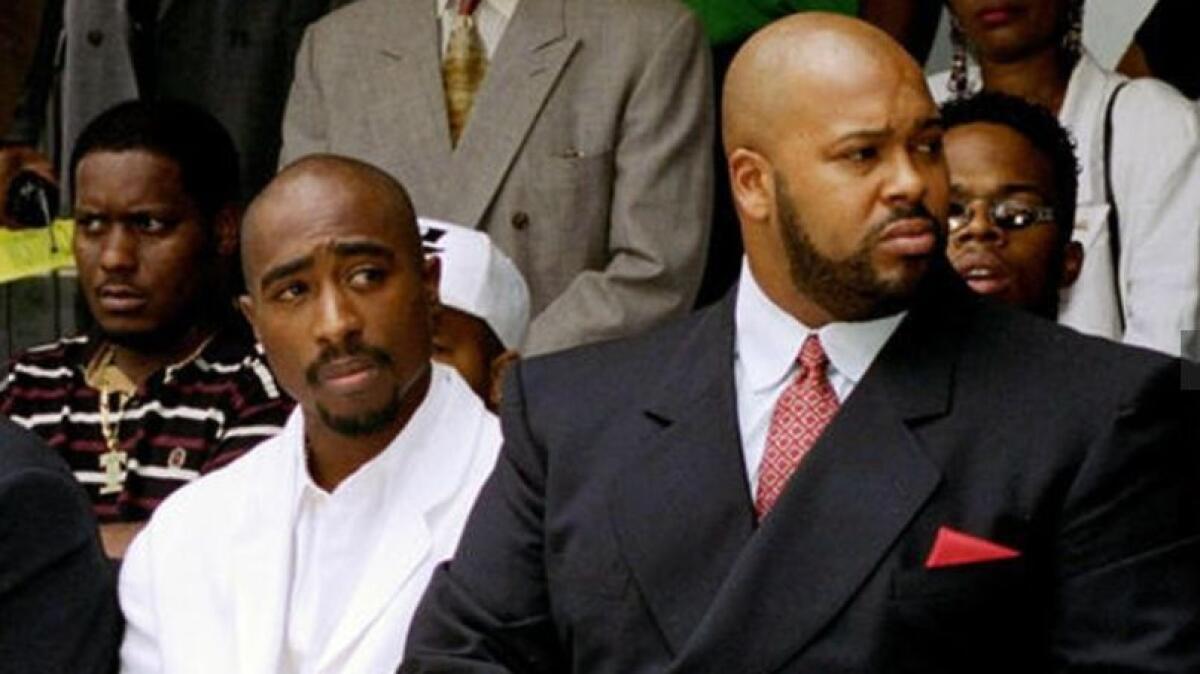 Born Marion Hugh Knight Jr., the Compton native was long considered an intimidating force in the city and the hip-hop scene. He excelled early on the football field, playing defensive end in college before earning a short stint with the Los Angeles Rams as a replacement player during the 1987 NFL strike. When his football career fizzled, Knight — 6-foot-4 and 300-some-odd pounds — worked as a bodyguard for celebrities, including Bobby Brown, and began spending more time in music circles. In the early 1990s, Knight and Andre Young, better known as Dr. Dre, formed Death Row Records.
As the label exploded into a $100-million-a-year enterprise, Knight built an infamous reputation. One newspaper dubbed him "the most feared man in hip-hop," and another compared him to John Gotti, the notorious New York City mob boss. During a newspaper interview, Knight, then 29, told a New York Times reporter, "If I wanted to, I could really scare the hell out of you."
Here's a timeline of his legal troubles:
1992
Charged with two counts of assault with a deadly weapon, court records show. In a search warrant affidavit filed at the time, authorities alleged that Knight had ordered two aspiring rappers to their knees in a Hollywood studio, fired a shot near them and pistol whipped one.
1996
Sent to prison for nearly five years after badly beating a rival at a Las Vegas hotel. At the time of the incident, Knight was accompanied by rapper Tupac Shakur.
2002
Jailed for violating his probation by associating with Los Angeles gang members.
2003
Violated parole by punching a Hollywood nightclub parking lot attendant.
2005
Shot in Miami during an MTV Video Music Awards pre-party.
2009
Hospitalized after a fight at a hotel in Scottsdale, Ariz.
2014
Shot during an altercation at a Hollywood nightclub.
2015
Arrested on suspicion of killing a man with his truck at a Compton hamburger joint.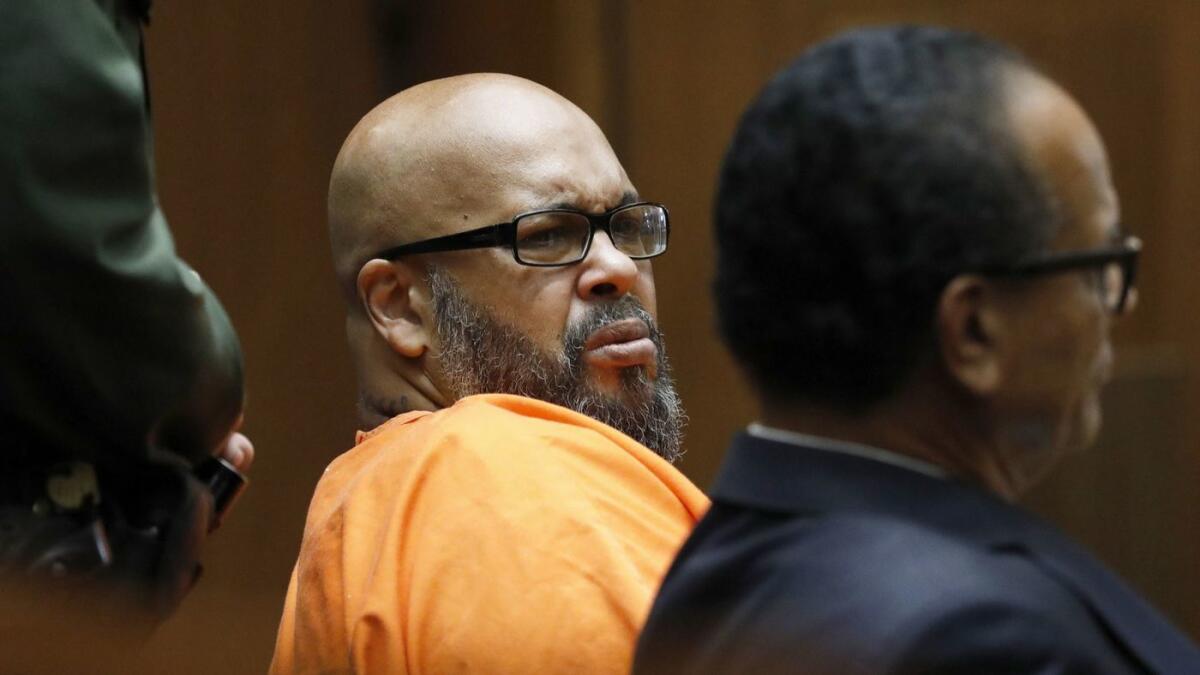 Here's a timeline of his life:
Late 1980s
After a career in the NFL didn't pan out, he put his build to use as a bodyguard for celebrities. He eventually began promoting concerts and soon launched a music publishing business, gaining notoriety by muscling Vanilla Ice over the rights to his smash hit "Ice Ice Baby."
Early 1990s
Knight formed an artist management company and signed prominent West Coast rappers DJ Quik and Tracy "The D.O.C." Lynn Curry, who introduced Knight to several members of the gangsta rap group N.W.A.
1991
Death Row Records was founded by Knight, Curry, Richard Griffey and Dr. Dre. Knight negotiated Dre, a former N.W.A member, out of his deal with Eazy-E's Ruthless Records. Legend has it that Knight and his henchmen used lengths of pipe and baseball bats as intimidation.
1992
Death Row found almost instant success. Dr. Dre's debut album in 1992, "The Chronic," becomes a blueprint for West Coast gangsta rap. Dre's production style, which incorporated slow hypnotic grooves and soulful vocals, continues to influence hip-hop and pop records.
1993
Snoop Dogg's equally influential debut album, "Doggystyle," arrived, boasting Dre's production.
1995
Knight signed Tupac Shakur to Death Row Records after posting a more than $1-million bond for the then-incarcerated rapper.
1996
Shakur was shot and killed in Las Vegas as he rode in a car driven by Knight. Industry rumors placed the blame on tension between New York's Bad Boy Records and Knight.
1997
While in Los Angeles for the Soul Train Awards, Bad Boy artist Notorious B.I.G. was gunned down after leaving a party. Both slayings remain unsolved.
1997
Knight was sentenced to nine years in prison for violating the terms of his probation from an assault case, and his control of Death Row diminished. Most acts departed.
2001
Knight was released from prison after serving less than five years but was never able to restore the label to its former prominence, and his own legal troubles mounted.
2009
Death Row was auctioned for a reported $18 million.
2015
Arrested in killing of man in Compton.
2018
Pleaded no contest to voluntary manslaughter.
Sign up for Essential California for news, features and recommendations from the L.A. Times and beyond in your inbox six days a week.
You may occasionally receive promotional content from the Los Angeles Times.