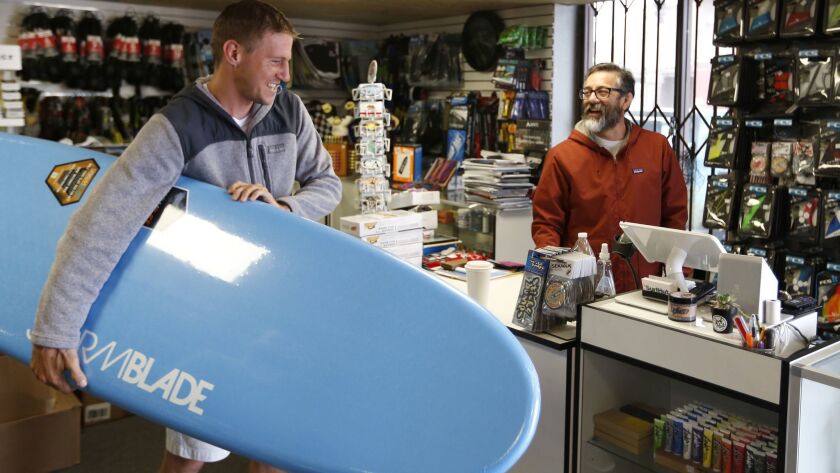 Reporting from imperial beach —
When sewage spills from Tijuana close the South Bay shoreline, Jesse Ramirez can't sell wet suits or rent out surfboards.
As the owner of the Surf Hut in downtown Imperial Beach, Ramirez can only watch as foot traffic and sales decline. But he doesn't stress too much. Ramirez learned early on the importance of budgeting for beach closures.
"We have a little sewer day fund," Ramirez said. "Over many years, we've learned to put a safety net so when it does happen, we're ready."
When the beach is closed, Ramirez said, sales drop by more than 50%. "It's already slow in the wintertime," he said. "Then the spills come in, they close the beach and it's even slower. I've seen a lot of [businesses] pack up and leave."
Sewage spills are as much a part of life in the South Bay as the surfers who ride the southerly swells. Ramirez has weathered the environmental hardships better than others over the 30 years he's been in business, in large measure because he's built a loyal following and a welcoming atmosphere.
Walking into the store feels like walking into a friend's garage. Customers bring their dogs. Ramirez's golden retriever likes to sit behind the checkout desk. A longtime customer stopped by recently and mentioned he got a new car. Ramirez was so stoked he left the store for a few minutes to check out the new ride.
It was a nice distraction from the decades-long pollution problem that has defied resolution.
Last year, after more than 250 gallons of sewage spilled into the Pacific Ocean from the Tijuana River, water pollution in Imperial Beach became an international story.
Imperial Beach, Chula Vista and the Port of San Diego filed a joint lawsuit against the federal government alleging it had failed to control sewage, industrial waste, trash and pesticides from flowing into the ocean.
The legal battle gained more traction last month when California's attorney general and the Surfrider Foundation's San Diego chapter filed similar plans to sue the federal government over alleged violations of the Clean Water Act.
Although the spills have come to the forefront in the last few years, water pollution has been part of Imperial Beach life for generations, particularly for the surf community.
"Everybody I know has gotten sick," said Jeff Knox, 68, who taught his son to ride a board when he was 4. "I don't know of anybody who hasn't, and these are the guys who are very careful."
Knox, who has lived and surfed in Imperial Beach for decades, has seen ear infections, skin rashes, stomach viruses and even hepatitis. His son, Joe, contracted hepatitis and strep throat in 2012 from swallowing a bit of water while surfing the Tijuana Slough — a popular big-wave surf spot near the mouth of the Tijuana River.
Joe Knox was hospitalized, recovered, and still surfs in Imperial Beach. Like most, he takes precautions before entering the water. He'll check the county's water quality and the Tijuana River's flow online. He's also learned to read the ocean for signs of pollution such as discoloration on the water's surface, the consistency and color of the sea foam, and strange odors in the ocean breeze.
Aside from health risks, water pollution disrupts daily life in Imperial Beach.
The surf community is composed mainly of working-class families who have lived in Imperial Beach for generations. Grandparents surf with grandchildren and construction workers get leads on new projects in between catching waves.
Beach closures eliminate those interactions.
"It sort of eviscerates the fabric of our community, and it's not just surfing; it's friendships and people," says Mayor Serge Dedina, who worked as a lifeguard in Imperial Beach and the Silver Strand to put himself through college. "A lot of guys like me, that's our social life. All of a sudden that's gone, and then months later you miss everyone."
gustavo.solis@sduniontribune.com
Solis writes for the San Diego Union-Tribune.
---