Violence in Tijuana keeps spiraling: 1,744 homicides in 2017, officials say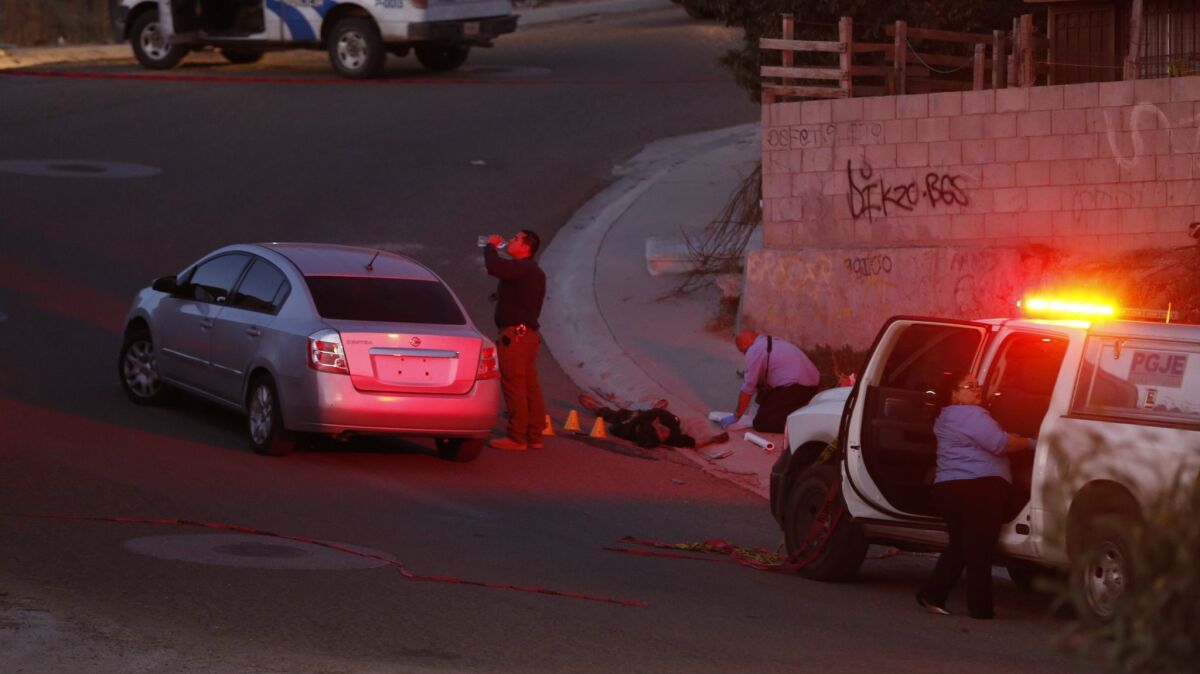 After spiking to unprecedented levels last year, the bloodshed in Tijuana has continued at an unrelenting pace in the first days of the new year as two powerful drug trafficking organizations battle for control of the city's lucrative street drug sales: The long-established Sinaloa cartel and a newer, aggressive group known as the cartel Nueva Generación Jalisco, often abbreviated as CJNG.
As homicides soared to unprecedented levels across Mexico in 2017, Tijuana registered one of the steepest increases in the country. The tally for the year was a record 1,744 homicides — almost double the record of 910 homicides set in 2016, according to figures from the Baja California Attorney General's Office.
"The main issue right now with the power struggle is Sinaloa and the CJNG battling for street dealers, narcomenudeo," said an official with the U.S. Drug Enforcement Administration, speaking on condition that he not be named. "You have got to understand, the money that they make in Tijuana, that's as much as crossing the border" with smuggled drugs.
Though bullets have struck innocent bystanders, the killings have been largely targeted and carried out in the city's impoverished and working class neighborhoods, authorities say. Close to 90% of the victims are low-level operatives in the local drug trade, they say.
In many cases, the victims' bodies are unclaimed, either because they are from other parts of Mexico, or because they are estranged from family members. "There are a lot of people from outside" the region, said Gerardo Sosa Olachea, Baja California's newly named public safety secretary. "They're sent up here to get rid of people, and to take possession of the plaza."
Tijuana's public safety secretary, Marco Antonio Sotomayor, believes that a key step to bringing down the violence is reducing the demand for illicit drugs by battling addiction rates. Methamphetamine is the biggest problem, followed by heroin, he said in an interview earlier this year.
Sosa said support from Mexico's federal government in preventing drugs from reaching Baja California is essential to reducing the homicides. With drugs arriving by land, air and water, "we need the federal presence, because they have all the equipment, planes, helicopters."
Roberto Quijano, a political independent on the city council, has called for a series of measures — including adjustments to Mexico's new accusatory justice system to prevent the release of suspects of serious crime; a plan by law enforcement agencies to confront the violence; and renewed federal support. "The federal government not only doesn't send money, it's no longer participating in operations."
Still others say the violence can most effectively be lowered by reducing competition among trafficking groups.
According to the DEA, there are five drug trafficking groups based in various parts of Mexico that are operating in the Tijuana region. Besides Sinaloa and CJNG, these are members of the Beltrán-Leyva Organization faction led by Fausto "Chapo" Isidro Meza; the Michoacan-based Familia Michoacana; and remnants of the group that once controlled Tijuana, the Arellano Félix Organization. The Arellanos are said to have joined forces with CJNG to oppose Sinaloa.
The lack of control by a single group is key to explaining the level of violence, said David Shirk, a University of San Diego professor who tracks Mexico's trafficking groups. "There is no over-arching umbrella of control by the larger organizations that are able to establish rules of the game," he said. "There's confusion and disarray at the lower levels because there's no one to call the shots."
Key smuggling route
Tijuana, with some 1.8 million residents, has long been key to drug trafficking organizations vying for control of a critical route for smuggling marijuana, cocaine, heroin and methamphetamine to the United States, the world's largest consumer of illicit drugs.
As in past years, Tijuana's homicides far outnumber those of the state's other five municipalities. State figures for 2017 show 189 for Ensenada, 157 for Mexicali, 121 for Rosarito Beach and 68 for Tecate.
Despite the spiking homicide numbers, the city's main business districts have remained vibrant, with shops and restaurants full, and its numerous factories booming with activity. This stands in marked contrast to a decade ago, a time of global economic downturn, when Tijuana was the setting of brazen shootings in bars and busy thoroughfares, gruesome displays of bodies hung from bridges, and killings of numerous police officers.
Back then, the long-dominant Arellano Félix Organization fought off a challenge from a former lieutenant backed by the Sinaloa cartel for control of Tijuana, a critical corridor to supply the large U.S. demand for heroin, cocaine, marijuana and methamphetamine. As top leaders of the Arellano group were killed or arrested, the group became a shadow of its former self, and Sinaloa took dominance of the plaza.
"In 2008, it was easier to explain the situation," said an official at the Baja California Attorney General's Office who requested anonymity because he is not an authorized spokesman for the agency. "The groups were clearly identified."
As Sinaloa consolidated its control, the killings plummeted — from 844 in 2008, until then the city's most violent year, to 364 in 2012. But since then, they have fairly steadily mounted.
But while homicides are up, other crimes such as kidnapping and extortion that drove many upper- and middle-class residents to move across the border have fallen significantly since 2008-10, according to an analysis of state figures by USD's Shirk.
Dibble writes for the San Diego Union-Tribune.
The stories shaping California
Get up to speed with our Essential California newsletter, sent six days a week.
You may occasionally receive promotional content from the Los Angeles Times.