Most college head chaplains are Christian. At USC, a Hindu leads the way
USC's Varun Soni is among the few non-Christian college chaplains in America. (April 3, 2017) (Sign up for our free video newsletter here http://bit.ly/2n6VKPR)
Varun Soni straightened his shoulders and grasped the podium, his dark suit flanked by the stately white robes of priests and ministers.
A beloved professor had been stabbed to death. As USC's head chaplain, it fell to Soni to help the hundreds gathered outside that day to process their loss.
And so he spoke to them of the stories he'd collected, the pain he'd shared, the grief he had witnessed. And he offered words to help them, though not from the Bible or any other religious text.
"People will forget what you said, people will forget what you did, but people will never forget how you made them feel," he said, quoting Maya Angelou, before he bowed his head in a universal "Amen."
Soni is an unusual college chaplain. He is a Hindu. He has a law degree. In 2008, when USC hired him as its dean of religious life, he was the sole head chaplain at a major American university who was not only not a Christian but not an ordained Christian at that. Today, at a time when differences — religious and otherwise — grow ever more fraught and complex, he remains all but alone in breaking the Protestant chaplain mold, except for a rabbi at Dartmouth, another at Wesleyan, a Buddhist at Emerson.
"It's very, very hard to divorce the pomp and circumstances of academia from particularly Protestant traditions," said Dena Bodian, president of the National Assn. of College and University Chaplains. "Chaplains like Varun enable us all to rethink what chaplaincy in higher ed could look like."
The job, after all, is about much more than Christianity. As USC's spiritual leader and moral voice, Soni oversees about 90 campus religious groups including atheists and agnostics, Baha'is, Zoroastrians.
Inside and outside the lecture halls and dormitories, he bridges what he sees as the gap between the slow-moving wheels of academic change and a new generation's impatience with tradition. He counters the tendency to split apart and subdivide with a message of tolerance, coexistence, respect.
"If we want to know what religion is going to look like in the United States in 20 years, just look at what's happening on college campuses now," he said. "Particularly at a time when our country is so polarized, and people aren't speaking to each other."
Soni himself exemplifies the many in the one. He holds five degrees — from Harvard Divinity School, UC Santa Barbara, UCLA's law school and the University of Cape Town, where he wrote his doctoral dissertation in religious studies on Bob Marley as a spiritual figure who used his work to spread a divine message. While an undergraduate at Tufts University, he studied in India at Bodh Gaya, where Buddha attained enlightenment.
He's consulted for the Obama administration, produced a graphic novel and advises celebrity religious scholar Reza Aslan. The son of immigrant doctors, he was raised in Newport Beach, where he went to a Catholic elementary school and learned from his best friends, who were Jewish, and his grandfather, a Buddhist who grew up around Mahatma Gandhi.
"Gandhi, that's why I went to law school and studied religion," Soni said, nodding to a framed portrait hung alongside the Dalai Lama and the Rev. Martin Luther King Jr. in his office. "Those are my guys — people who brought together the spiritual and the scholarly world for the purposes of social change."
What better place to bridge these two worlds than a college campus?
We're oriented around meaning and purpose and authenticity and identity and significance.
— Varun Soni
It's not easy, Soni acknowledged, to guide a generation that grew up seeing religion as a source of terrorism and patriarchy, whose institutions covered up child abuse and preached discrimination. More and more millennials are rejecting formal religion but seeking a spiritual sense of purpose.
It helps that Soni's approach centers more on commonality than God.
"We're oriented around meaning and purpose and authenticity and identity and significance," he said. "My concern is that as students leave traditional religious congregations, they haven't been taught how to build an intentional community of like-minded people in a way that creates empathy and compassion and a sense of belonging. That's compounded by the fact that this is a generation that was born into technology. … You may have 500 friends on Facebook, but what does that mean in real life?"
Around campus, he's facilitated interfaith retreats, promoted LGBTQ Bible studies and taught courses on misunderstood religions such as Islam and Sikhism. "My programming is my pulpit," he likes to say. After the Trump administration announced a travel ban that alienated Muslims, his phone rang nonstop. Empowered by Soni's inclusive approach, dozens of students, professors and religious leaders rallied alongside their Muslim peers and attended a local mosque, where they joined in the midday Juma'h prayer.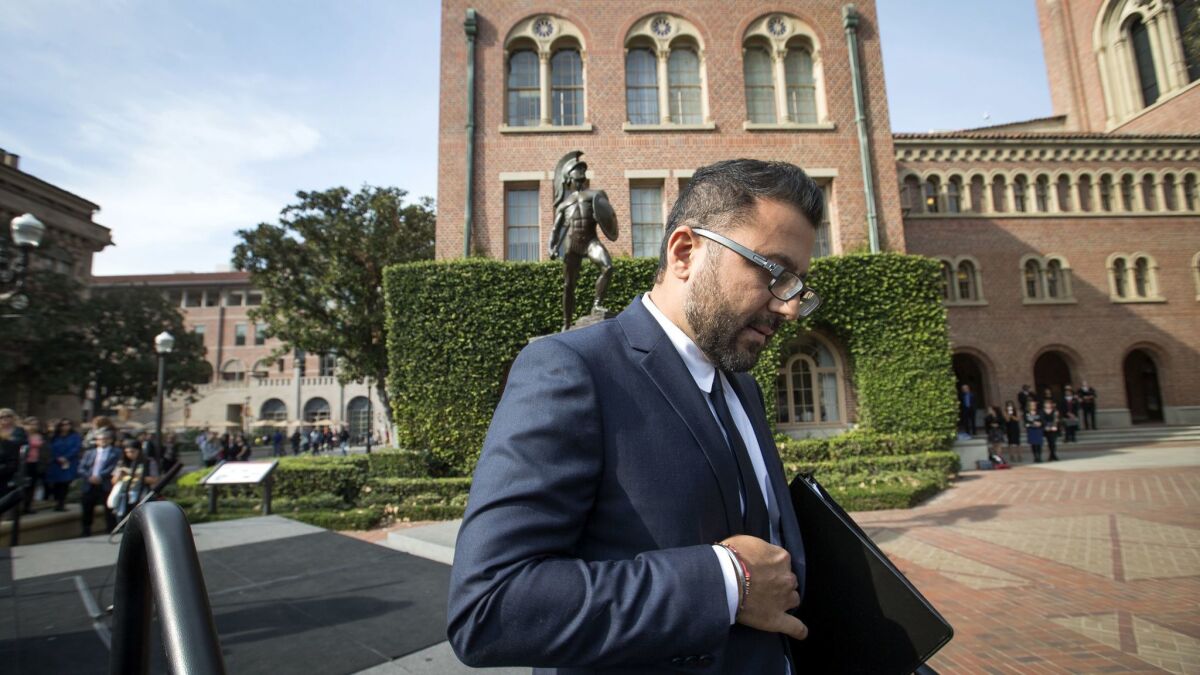 "Varun does a good job of keeping us moving in the same direction," said Dov Wagner, a rabbi at USC.
Soni, who is 42, could be mistaken for a graduate student. His hair is cut in a fade. He often teaches in jeans. He knows how to speak to a generation used to abbreviations and hashtags.
One afternoon, he walked his students through the religious history of northern India's Punjab, where his family is from. He rolled up his sleeve to show them his Sikh "kara," a delicate steel bracelet he has worn since his mother gave it to him when he was small.
"Traditionally, these are much thicker and protected one's wrist when you went to war," he said, attempting to mimic a sword fight with his hands. "Luckily, my days of swordplay are over."
After class, one student came up and said he was Punjabi as well, then shyly reached out for a handshake.
"Right on, Pun-ja-bis!" Soni cheered.
Soni tries hard to reach everyone. As a way to include students who don't believe in God, for instance, he hired a "humanist chaplain" to collaborate with other religious leaders on campus.
"Because of Varun, these other chaplains aren't threatened by me," said Bart Campolo, who uses his skills as a former pastor to guide students in a secular way. "I'm not here to attack anybody's belief system. They realize I'm just another guy trying to help students answer life's ultimate questions."
Eugenia Huang, whose father died a week before she went off to college, said she was grateful to encounter Soni at a freshman dinner, at which he urged students to feel free to come talk to him.
"I really liked the idea that he was about spirituality, instead of forcing any religion down my throat," Huang said. "You often see people turn to religion when they're sick or experiencing pain, and so I had always viewed it as something for the weak."
Now a sophomore, she is taking Soni's global religions course, which has changed her thinking: "I'm learning that a lot of the times, people turn to religion for the community and they just want to know: What's our purpose?"
Soni also has inspired a number of non-Christian students to pursue careers in religious leadership.
Interfaith Youth Core in Chicago has led the way in bringing college students of different faiths together. Founder Eboo Patel speaks of students who've learned from Soni as if they're top players in a fantasy draft. The Buddhist who went to multiple divinity schools in order to one day be a campus chaplain like Soni. The Muslim doctor who is studying religious diversity as it applies to healthcare.
"You don't get interested in that unless you're influenced by somebody like Varun," Patel said. "Now multiply that by 25 or 50 young people a year, and multiply that by 10 or 15 years, and think about the number of people who are going into everything from diplomacy to chaplaincy to medicine to business who have a really refined sense of religious diversity."
As an ever more diverse group of religious leaders seeks positions on ever more diverse campuses, universities will need to let go of outdated assumptions about what a head chaplain should look like, said Adeel Zeb, the imam at the Claremont Colleges.
"We're at a crossroads," said Zeb, who was elected recently as the first Muslim to lead the national group of college chaplains. "If you start defining a chaplain as a spiritual healer, an ethical leader and emotional healer on campus, regardless of anyone's faith traditions, if you start focusing on the human emotions and the human spirit, it enables more diverse possibilities."
One day in February, dozens of USC religious leaders of many faiths gathered in a conference room next door to Soni's office. It was their first all-chaplain meeting since Donald Trump's inauguration, and each came troubled by the anxieties many of their students were feeling.
Soni sat back and listened to his colleagues — Episcopalian, Catholic, Mormon, Buddhist, Jewish — weigh in on the hatred unleashed by the recent political rhetoric.
"So what should our role be, running our different groups on campus?" Soni asked. "Is an attack on one religion an attack on all religions?"
Campolo, the humanist chaplain, brought up the words of German Pastor Martin Niemoller, familiar to everyone in the room:
First they came for the Socialists, and I did not speak out — Because I was not a Socialist.
Then they came for the Trade Unionists, and I did not speak out — Because I was not a Trade Unionist.
Then they came for the Jews, and I did not speak out — Because I was not a Jew.
Then they came for me — and there was no one left to speak for me.
A fellow pastor led the group in a prayer. They stood in a circle, raised their right hands toward Soni and vowed as one to lead their communities on the path they all shared.
Follow @RosannaXia for more education news
ALSO
USC faculty call for more protection of immigrant and foreign students
Like an invisibility cloak, Latina Muslims find the hijab hides their ethnicity — from Latinos
Buddhist reverend is newest chaplain for California Assembly
The stories shaping California
Get up to speed with our Essential California newsletter, sent six days a week.
You may occasionally receive promotional content from the Los Angeles Times.