Army veteran deported to Mexico can return home, become U.S. citizen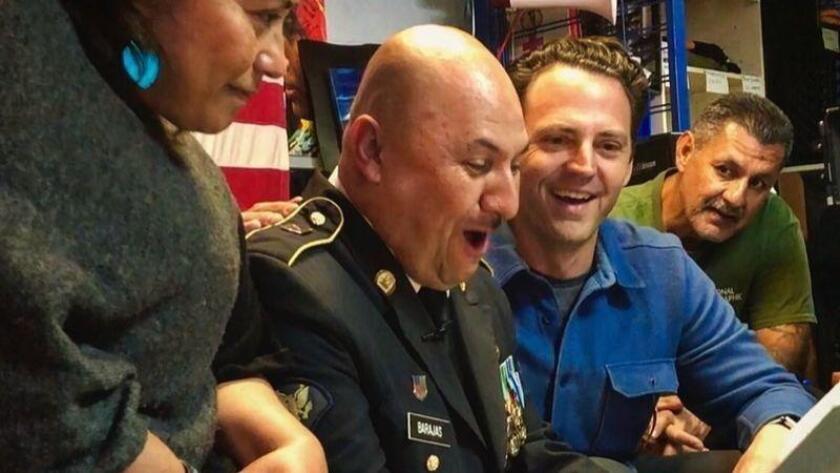 Hector Barajas, who became the face and voice of deported veterans after his own deportation, will be allowed to return to the place he considers home and become a U.S. citizen.
Barajas burst into joyous tears seated on a couch Thursday afternoon in front of a large U.S. flag as he read a document informing him that he would be sworn in as a citizen on April 13 in San Diego.
"I'm coming home, Mom!" he added.
Nathan Fletcher, a candidate for county supervisor who has championed the deported veterans' cause, sat beside Barajas on the couch, his hand rubbing Barajas' shoulder in congratulations. Norma Chávez-Peterson, executive director of the American Civil Liberties Union in San Diego, sat on the other side of Barajas, telling him that an ACLU attorney had already arranged how he would get back home.
Barajas was honorably discharged from the Army in 2001 but struggled readjusting to civilian life. He took a plea deal for a charge of shooting at an occupied car in 2002. Because of that conviction, the government took away his green card, and he was deported in 2004 after he finished a prison sentence.
"I made bad decisions," he told the Union-Tribune last year about that time in his life. "I put myself in that situation. ... I wouldn't put myself in that situation again."
Barajas founded the Deported Veterans Support House, known to many as "the Bunker," in 2013 to support deportees in Tijuana. He became a leader in a push for legislative changes to help U.S. military veterans who had not become citizens avoid deportation and to bring back those who were already removed.
He was born in Mexico but raised in Los Angeles from age 7. Because he had a green card, he was able to serve in the Army and was part of the 82nd Airborne Division from 1995 to 2001. At the time, he thought he'd automatically become a citizen, but that was not the case.
Members of the military are allowed to apply for citizenship with no waiting period. They still have to fill out the paperwork and pass the tests.
Noncitizens who serve in the military are still at risk for deportation if they commit crimes that can cause the U.S. to revoke their green cards.
Advocates have argued that conditions such as post-traumatic stress disorder and other challenges that veterans face when they leave the military can make it more likely that they commit such crimes. They say that the veterans should be expected to serve whatever sentences they're given for the criminal convictions but that deportation goes too far. The ACLU has documented at least 239 cases of deported veterans living in 34 countries.
Critics of the deported-veterans movement say that a green card is a contract and any violation should result in deportation, regardless of military service.
In April 2017, Gov. Jerry Brown pardoned Barajas, along with two other deported veterans, saying he "has shown that since his release from custody, he has lived an honest and upright life, exhibited good moral character and conducted himself as a law-abiding citizen."
Barajas hoped that might eventually allow him to return to the U.S., but he knew it was no guarantee. He applied for citizenship before receiving the pardon.
Marco Chavez Medina, a deported Marine whom Brown also pardoned, crossed back into the U.S. in December after his green card was reinstated. Barajas and several other deported veterans escorted him to the San Ysidro port of entry.
Barajas has a middle-school-age daughter named Liliana who lives in Los Angeles. He said that while he waited to find out if the U.S. would let him back in, he dreamed of reuniting with her.
"Finally, after years of fighting for the rights of deported veterans to return to the U.S., Hector will be able to return home as an American citizen," said Jennie Pasquarella, director of immigrants' rights for the ACLU of California and one of Barajas' attorneys. "Hector, like a true soldier, has fought day in and day out since his deportation on behalf of deported veterans across the globe. He never gave up hope that he would one day return to his home and be reunited with his family."
To read this article in Spanish click here
Morrissey writes for the San Diego Union-Tribune.
---
For reporting and exclusive analysis from bureau chief John Myers, get our California Politics newsletter.
You may occasionally receive promotional content from the Los Angeles Times.