Freezing temperatures expected across California could threaten Central Valley crops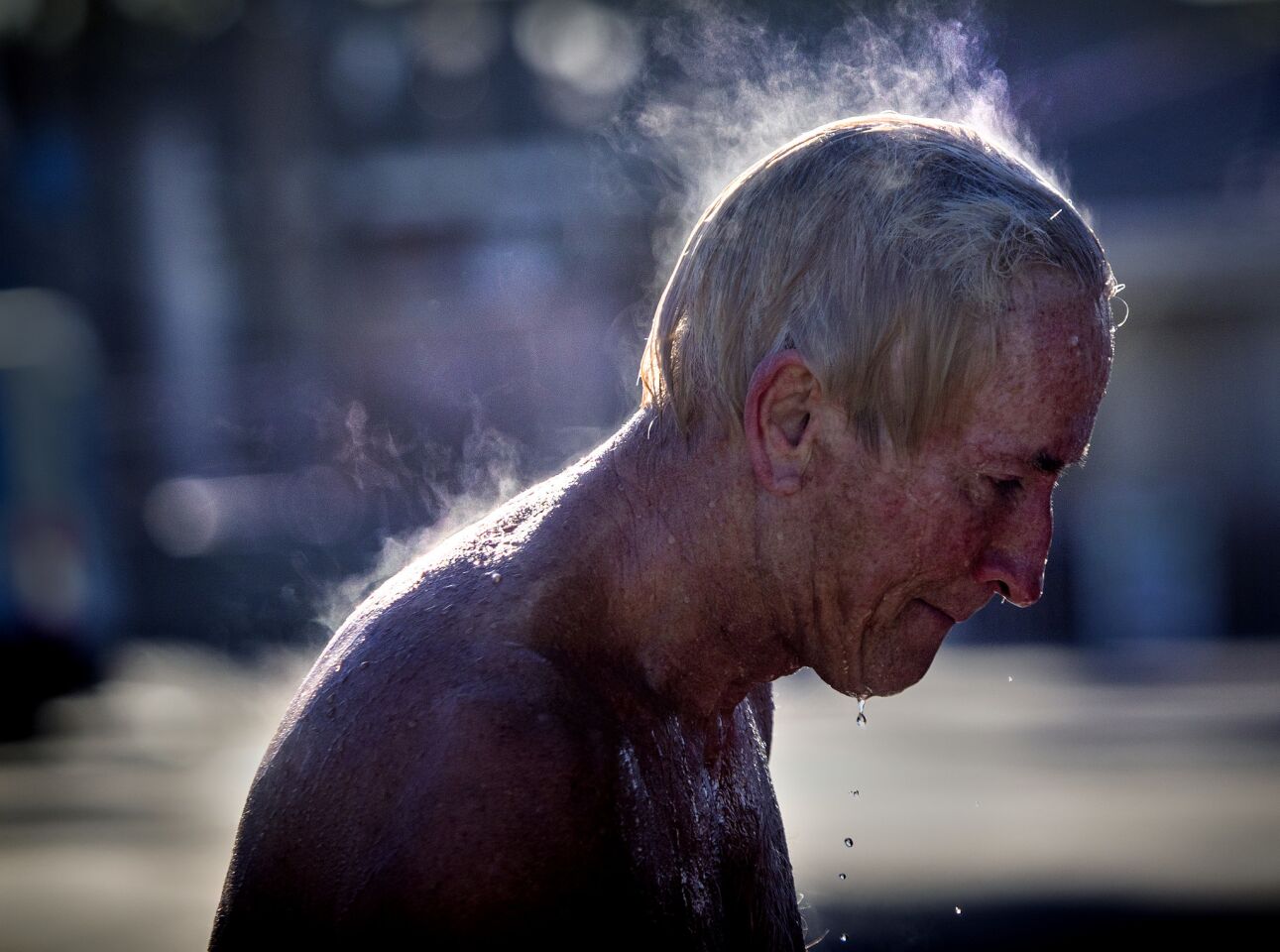 Steam rises off Rick Rzeszewski of Tustin after he poured hot water over his head following a surf outing amid frigid air and cold water temperatures at sunrise in Huntington Beach. "After being in that cold water, it feels wonderful," said Rzeszewski, a pastor who surfs early in the morning before the crowds arrive.
(Allen J. Schaben / Los Angeles Times)
Amid temperatures in the 20's and 30's, a snowboarder bundles up while snowboarding at Mountain High resort in Wrightwood.
(Allen J. Schaben / Los Angeles Times)
A snowboarder nears the end of the run at Mountain High resort in Wrightwood.
(Allen J. Schaben / Los Angeles Times)
Hikers take in a view of snow-capped twin-peaks of Mount Baldy from an overlook near Wrightwood.
(Allen J. Schaben / Los Angeles Times)
Skiers and snowboarders traverse down the mountain at Mountain High resort in Wrightwood .
(Allen J. Schaben / Los Angeles Times)
People bundle up Tuesday across Southern California as a cold air mass behind a storm generated frigid temperatures.
(Irfan Khan / Los Angeles Times)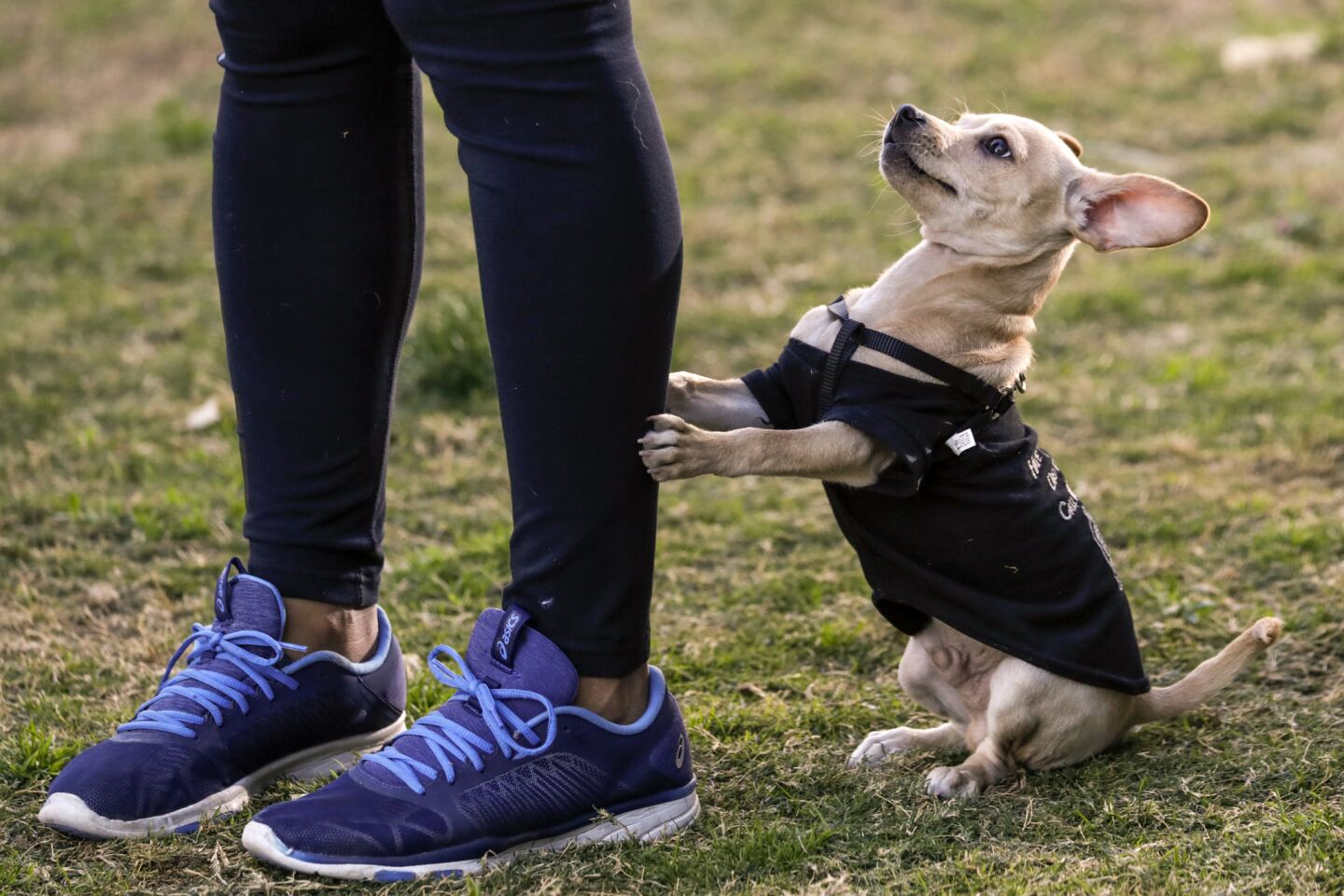 A pup named Golden wears a sweater to keep the cold at bay while playing at the dog park next to LAPD headquarters in downtown Los Angeles.
(Irfan Khan / Los Angeles Times)
Temperatures across Southern California will remain 12 to 18 degrees below normal for the next two days thanks to a heavy infusion of cold Canadian air.
(Irfan Khan / Los Angeles Times)
Clouds roll in over the Redondo Beach Pier as cold weather is settling in over the southland this week.
(Christina House / Los Angeles Times)
Freezing temperatures are forecast to sweep much of California this week, potentially endangering the state's almonds and other lucrative Central Valley crops.
Temperatures in most rural areas of the San Joaquin Valley, the heart of the state's agricultural sector, are expected to fall to the mid-20s Tuesday morning. The below-freezing weather could kill blooms on almond and cherry trees, which appeared earlier than usual because of the unseasonably warm weather this month. California produces 80% of the world's almonds, according to the Almond Board of California.
"The warmer-than-usual weather brought the blooms out and now the freezing temperatures are putting them in peril," said Jim Bagnall, a National Weather Service meteorologist in Hanford. "Without the blooms, there are no nuts. It could have a significant effect on the harvests."
Forecasters said the breakdown of a high pressure system, which brought weeks of warm weather, opened the way for a cold storm system from Canada to barrel through California. The cold and dry air mass will combine with clear skies to cause temperatures to plunge overnight Monday and Tuesday.
In Southern California, overnight temperatures Tuesday are expected to drop to 32 degrees in Woodland Hills but downtown Los Angeles should be warmer, with a low of 40 degrees. Daytime temperatures are expected to reach the low 60s.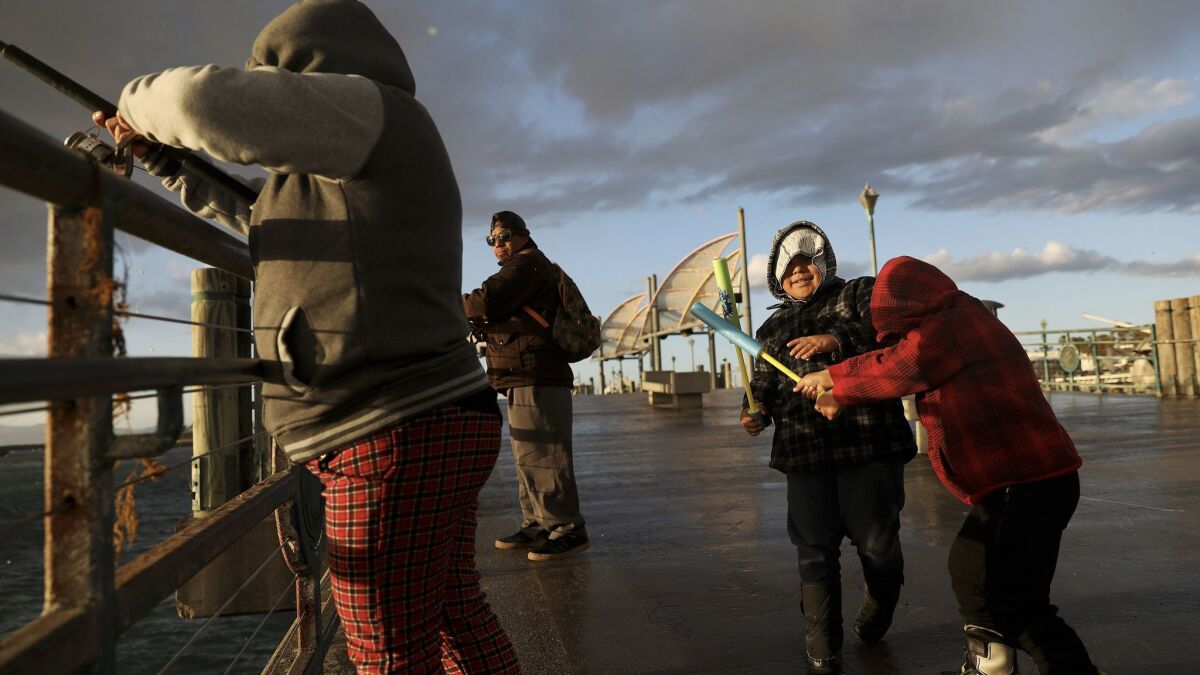 Meteorologists warned motorists to take care driving through the Grapevine, which was hit with winds gusting up to 50 miles per hour and a light dusting of snow early Monday. Freeze warnings are in effect for the Central Coast and the Ventura, Santa Ynez and Cuyama valleys.
"The way it's been going, spring came first and then winter," said Bonnie Bartling, a weather specialist with the National Weather Service in Oxnard. "You have to trade your shorts and tank tops for jackets."
Freezing temperatures also are expected in most of the San Francisco Bay Area. Snow flurries hit the Santa Cruz Mountains early Monday and piled up to 4 inches in some areas of the Big Sur backcountry. Temperatures Tuesday morning are expected to fall to 28 degrees in some parts of wine country and dip to 38 degrees in San Francisco, which would tie a record low for the day set in 1897.
Steve Anderson, a National Weather Service meteorologist, said record low temperatures could sweep other Bay Area cities Tuesday morning.
Bagnall warned people in areas of freezing weather to bring their pets indoors, cover their outdoor plants and wrap exposed pipes with towels to prevent them from bursting. He said growers might deploy helicopters to stir up air around their trees, mixing warmer air at higher altitudes with colder air near the ground.
Warmer weather is expected to arrive by Friday, with overnight lows in the mid-to-high 40s and highs in the low 60s. Little rain is forecast.
---
The stories shaping California
Get up to speed with our Essential California newsletter, sent six days a week.
You may occasionally receive promotional content from the Los Angeles Times.