With Gavin Newsom as governor, California's battle with Trump intensifies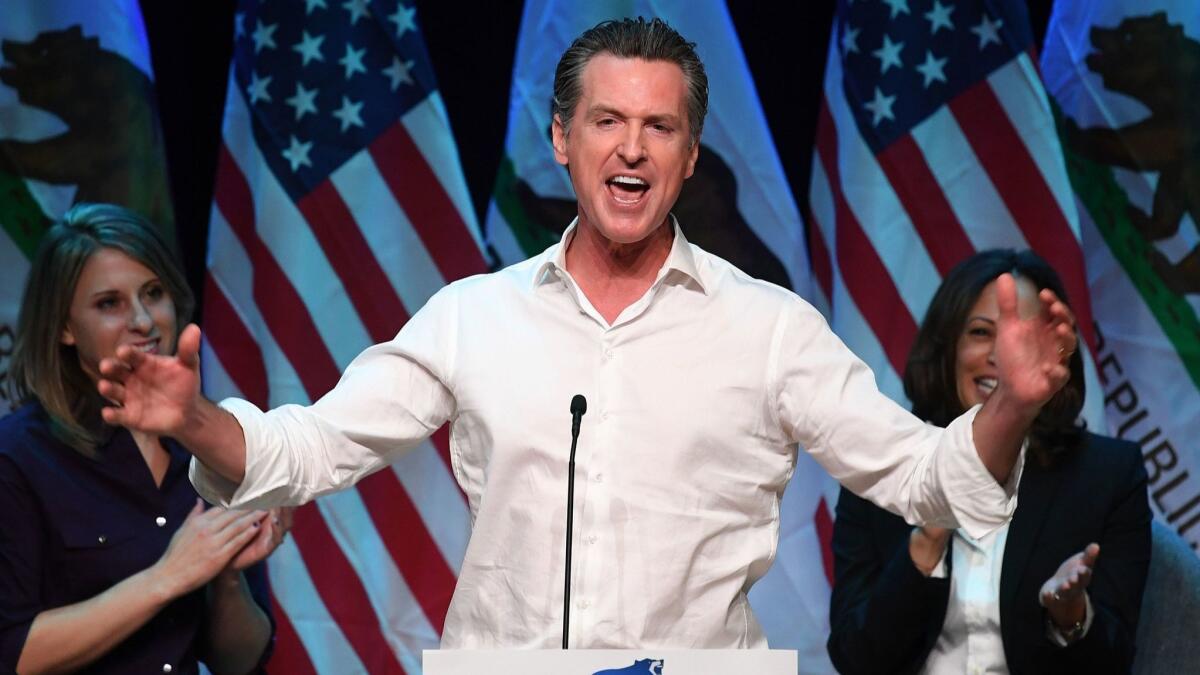 Reporting from Sacramento —
California cemented its role as a defiant counterweight to the federal government Tuesday as the state's voters elected Gavin Newsom, an enthusiastic adversary of President Trump, as their next governor.
The Democratic lieutenant governor ran an unabashedly Trump-centric campaign, one that alternated between forceful confrontation and winking sarcasm but always framed the president — rather than Republican opponent John Cox — as his rival.
But as campaign jabs give way to governing, Newsom must weigh his combative impulses against the complications of leading a state that is home to millions of Trump supporters — and one that is interdependent with the federal government.
"I feel a responsibility to call out the administration when they attack this state," Newsom told reporters last week. "At the same time, I don't choose to wake up every morning looking to pick a fight."
It's a balancing act that Gov. Jerry Brown approached in his own idiosyncratic way, a blend of searing taunts and standoffishness.
Brown "did need to be careful because there are so many federal resources" that California depends on, said Kimberly Nalder, a political scientist at Cal State Sacramento. "He pulled some punches because it was smart politics for California, in spite of the fact that Trump is very unpopular here."
'California versus Trump' became an instant rallying cry. But 'resistance' has been more complicated »
Newsom's years-long gubernatorial bid has been anchored in his criticism of Trump, and the two have sparred in a manner befitting their instincts for showmanship. In one recent back-and-forth, Trump denounced Newsom as a "clown." Newsom countered by comparing the president to Pennywise, the evil clown from the Stephen King horror novel "It."
In a soap-operatic twist, their rivalry has taken on a personal tinge in recent months. Newsom's ex-wife, former Fox News personality Kimberly Guilfoyle, is now dating Trump's eldest son, Donald Trump Jr.
The Golden State, which voted by a nearly 30-point margin for Trump's Democratic opponent Hillary Clinton in 2016, has similarly proved to be a constant irritant to the president. An economic powerhouse and the nation's most populous state, California holds outsize influence as the hub of anti-Trump resistance.
On Tuesday, Newsom portrayed his win as a central part of the Democratic victories nationwide that enabled Democrats to recapture the House.
"It's been a long two years, but tonight, America's biggest state is making America's biggest statement," he said. "We are saying, unmistakably and in unison, that it's time to roll credits on the politics of chaos and cruelty."
Within a day of Trump's election, California's legislative leaders said his win left them feeling "like strangers in a foreign land" and promised to "lead the resistance to any effort that would shred our social fabric or our Constitution."
State Atty. Gen. Xavier Becerra, who was elected Tuesday to serve a full term, has filed dozens of lawsuits against the administration's policies on the environment, immigration, healthcare and other issues.
The Trump administration responded with two lawsuits of its own, against California's "sanctuary state" law, which limits local law enforcement's cooperation with immigration authorities, and its recently passed net neutrality law that prohibits broadband and wireless companies from hindering access to the internet.
Trump and fellow Republicans have also revived a well-worn trope in portraying California as a hotbed of radical liberalism and barely contained chaos. In speeches and tweets, the president falsely asserted that the state was home to rampant illegal voting and riots in response to the sanctuary state law.
More coverage of California politics »
The barbs have not gone unanswered by Brown, particularly when Trump has acted against the governor's signature cause of battling climate change. Brown has called the president "a liar, criminal, fool" and cast Trump's proposed rollback of air quality protections as a "declaration of war on America."
"In other political times, we would've been shocked" by the rhetoric, Nalder said.
Instead, Brown has largely been seen as greeting Trump's provocations with a shrug.
"Brown treated Trump with a certain degree of intellectual and political indifference," Assembly Speaker Anthony Rendon (D-Paramount) said.
His response has been driven partially by his circumspect nature and in part by an unwillingness to budge from his long-standing agenda on climate and infrastructure in the face of hostility from the White House.
"We made a very conscious decision early on that we would not bark at every passing car," said Evan Westrup, a spokesman for Brown. "All one would be doing these days is barking."
Brown has responded forcefully when the president has pursued policies that could negatively affect California's climate goals or budget, as was the case in the administration's push to repeal the Affordable Care Act last year. But he's refrained from commenting on the multiple draft proposals that have leaked from the White House, including a legally questionable effort to end birthright citizenship by executive action.
At times, the governor has let others do the talking for him. When Trump tweeted that California's wildfires were caused by water and forestry mismanagement, the pushback came from the state's top fire official, who called the president's views "uninformed."
Amid the ongoing verbal volleys, the state has managed to secure needed funds from Washington. The Trump administration approved $650 million for electrification of the Caltrain commuter rail in the Bay Area. And Trump granted nine requests for presidential disaster declarations in California, securing assistance in the wake of destructive fires, mudslides and the crisis at the Oroville Dam.
Newsom credited Trump for not playing politics with disaster declarations and said he could see opportunities for collaboration on infrastructure or apprenticeship programs.
But Newsom is unlikely to find common cause with the president on most major policy priorities, including universal healthcare, particularly when such a goal would involve covering residents without legal immigration status. Still, he is unfazed by potential blowback from Washington.
"What's the choice? To abandon principle? To not advance our values because we're worried about hurting a relationship that the president of the United States has expressed very clearly is one that he is intentionally trying to damage?" Newsom said. "No, that's not going to happen. We're going to do what we have to do."
Nor has he showed signs of pulling back from jousting with the president, succinctly explaining his approach as "bullies need to be answered," and arguing he is no different than Brown in simply expressing his point of view.
The governor-to-be, however, has more forcefully responded to the trial balloons floated by the Trump administration. He called the birthright citizenship plan "disgraceful." He also denounced the administration's consideration of redefining gender to effectively end recognition of transgender people, saying the concept is "just plain wrong."
"To speak up against something folks find deplorable at the outset is helpful in terms of killing or molding those responses to something less offensive," Rendon said. "If that's the way Gavin is going to run his administration, I think that's a positive thing."
Nevertheless, the Assembly speaker said that in meetings to discuss legislative priorities with Newsom, there was nary a peep about the current occupant of the White House.
"All he's talked about is policy," Rendon said. "I don't know I've heard him mention Trump."
With a healthy majority of Democrats in the Legislature, there is little risk of Newsom alienating key legislative allies with his antagonism toward Trump. Kristin Olsen, a former Assembly Republican leader from Modesto, said even some GOP legislators may agree with his pugilistic stance, though others may take more offense.
And an assertive posture against Trump may help Newsom if he has further ambitions in national politics, particularly in a Democratic Party whose base has been energized in opposition to the president.
That incentive for partisan combat worries Olsen, who said she hoped Newsom would be a more unifying figure across party lines.
"For those who have national ambitions, it's very tempting to fall into [partisanship]. And unfortunately, I think if Gavin does, I think he will not be the effective governor that he could otherwise be," Olsen said. "To be an effective governor for the state of California at this time in history is directly opposed to being able to play into what unfortunately is advancing leaders today on a national scale, and that's screaming and attacking and hating the other side."
Follow @melmason on Twitter for the latest on California politics.
Get our Essential Politics newsletter
The latest news, analysis and insights from our politics team.
You may occasionally receive promotional content from the Los Angeles Times.