Trayvon Martin protest planned Sunday in South L.A.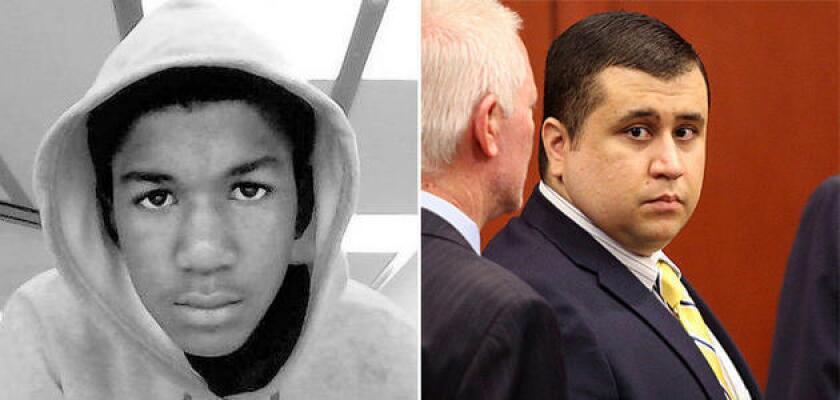 Organizers of Occupy Los Angeles are planning a 4 p.m. rally at the intersection of Martin Luther King Jr. and Crenshaw boulevards in South L.A. to protest the not guilty verdicts in the Trayvon Martin case.
George Zimmerman, the man who shot and killed unarmed black teenager Trayvon Martin in Sanford, Fla., last year, was found not guilty on Saturday night of second-degree murder and manslaughter.
The verdicts touched off rallies across the country Saturday night. A demonstration in Leimert Park in Los Angeles remained peaceful, but protesters in Oakland reportedly smashed windows, spray-painted cars and buildings and vandalized at least one police vehicle.
The LAPD put its officers on tactical alert Saturday night, meaning they could be required to remain on duty after their shifts ended and permitted not to respond to low-priority radio calls.
The move was precautionary, and there were no reports of injuries or arrests, said LAPD spokeswoman Rosario Herrera.
Activists in Leimert Park called for a repeal of Florida's sweeping self-defense laws and a nationwide push to save blacks from discriminatory violence. Demonstrators in the crowd, which grew to about 200, railed against a criminal justice system they said had failed repeatedly to protect their communities.
"How much more of this mess are we supposed to take?" Margaret Prescod, a local radio host, shouted into a megaphone. "They sent us a message when they gutted the Voting Rights Act. Now it's up to every one of you. What are we going to do?"
The demonstration proceeded peacefully, even as onlookers spilled off the sidewalk and into the street. A brief scuffle between two activists fighting to speak was defused when another organizer admonished the crowd not to give police "another excuse to shoot us."
Najee Ali, a civil rights activist who helped organize the rally, said repealing Florida's "stand your ground" laws was the only way to honor Martin's legacy. He explained that Zimmerman's acquittal resonated in Los Angeles. "It was like the Rodney King verdict. We were convinced justice would be done, and it wasn't."
For onlookers commiserating at the edges of the crowd, the rally offered an opportunity to vent frustrations that had swelled through the hotly contested three-week trial.
John Thompson, 47, a teacher who grew up near Leimert Park, reproached Zimmerman for stalking an innocent student. "He was walking with Arizona Tea and Skittles," Thompson said of Martin. "He wasn't doing anything."
ALSO:
Jury in George Zimmerman trial faces tough task
One year anniversary: candlelight vigil for Trayvon Martin
Rodney King on April 11, 2012: 'I am grieving' for Trayvon Martin
jack.dolan@latimes.com
@jackdolanLAT
---
The stories shaping California
Get up to speed with our Essential California newsletter, sent six days a week.
You may occasionally receive promotional content from the Los Angeles Times.