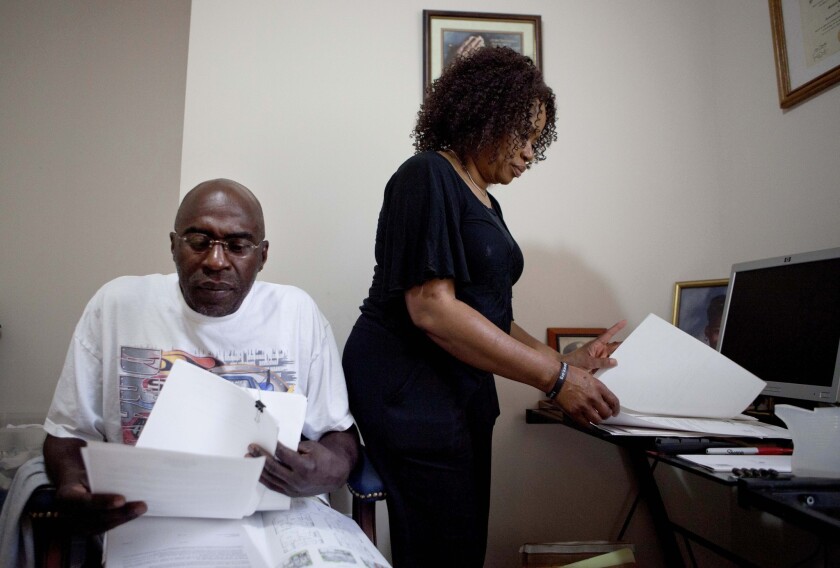 More than a fifth of American households faced continued hardships in the aftermath of the recession, the U.S. Census Bureau said in a report released Thursday.
Such hardships included being unable to cover their rent or mortgage, leaving bills unpaid, losing phone service, skipping needed visits to the doctor or coming up short on food for their families, among other financial struggles.
As of two years ago, nearly 22% of households surveyed said they had experienced at least one of those problems in the previous year. Among those households, more than half had suffered at least two such problems.
Such hardships remained more widespread in 2011 than in 2005, before the downturn: The share of American households that were unable to cover "essential expenses" of any kind rose from 14% to 16%. Households suffering food shortages increased from 2% to 3%, and those with unpaid rent or mortgage grew from 6% to 8% of all households.
The report also found that while the vast majority of Americans think they will get help from friends, family or community agencies if they stumble into economic trouble, a much smaller share of households in financial straits actually got such help. When households ran into trouble paying rent or mortgages, for instance, only 5% got help from friends, 17% from family and 10% from elsewhere, the report found.
To gauge how Americans are living, the Census Bureau also examined how many households had electric appliances and electronics. Despite the financial crunch, technology continued to become more common in American households. The report showed that in 2011, 78% of households surveyed had a computer, compared to 67% in 2005. Cellphones, found in 71% of households in 2005, were in 89% of households in 2011.
The numbers were drawn from the Survey of Income and Program Participation, a periodic survey administered by the U.S. Census Bureau. Statistician Julie Siebens wrote the new report, which surveyed more than 36,000 American households between May and August 2011.
ALSO:
Whitey Bulger talks of love in letter from prison
Same-sex spouses can collect veterans benefits, Holder says
Oklahoma governor orders father of 'Baby Veronica' extradited

emily.alpert@latimes.com
---