LAPD begins testing on-body cameras on officers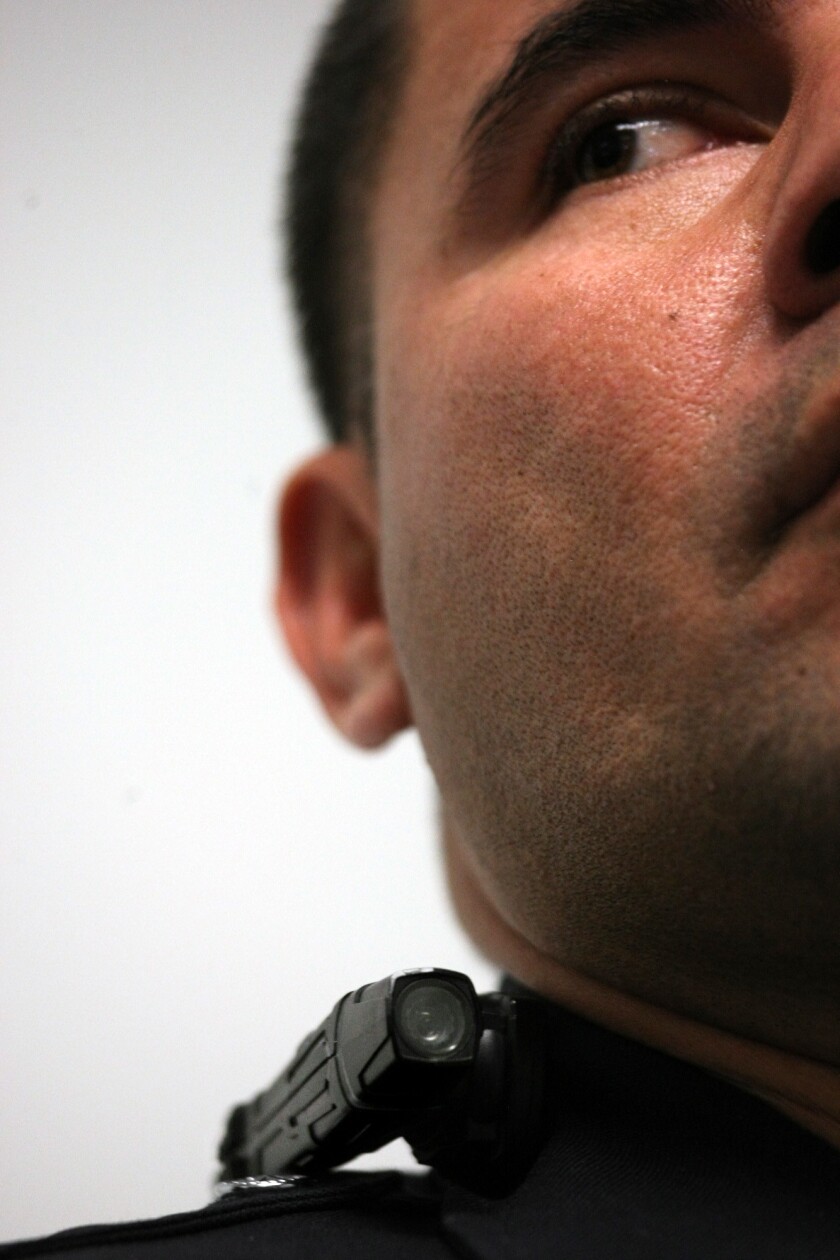 A group of Los Angeles police officers Wednesday began wearing on-body cameras, the first step toward the LAPD's plan to outfit hundreds of officers with the recording devices.
Over the next several months, 30 officers assigned to the downtown skid row area will test different camera models. At the end of the testing period, officials expect to purchase about 600 cameras for use throughout the LAPD.
The push for the cameras has been led by the president of the Police Commission, Steve Soboroff. A successful businessman himself, Soboroff leveraged his name recognition and relationships with some of the city's wealthy patrons to raise more than $1 million to pay for the cameras.
Two of the models being considered are small rectangular devices that officers wear pinned to their uniforms in the center of their chest. The third resembles a small flashlight and is mounted on an officer's shoulder.
Having an audio and video recording of traffic stops, shootings and other encounters is seen as a potentially valuable tool in guarding against officer misconduct and clearing cops when they are falsely accused of wrongdoing.
At a news conference to show off the first cameras being tested, Soboroff and City Councilman Mitch Englander also reiterated claims that the cameras will help the city cut down on the millions of dollars in settlements and verdicts it pays out each year in police misconduct cases.
LAPD Chief Charlie Beck said he sees the on-body cameras as "the future of policing." He cautioned, however, that the 600 cameras the department expects to buy with the money raised by Soboroff will fall far short of providing one to each of the several thousand officers who work on patrol assignments.
Soboroff has said he hopes after the first cameras have been put into use that city officials will allot public funds to buy more.
As the officers try out the equipment, officials must work out the rules for how and when officers will be required to use the cameras. Some civil rights groups have raised concerns the cameras could violate the privacy of crime suspects and victims.
Soboroff has gone out of his way to say he does not want top LAPD officials deciding on their own the rules for using the cameras. Instead, he expects a wide array of groups, including the union representing officers and civil rights advocates, to be involved in the discussions.
ALSO:
Justin Bieber: Authorities defend response to egging allegations
Kelly Thomas case: D.A. could face political fallout from acquittals
4.4 earthquake near Fontana packed a big punch, resident says
Twitter: @joelrubin
---
The stories shaping California
Get up to speed with our Essential California newsletter, sent six days a week.
You may occasionally receive promotional content from the Los Angeles Times.