Mules arrive at San Diego City Hall, seeking mule trails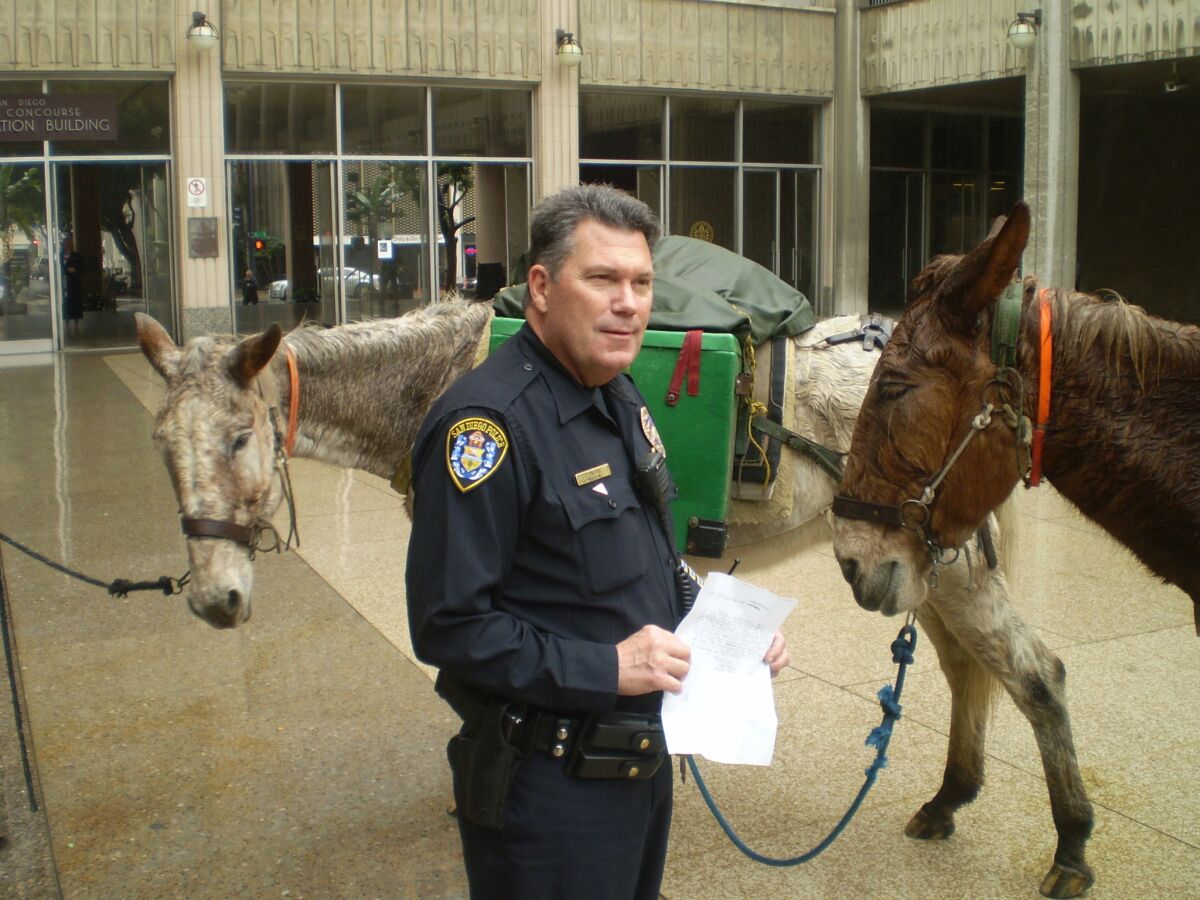 SAN DIEGO -- Little Girl, Lady and John Sears arrived outside City Hall -- wet, tired-looking, and determined to deliver a "declaration of emergency."
"We're all mules," said Sears, initially declining to give his name or that of the two animals.
In Sears' hand was a declaration seeking the construction of more trails that men and their mules can traverse: "a first necessary step to bring balance between the megatropolis and the natural world."
It's a message that Sears, age 66, Little Girl, 32, and Lady, 20, have brought to communities from Bonita near the Mexican border to San Francisco.
"We have bike trails, we have roads for cars, but nothing for mules," Sears explained to a reporter who had been waiting for an interview with the mayor-elect.
Mules don't often appear at City Hall and a small crowd gathered. A police officer, on security duty in the lobby, came out to the plaza outside to greet the unexpected arrivals.
"Can I help you?" asked Officer Clinton Castle.
Castle took the declaration and went back inside and then returned with a time-stamp showing that the document had been received and would be forwarded to the appropriate person.
Officialdom has not always been that welcoming.
When Sears, Little Girl and Lady were sleeping at Torrey Pines State Reserve they got a $185 citation for illegal camping.
Sharon Sherman, a Coronado attorney who specializes in probate matters, agreed to represent Sears pro bono. She's friends with John McDonald, a film-maker who created a website for Sears.
On Jan. 29, the day the matter was set for court, it was dropped by prosecutors "in the interest of justice."
"He's a man with a deep belief that people and mules should have the same right to walk through the country as cars do to drive," Sherman explained by telephone.
The picaresque lifestyle does not include a permanent home.
"He lives where he walks, he lives off the land," Sherman said. "He does not consider himself homeless, he just has a home that is different."
Back at the plaza outside City Hall, Sears thanked Castle for taking his declaration. One of the mules then dropped several green and smelly clumps on the plaza floor.
Sears reached into a box on Little Girl's back, pulled out a small broom and dustpan and scooped up the droppings and put them in a nearby trash can.
The three then turned and continued their unspecified journey.
"We're all mules," Sears said.
ALSO:
Couple's gold-coin find called greatest in U.S. history
Fight over school's American flag T-shirt ban likely to continue
Former NFL player Darren Sharper surrenders to police in New Orleans rape case
tony.perry@latimes.com
Twitter: @LATsandiego
The stories shaping California
Get up to speed with our Essential California newsletter, sent six days a week.
You may occasionally receive promotional content from the Los Angeles Times.