From the Archives: Film Director Akira Kurosawa, 88, Dies in Tokyo
Akira Kurosawa, widely regarded as the world's greatest living film director when he received an honorary Academy Award for lifetime achievement in 1990, died Saturday night at home in Tokyo. He was 88.
Kurosawa's classics included "Rashomon" and "The Seven Samurai."
Although his films were routinely described by critics and scholars alike as making a "profoundly humanistic statement," Kurosawa remained modest about his work throughout his life.
"I just make up stories and film them," he said in 1985 after he introduced "Ran," a modern version of "King Lear."
"When I am lucky," he added, "the stories have a lifelike quality that makes them appealing to people, and the film is successful."
Still tall, vigorous and dapper at age 80, Kurosawa was equally humble about his honorary Oscar, telling The Los Angeles Times in an interview: "I have the feeling that I'm getting it partly because I've turned 80, and that it is an expression of warm feeling toward me."
Kurosawa was Japan's first film director to gain international recognition, springing into the world consciousness with "Rashomon," which won the top prize at the 1951 Venice Film Festival. The film also won the Academy of Motion Picture Arts and Sciences award for best foreign film.
In addition to opening American and European theaters to Japanese films, the production inspired two American remakes, "The Outrage," starring Paul Newman, and a television movie starring Ricardo Montalban.
Over half a century, Kurosawa created nearly 60 films, 23 of them by 1965 at a pace of one a year. His output slowed considerably in his later years, hampered by financing problems.
Among his later works was "Akira Kurosawa's Dreams," which opened the Cannes Film Festival in 1990. Shot in eight episodes, it probed his own dreams over a lifetime. However, the project—financed by American filmmakers Steven Spielberg and George Lucas—received only lukewarm reviews.
Even Donald Richie, author of "The Films of Akira Kurosawa," and the man who did the English subtitles for the film, admitted to mixed emotions. While still admiring Kurosawa's "obvious sincerity," Richie said Kurosawa's output in his later years as exhibited in "Dreams" became "indulgent in the same way that films by people his age often are."
Born in Tokyo, Kurosawa was the youngest of seven children of an army officer turned athletic instructor. Young Akira first showed talent in art and at age 17 enrolled in the Tokyo Academy of Fine Arts to study painting.
Unsuccessful as a commercial artist, however, Kurosawa answered an advertisement for assistant directors in 1936, and, after passing a battery of tests, joined what was to become Toho Film Co.
"They asked applicants to write essays on the basic weaknesses of Japanese films and what should be done about them," he said in 1962. "In my answer, I suggested, humorously, that if weaknesses were basic, there could be no cure. I also said that films could always be made better."
To his surprise, Kurosawa not only got the job but soon found that film was his true art form.
He studied under Kajiro Yamamoto, then Japan's foremost director, who insisted he learn all the technical production skills and master script writing.
Kurosawa made his own directing debut in 1943 with "Judo Saga." Chafing at wartime censorship, he made only two more films during World War II—"The Most Beautiful," about Japanese women's everyday life in 1944, and "They Who Step on the Tiger's Tail," parodying samurai ideology in 1945. The last film was censored by Japanese military leaders, who objected to its satire, and American occupation forces, who feared it could rekindle Japan's militarism.
The star of "The Most Beautiful," Yoko Yaguchi, retired from acting and married Kurosawa, becoming his personal support system for four decades until her death in 1984.
After the war, Kurosawa won recognition as the best Japanese director of the year in 1947 for his love story titled "One Wonderful Sunday."
His next film, "Drunken Angel," began his long association with actor Toshiro Mifune, star of Kurosawa's major films for almost 40 years. The story involved a slum doctor aiding a young hoodlum (Mifune) stricken by tuberculosis in post-war Tokyo.
"In this picture," Kurosawa later said, "I finally discovered myself."
Mifune played a police detective in Kurosawa's 1949 film, "Stray Dog," and then the bandit the following year in his legendary "Rashomon," the story of the rape of a nobleman's wife told from four points of view.
"Everyone seeing the picture will immediately be struck by the beauty and grace of the photography, by the deft use of forest light and shade to achieve a variety of powerful and delicate pictorial effects," critic Bosley Crowther wrote of the film in The New York Times. "But only the most observant . . . will fully perceive the clever details and devices by which the director reveals his characters, and, in this revelation, suggests the dark perversities of man."
Kurosawa quickly went on to direct an adaptation of Dostoevsky's novel "The Idiot." He then created one of his generally recognized masterpieces, "To Live," and in 1954 perhaps his best-known work, "The Seven Samurai," which was released in the U.S. in 1956 as "The Magnificent Seven." That film, which won the Silver Lion award at the Venice Film Festival of 1954, was later copied as an American Western with the same title, "The Magnificent Seven," in 1960.
Dubbed the "emperor" by the Japanese film industry for his toughness on the set, Kurosawa once described his method of working: "Talk, talk, talk—that's all I do. Get the writers together and talk the script. Get the actors together and talk acting. Get the camera crew together and talk production. I spend my life talking."
Usually acting as his own casting director, Kurosawa frequently employed the same actors over and over. He assembled and maintained a cohesive production team that stayed largely intact for 40 years.
A perfectionist, Kurosawa preferred rehearsing actors in full costume on the set to create a "stage tension," and admitted he was a demanding taskmaster.
"I push. Some directors seem to pull performances out of actors, but I'm always pushing them, nudging them to try new or different things," he said in 1985. "We rehearse a scene or bit of action over and over again, and with each rehearsal something new jumps forward and they get better and better. Rehearsing is like making a sculpture of papier-mache; each repetition lays on a new sheet, so that in the end the performance has a shape completely different from when we started."
Kurosawa was considered past his prime by the mid-1960s when the Japanese film industry fell into a slump. He became so inactive and so depressed that in 1971 he tried to commit suicide.
But he emerged from the doldrums, and went on to make a handful more acclaimed films, with mostly foreign financing. Regarded by the Japanese public as a superstar, the octogenarian Kurosawa agreed to appear in television commercials in the late 1980s for an electronics firm and a whiskey distiller in order to have more cash for his eight-episode "Dreams."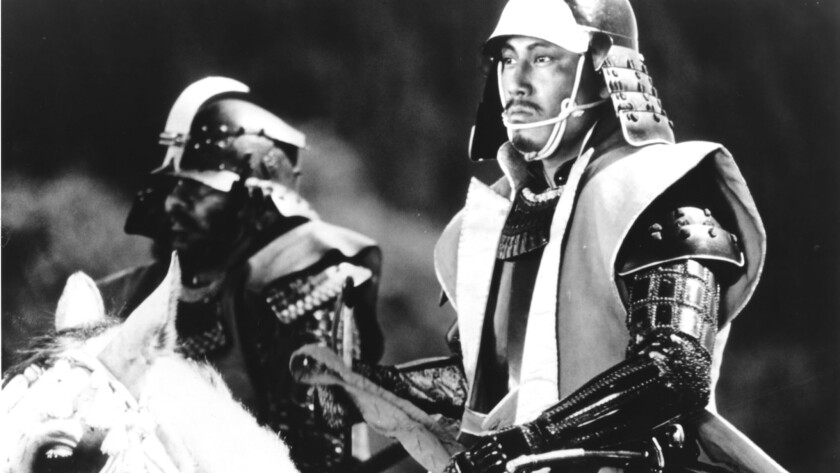 Among his later films were the Soviet-Japanese co-production "Dersu Uzala," which won the foreign film Oscar in 1975, and "Kagemusha," in 1980. In 1985, he created "Ran," which translates to "Chaos" or "Turmoil" and represented a modern "King Lear." Even Kurosawa was surprised at how well the production progressed. When he needed to shoot a great storm scene, a typhoon struck the shooting location in Kyushu as if on cue.
"In Japan, journalists often call me 'emperor' because they think I'm so tyrannical," he later joked. "Well, I guess I can now command even the elements."
After releasing "Dreams" in 1990, Kurosawa found financial backing more readily than he had in decades and immediately began work on "Rhapsody in August," starring Richard Gere as a half-Japanese, half-American.
Asked what messages he hoped viewers would absorb from "Ran" and his other films, Kurosawa insisted he was simply a filmmaker.
"I'm not a philosopher or a preacher. I have no lessons to impart. Nothing to teach," he said. "Simply look at my films and draw from them whatever meaning you like. Audiences are too smart to sit still and be preached at. There's nothing like didacticism to send them streaming toward the exits."
Kurosawa wrote his autobiography, "Something Like an Autobiography," in 1982.
A private man, he rarely talked of his personal life with his late wife and two children, daughter Kazuko, and son Hisao, who co-produced "Dreams." Other than his family, his life was his work.
"When I die," he liked to say, "I prefer to just drop dead on the set. . . . I will be the happiest man if I die at the precise moment that I'm saying, 'Yoi . . . staato' [ready . . . start]."
From the Archives: Greta Garbo, Alluring but Aloof Film Star, Dies at 84
From the Archives: Ethel Waters, Singer and Actress for 60 Years, Dies
From the Archives: Toshiro Mifune, Acclaimed Japanese Film Star, Dies
From the Archives: Spencer Tracy, 67, Dies After Screen Career of 37 Years
---
Must-read stories from the L.A. Times
Get all the day's most vital news with our Today's Headlines newsletter, sent every weekday morning.
You may occasionally receive promotional content from the Los Angeles Times.