From the Archives: Frances Langford, 92; Globe-Trotting Singer Helped Bolster Troops' Morale in World War II
Frances Langford, the 1930s and '40s singer known for her warmth and rich voice who traveled widely with Bob Hope entertaining troops in World War II, died Monday at her home in Jensen Beach, Fla. She was 92.
Langford, who dropped out of Hollywood in the mid-1950s but kept performing for many years at the Outrigger, a restaurant she had owned in Jensen Beach, died of congestive heart failure, said her lawyer, Evans Crary Jr.
Langford's biggest hit was "I'm in the Mood for Love." She first performed the song in "Every Night at Eight," a 1935 musical comedy film starring Alice Faye about three singers seeking fame with a bandleader, played by George Raft. The Dorothy Fields-Jimmy McHugh song, which she also sang in the 1936 film "Palm Springs," became Langford's signature tune.
Langford appeared in other movies, including "Born to Dance," "Hollywood Hotel," "Yankee Doodle Dandy" and "This Is the Army." Her last film role was in 1954, when she appeared as herself in "The Glenn Miller Story."
Langford was also heard for many years on the radio, including several seasons in the late 1940s and early '50s as Blanche Bickerson to Don Ameche's John Bickerson on NBC (later on CBS, with Lew Parker) in a comedy show about a relentlessly squabbling couple.
Yet it was her role as an entertainer for GIs abroad as well as for those who returned home injured that earned her a lasting reputation as a star whose patriotism and compassion exceeded her desire to burnish her own image. Besides World War II, Langford entertained troops abroad during the Korean and Vietnam wars.
She regarded her wartime experiences as "the greatest thing in my life."
"I'd sing a song, and I could just see the guys getting this faraway expression," she told the Palm Beach Post of Florida in 2000. "I knew they were going home in their minds."
And it never failed that when she sang "I'm in the Mood for Love," some GI would stand up and say, "You've come to the right place, sister!"
"She knows just how much sex to pour and still be dignified," Hope once said of the singer.
During World War II, Langford and Hope shared many adventures in traveling with their troupe. She told a Florida newspaper in 2003 that one night the two of them had to jump out of a jeep to avoid fire from a German fighter plane. Both of them landed, Hope first, in a culvert.
She said Hope screamed, "Oh my God, I'm hit!" But it was just Langford landing on top of him.
Another time she, Hope and others spent the night in the basement of a hotel in Algiers as bombs burst overhead and Hope cracked jokes.
In all, she visited bases in England, Africa, Sicily, the Caribbean and the Pacific, earning the nickname "sweetheart of the fighting fronts."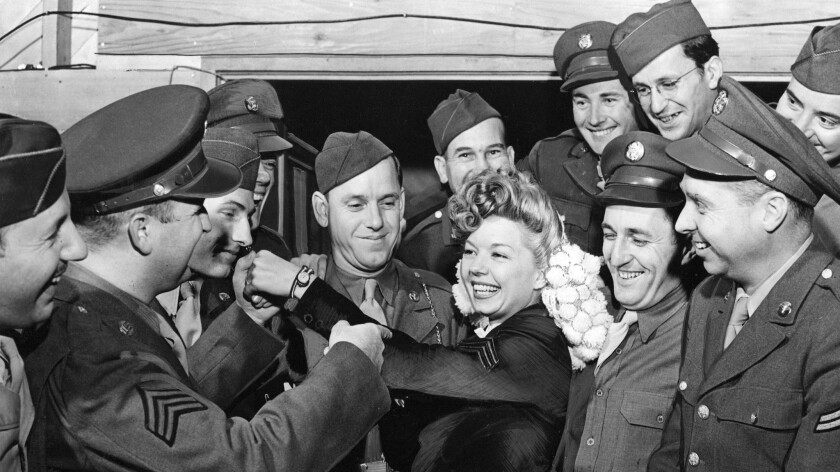 She continued her commitment to servicemen when she returned to the United States. In 1944-45, she wrote a diary for the New York Journal-American about her experiences visiting servicemen who had been wounded in World War II. Her "Purple Heart Diary" included passages such as this, written after a visit to Oak Knoll Naval Hospital in Oakland:
"As I sang, I felt a surging response from these men like I've never before received from an audience. I could hardly hit the high notes, there was such a lump in my throat. Their emotions fairly rolled and broke across the ward....
"I suddenly thought what a terrible thing it would have been if I hadn't shown up. I ran to the little washroom the nurses use. There, I had myself a good cry."
One of the wounded soldiers' favorite songs was "Embraceable You."
"I shall always feel a kindly Providence led me to its choice," she wrote. Once, singing it to a GI who was "practically dead," the soldier "began smiling." It was the favorite song of his sweetheart back home.
In 1952, Langford and her then-husband, matinee idol Jon Hall, and a troupe of entertainers spent six weeks in Korea performing for GIs. Publicity at the time said they visited every division and every unit along the 155-mile front.
In 1966, she also joined others who entertained troops in Vietnam for several weeks.
Frances Newbern Langford was born April 4, 1913, in Lakeland, Fla., according to her family. Her father was in construction and her mother was a concert pianist who was quick to recognize her daughter's singing talent.
But Langford's voice changed from operatic to throaty when she underwent a tonsil operation in her teens, and Langford thought her career was over. Her mother, however, believed that Frances' new voice was even more appealing.
Langford began in vaudeville and by her late teens was on the radio in Tampa, Fla., where Rudy Vallee heard her and gave her a guest spot on his radio show.
After playing a small role in "Here Goes the Bride," which ran for seven performances on Broadway in 1931, Langford was heard on a number of radio shows, including "Colgate House Party," until getting a prominent role in "Every Night at Eight."
During the late 1930s and '40s, she appeared on radio in "American Cruise" with Dick Powell, Bob Hope's show, the Chase & Sanborn show with Spike Jones and, in the late 1940s, "The Bickersons."
The last was a surprise direction for Langford, who played the loudmouthed battle-ax Blanche who got into frequent, rapid-fire disputes with her husband, John Bickerson. The show, written by Phil Rapp, developed from a comedy skit on "The Charlie McCarthy Show."
In a bit of typical dialogue: Blanche says to John, "You used to be so considerate. Since you got married to me you haven't got any sympathy at all."
"I have, too. I've got everybody's sympathy," John snaps.
Critic Leonard Maltin, writing in "Great American Broadcast: A Celebration of Radio's Golden Age" about Langford's performance, said, "She was quite simply sensational." "The Bickersons" entered the American lexicon as a reference to any couple that constantly squabbled over nothing.
Langford married actor Hall in 1938; they divorced in 1953 but remained friends until his death in 1979. In 1955, she married Ralph Evinrude, whose family made outboard motors for boats. He died in 1986.
In 1994, Langford married Harold Stuart, former assistant secretary of the Air Force under President Truman. Stuart survives her. The couple lived on their 57-acre estate in Rio, Fla., and often fished off their yacht, the Chanticleer.
The couple also were generous in their support of many causes, including the Florida Oceanographic Society on Hutchinson Island, where a visitor center is named for Langford.
Crary said Langford requested that there be no services and that her ashes be strewn off the coast of Jensen Beach.
From the Archives: The Master of the One-Liner
From the Archives: Dorothy Lamour, Sultry Movie Star, Dies
From the Archives: Rudy Vallee, 85, Crooner and Star for 60 Years, Dies
From the Archives: Consummate Entertainer Sammy Davis Jr. Dies at 64
From the Archives: James Cagney, Legend of Movies, Dies at 86
---
Must-read stories from the L.A. Times
Get all the day's most vital news with our Today's Headlines newsletter, sent every weekday morning.
You may occasionally receive promotional content from the Los Angeles Times.