From the Archives: Gian Carlo Menotti, 95; opera composer and director founded the Spoleto music festivals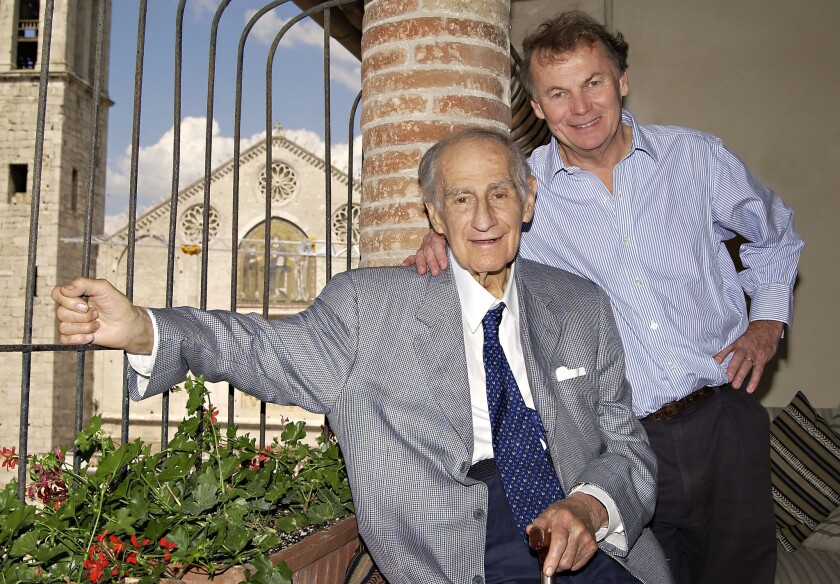 Special to The Times
Gian Carlo Menotti, who organized music festivals in Spoleto, Italy, and the U.S. and helped bring opera to the masses with his repeatedly televised Christmas work "Amahl and the Night Visitors," died Thursday at a hospital in Monaco. He was 95.
"He died pretty peacefully and without any pain," his adopted son, Francis Menotti, told the Associated Press.
Menotti was sought after worldwide as a director of operas composed by others, and he wrote his own, including two that earned Pulitzer Prizes.
"I wish I'd never started staging operas. It has taken so much time away from my composing," he told The Times in 1987, when he directed Puccini's "La Boheme" at the Orange County Performing Arts Center. "I have wasted so much of my time directing other people's work."
Nevertheless, Menotti's own compositions were also much in demand, and he had been called the most-often-performed living composer of opera.
His fifth opera, "The Medium" in 1946, marked his directing debut and was his first hit. The work had 211 performances on Broadway and later toured Europe.
His 1950 opera, "The Consul," won a Pulitzer Prize, was translated into 12 languages and was performed in more than 20 countries. The drama follows the trials of oppressed citizens frustrated by the bureaucracy of an unidentified European government.
"Amahl," the first opera written for television, followed in 1951.
Seen by former Times music critic Martin Bernheimer and others as "the modern composer who writes old-fashioned opera for the masses," Menotti had welcomed the commission from NBC to create a Christmas piece.
He took as inspiration the Hieronymus Bosch painting "The Adoration of the Magi," and musically wove the touching tale of a disabled boy who offers his crutches -- his only possession -- to the three wise men to give to the infant Jesus. Because of his sacrifice, the boy is healed. NBC ran the opera for many years on Christmas Eve.
"The Saint of Bleecker Street," Menotti's 1954 opera about religious belief and doubt, was the only Broadway production to earn the cultural "triple crown" of the Pulitzer Prize, New York Drama Critics Circle Award and New York Music Critics Award.
Later in the decade, however, Menotti's compositions took a back seat to his new project: organizing an international music festival in Spoleto near his childhood home.
"Actually, the festival satisfied a very selfish need," he told his biographer, John Gruen. "I became so completely disenchanted with the role of the artist in contemporary society. I felt useless....
"I felt that the artist should become part of society -- a needed member of society -- rather than just an ornament," he said. "That's why I started Spoleto. I wanted to feel needed, and I wanted to see whether with my music and my knowledge I could help to re-create a so-called ideal city. My dream was not really to create a festival, but to create a small city wherein the artist would thrive and be one of its most essential members."
From its outset in 1957, the Spoleto event was billed as the Festival of Two Worlds. Its purpose was to encourage, discover and nourish young artists in the land of Menotti's birth, Italy, and the land of his adult triumphs, the U.S. But it would be 20 years before Menotti created the second venue, in Charleston, S.C. He broke ties with the Charleston group in 1993 after a dispute.
The prolific Menotti wrote plays, poetry and short stories, and briefly worked as a Hollywood screenwriter at MGM. In 1984, he received a Kennedy Center Honor, which recognizes those who "throughout their lifetime have made significant contributions to American culture through the performing arts."
In his later years, Menotti broke up the bustling household he had shared in Mount Kisco, N.Y., with composer Samuel Barber, who died in 1981. Menotti wrote the libretto for "Vanessa" and revised the libretto for "Antony and Cleopatra," both composed by Barber, his longtime companion.
To gain solitude away from his American and Italian friends, he bought an 85-room country house in Scotland built in 1699, and with his son set about refurbishing it.
From his Scottish mansion, called Yester House, Menotti continued to travel the world directing operas and composing. He accepted a commission from Placido Domingo in 1986 to write the opera "Goya" about the Spanish painter.
Menotti was born July 7, 1911, in Cadegliano, Italy, the sixth of eight children of Alfonso and Ines Pellini Menotti. His was an affluent family that lived on profits from a coffee plantation in Colombia.
Ines Menotti made sure that Gian Carlo, her favorite son, and all her other children learned piano, violin and cello; she frequently organized evening musicales to display their talents. Gian Carlo began setting verse to music at age 5, and at 11 wrote his first opera, "The Death of Pierrot."
His theatrical flair, which enabled him to make opera appealing to all walks of society, was first exhibited in puppet shows he staged for his family.
When he was 13, Menotti's family moved to Milan, where his mother enrolled him in the Verdi Conservatory of Music.
But a few years later, his father died, and the family coffee plantation fell on hard times. Ines Menotti sailed with her son to Colombia, trying to save the business.
Afterward, she and Gian Carlo came to the U.S., where the boy was enrolled at the Curtis Institute of Music in Philadelphia. A letter from the wife of conductor Arturo Toscanini helped persuade composition professor Rosario Scalero to accept him.
It was at the institute that Menotti met Barber, also a student.
After graduating in 1933, the two men lived in Austria, where Menotti composed his first opera, one of the few he wrote in Italian, "Amelia al Ballo."
At the time, opera was unpopular, and Menotti told himself: "Well, I'll just write this one opera, and then I'll start composing all my symphonies, Masses and motets."
"I guess 'Amelia,' " he said after many years and many operas, "was the beginning of my end."
Menotti enjoyed special success in Southern California when the San Diego Opera commissioned him to write "La Loca."
The opera, based on the life of Queen Juana (known as "Joan the Mad"), was a 50th birthday gift for Beverly Sills. The work had its world premiere in San Diego in June 1979.
Although he spent most of his adult life in New York and his later years in Scotland and Monaco, Menotti retained his Italian citizenship.
He returned to Spoleto every summer, and celebrated his 90th birthday at the festival with a concert featuring Domingo and Renee Fleming.
Toshiro Mifune, Acclaimed Japanese Film Star, Dies
Opera's greatest star brought classical music to the masses
Rosa Parks, dies at 92; civil rights icon set wheels of justice in motion
Nat 'King' Cole dies of cancer at 45
Simon Wiesenthal dies at 96; Nazi hunter loyal to the dead
---
Must-read stories from the L.A. Times
Get all the day's most vital news with our Today's Headlines newsletter, sent every weekday morning.
You may occasionally receive promotional content from the Los Angeles Times.