From the Archives: Jacob Lawrence; Artist's Works Chronicled History of U.S. Blacks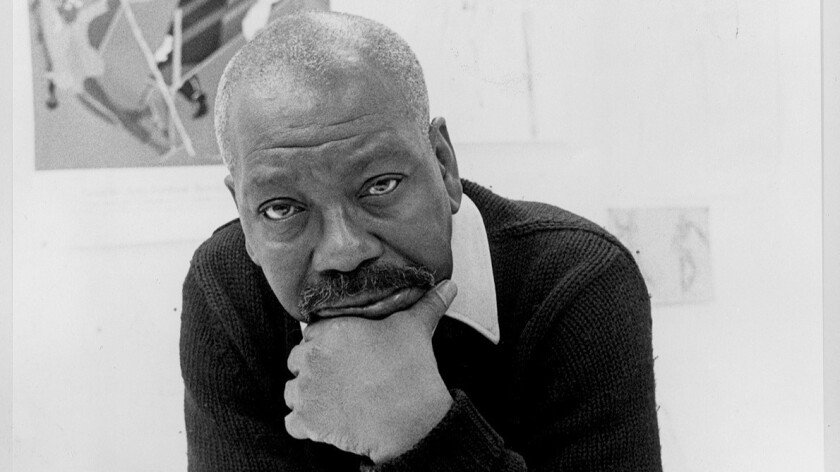 Jacob Lawrence, whose colorful paintings chronicled the history of black America with subtle emotion and evocative simplicity, died Friday of lung cancer at his home in Seattle. He was 82.
A National Medal of Arts winner in 1990 under President George Bush, Lawrence was loved, not only for his work, but also for his generosity and kindness to those he met, particularly in the African American community.
"Jake was arguably the most important African American artist of the 20th century," said Richard J. Powell, chairman of the department of art and art history at Duke University and a frequent writer on African American art.
From his teenage years, Lawrence was highly regarded in the prolific art circles of Depression-era Harlem. Influenced by both Matisse and the Cubists in his planar figural images, Lawrence was admired for his vibrant imagery as well as his commitment to social causes.
He first earned wide recognition at age 24, for his "Migration Series" depicting the lives of blacks who moved from the rural South to the industrial North in the early 20th century. He painted the 60 small panels in 1941 in an $8-a-month studio in Harlem, but soon after his series was published in Fortune magazine it was sold to two major art museums—half to the Museum of Modern Art in New York and half to the Phillips Collection in Washington, D.C.
Since that time, Lawrence has been widely recognized as a significant figure in American art.
Howard Fox, curator of modern and contemporary art at the Los Angeles County Museum of Art, who helped bring an exhibition of Lawrence's early work to the museum in 1993, called the artist "one of the most generous spirits, a person who had such respect for humanity."
"He was a remarkably giving person in his treatment of individuals and, even more importantly, in the way he gave to American popular culture," Fox said. "He understood the importance of history, the importance of the history of black America, and he articulated that at a time when almost nobody was doing it. He pioneered, and did it with remarkable visual savvy and generosity."
Despite being diagnosed with lung cancer three years ago, Lawrence continued painting until a few weeks ago, according to Peter Nesbett, director of the Jacob and Gwendolyn Lawrence Family Foundation.
The artist just completed a commissioned design for a major mural at Times Square that is expected to be installed in New York next year. He also recently finished a series of paintings on games—a frequent subject—including people playing pool, chess and checkers.
"He was working on a series of paintings for a show [at the DC Moore Gallery] in New York this fall," said Nesbett, co-author, with Michelle DuBois, of the forthcoming two-volume catalogue raisonne (study of the complete works) on Lawrence's art.
The Phillips Collection was already working on a major retrospective of Lawrence's work and will open it in 2001 before it travels throughout the United States, including a stop at LACMA in 2002. Nesbett said that although Lawrence helped chronicle his own history, the artist was always less interested in his legacy than the future: "He was always looking toward future commissions and projects, even though he knew that having cancer would affect his life span."
Throughout his 65-year career, Lawrence focused on figure painting and was not swayed by the rise of abstractionism, even at its peak in the era of Abstract Expressionism in the 1950s.
"He was one of the surviving artists from a generation who came of age during the Depression era and as a result was very committed to working with the figure with a strong social agenda," Powell said. Lawrence stuck to that approach, even when it wasn't popular, as a matter of being "true to himself," Powell added.
Jacob Armstead Lawrence was born in 1917 in Atlantic City, N.J., to parents who had migrated from the South during World War I. His family later moved to rural Pennsylvania and then to Philadelphia, where his parents separated. After spending several years in foster homes with his brother and sister, at age 13 he joined his mother in Harlem, where he worked as a delivery boy to help support his family.
Soon after his arrival in New York, Lawrence enrolled in an after-school art program, and by 1937 he had received a scholarship to the American Artists School. In 1938, he went to work for the Works Progress Administration Federal Art Project as a painter in the easel division. He was, he later said, "too young for a wall," referring to the myriad commissioned murals produced during the Depression by WPA artists.
Even in his earliest work, from the mid-1930s, Lawrence depicted the life of his community, painting scenes of poverty and racial exploitation.
He often created series, including works on Frederick Douglass and Harriet Tubman, which were seen in the LACMA exhibition in 1993. During the 1940s and '50s, Lawrence exhibited regularly in museums, and among his subjects were performances at the Apollo Theater in Harlem and New York City street life.
Lawrence was also known for his teaching, visiting public schools and using his own early work as an educational tool, and in 1946, teaching at the renowned Black Mountain College near Asheville, N.C., at the invitation of Josef Albers. In 1971, Lawrence accepted a tenured position at the University of Washington, from which he retired in 1986.
Friends and colleagues who saw him in recent months found him sometimes confined to a wheelchair but undeterred by his illness.
Powell said that a year ago he saw Lawrence in London, a city where "he charmed everybody with his reminiscences about his career and his work."
Indeed, it is the artist's humanity that many people talk about first in remembering him.
While he was in Los Angeles in 1993, at the time of his LACMA exhibition, Lawrence's position as a cultural icon was vividly illustrated, the museum's Fox said.
"We took Jake to Leimert Park, and while we were walking around the green, maybe a half-dozen different people came up and recognized him, wanted to shake his hand and asked him for autographs. Gwen, his wife, thought that this was something we had staged for him, but it absolutely was not. That was really instructive to me."
Lawrence is survived by his wife of 59 years, Gwendolyn Knight Lawrence.
From the Archives: Pioneering Photographer, Filmmaker Gordon Parks Dies
From the Archives: Jim Henson Dies at Age 53; Muppets' Creative Genius
From the Archives: Death Makes No Exception of Writer William Saroyan
From the Archives: Italian-born tile setter who built the Watts Towers
From the Archives: Andy Warhol, Pioneer of '60s Pop Art, Dies
---
Must-read stories from the L.A. Times
Get all the day's most vital news with our Today's Headlines newsletter, sent every weekday morning.
You may occasionally receive promotional content from the Los Angeles Times.