From the Archives: Broadway Musical Legend Mary Martin Dies at 76
Mary Martin, the Broadway musical legend who portrayed Nellie Forbush and Maria von Trapp but who was Peter Pan to a mesmerized world, has died of cancer, it was reported Sunday.
Miss Martin, 76, died late Saturday at her Rancho Mirage home, near Palm Springs, publicist Richard Grant said. Grant represents Miss Martin's son, "Dallas" TV star Larry Hagman.
She had been reported as seriously ill last month and hospitalized for a series of tests.
The spunky little lady from Texas who lit up stages and television studios for more than half a century became a part of American theatrical history for her starring roles in the classic stage productions of "Peter Pan," "South Pacific," "Sound of Music" and other masterpieces.
"I know that I'll miss her for the rest of my life," said her "Legends" co-star, singer-actress Carol Channing, who visited Miss Martin less than an hour before she died. Although Miss Martin could not talk, Channing said she told her she was bringing friends' good wishes. "I said, 'I love you Mary,' and she tried to answer me. . . . Then she squeezed my hand and I knew she heard. . . . She squeezed my hand and I'll never forget it."
It was a final sign of the kind of vigor that did not desert Mary Martin in her decades on stage. "I have a fabulous Adrenalin system," she said a few years ago. "It always peaked at 2 on matinee days and 5 for evening shows."
The comment reflected her preference for the stage, where she was a superstar from the moment of her debut, over Hollywood, where she once sought roles so futilely she was known as "Audition Mary."
Still performing in recent years, Miss Martin inspired other seniors with her upbeat comments on the aging process as co-host of the Public Broadcasting System show "Over Easy" and by bouncing back from a serious 1982 automobile accident in San Francisco, where she was appearing on that show.
The accident, which occurred when a drunk driver struck the taxi in which she was riding, broke her pelvis in three places and punctured a lung. It also killed her manager and severely injured actress Janet Gaynor and her husband, all fellow passengers.
Attributing her recovery to luck, good genes and God, Miss Martin was back in New York only five months later, peddling a cosmetic product.
"I always have a good time," she told an interviewer at that time. "I really love living. I love every second of it. I guess it's my stubborn Texas determination to continue to the last breath."
The legend of Mary Martin began in New York in 1938 with a small part in the musical comedy "Leave It to Me," starring Sophie Tucker. Miss Martin walked on stage and stopped the show with Cole Porter's "My Heart Belongs to Daddy." It became the seminal song of her career and inspired the title of her 1976 autobiography, "My Heart Belongs."
New York Herald Tribune critic Howard Barnes' appraisal of that initial performance said it all: "Miss Martin has the touch."
However, the life of Mary Virginia Martin had begun much more prosaically in Weatherford, Tex., when she was born to a lawyer father and violin teacher mother. She studied at the Ward-Belmont School in Nashville, Tenn., until the family fortunes crashed along with the stock market in 1929, and she had to enroll at the public University of Texas.
She was only 16 and dropped out after her freshman year to marry Ben Hagman, a Weatherford attorney. After a year and the birth of her now famous son, who portrays the hated J.R. on television's perennial "Dallas," she regretted the early marriage and was divorced.
With her friend Mildred Woods, Miss Martin opened a dance school in Weatherford, which flourished until the building was destroyed by fire.
"It's a sign!" she told Woods with her characteristic optimism. "Let's go to Hollywood."
They did, with Woods serving as agent for Miss Martin, the would-be actress. They wangled screen tests—and she failed every one.
After taking singing lessons, Miss Martin signed up for an "opportunity night" at Hollywood's old Trocadero nightclub, with the prize a two-week paying engagement.
She did two things to separate herself from the other amateurs. Unable to afford the appropriate evening gown, she wore a very simple collegiate sweater and skirt. And she began singing the very serious "Il Bacio." Just as the audience started to hiss, she swung into a fast blues beat, and soon had them begging for encores.
In that audience was producer Lawrence Schwab, who signed her for what proved her Broadway break in "Leave It to Me." That was followed by a singing stint at New York's posh Rainbow Room, where critics described her as "a cute little package of dynamite."
Ironically, the New York successes opened previously closed doors to her in Hollywood. Despite her reluctance to return, she allowed Woods to talk her into signing a contract with Paramount, and made her film debut in 1939 in "The Great Victor Herbert."
A series of highly forgettable films followed—"Rhythm on the River," "Love Thy Neighbor," "New York Town," "Birth of the Blues," "Kiss the Boys Goodbye," Star Spangled Rhythm" and "Happy-Go-Lucky."
"No time to think. It's shoot. Boom. If you don't get it right the first time do it again," was the impression of Hollywood she offered in 1944.
She tried to break her contract, claiming choice roles were not forthcoming, and was finally given a leave of absence to do "One Touch of Venus" on Broadway.
There critics greeted her as "one of the brightest stars to descend on the musical comedy stage in many a long year." Her rendition of "Speak Low," the show's big hit, has become a classic. And she never went back to the movies.
During her time in Hollywood, however, she did find and marry her life partner, literary agent and editor Richard Halliday, who became her manager, producer and biggest supporter until his death in 1973. They had one daughter, Mary Heller Halliday DeMeritt, now of Houston.
Thereafter the theater regulated Miss Martin's life, and she proved as indomitable in body as in spirit.
When they strapped a pedometer on her out of curiosity to see how far she ran during a performance of "Sound of Music," it registered three miles. During a telecast of "Annie Get Your Gun," she tripped over a fence, and finished a production number with blood gushing from her leg.
"South Pacific" and "Sound of Music" rank as two of the longest-running musicals in Broadway history.
"South Pacific," which opened in April, 1949, with lyrics by Oscar Hammerstein II and music by Richard Rodgers, featured such immortal songs as "Some Enchanted Evening" and Miss Martin's epic "I'm Gonna Wash That Man Right Outa' My Hair." It ran for 1,925 performances.
"Sound of Music," another Rodgers and Hammerstein triumph based on "The Trapp Family Singers" and featuring Miss Martin singing "Do-Re-Mi" and "Climb Ev'ry Mountain," opened in 1959 and ran for 1,443 performances.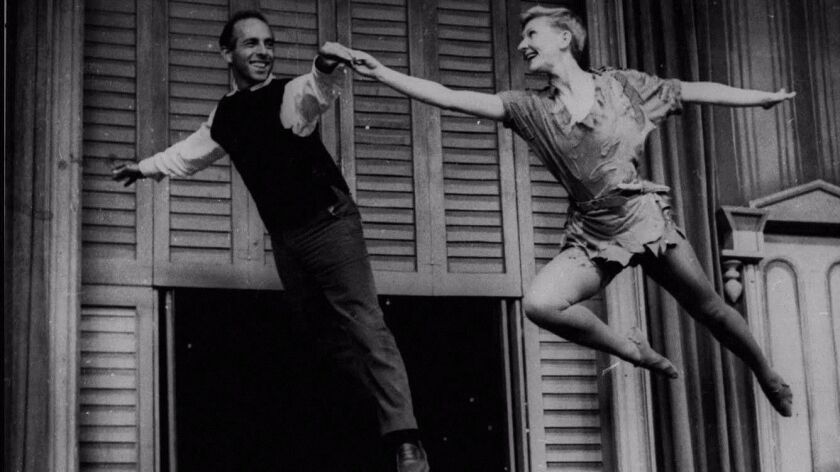 But if Mary Martin is remembered for a single role, that role unquestionably is the boy who wouldn't grow up, Peter Pan. It was a musical revival of the Sir James Barrie tale of the mischievous lad who took other children to his special never-land. It opened in 1954 to tumultuous reviews.
Even though it didn't have the staying power of Miss Martin's other triumphs (152 performances), it became notched indelibly with her persona because of a live TV special in 1955 for which she won an Emmy and which has been repeated four times. It now is a best seller on videocassette.
Years later, as she hobbled from San Francisco General Hospital after being released after her auto accident, nurses and doctors leaned out of windows and shouted, "Goodby, Peter!"
Despite the passing years, it remains difficult to comprehend that the wispy, boyish figure flying across the stage belonged to a mature, then 40-year-old woman.
The role, first played on stage by Maude Adams in 1905, added both to her fame and her physical travails.
Miss Martin had suffered continuing spinal pain after being dropped 30 feet during an accident in the stage production. And then she broke her arm when she smashed into a brick wall during the first flying rehearsal for the television version when a technician controlling the wires dropped a rope.
He explained later that he became distracted because he believed she was really flying. It was hard to blame him. The rest of the world believed it too.
She also starred in a series of highly stylized television special—among them, a 1953 50th anniversary salute to the Ford Motor Co. that co-starred Ethel Merman; a 90-minute program with Noel Coward called "Together With Music," and a television version of "Annie Get Your Gun," co-starring John Raitt.
Her punishing schedule, coupled with her injuries and a hysterectomy, led to a near collapse in the late 1960s.
"Just the theater, bed; theater, bed; theater, bed. Stay in bed till 5 p.m., then do the show," was the way she once described the regimen to a Los Angeles Times reporter. "It was like being in a box. I sometimes felt like a greyhound. They'd let me out for the race and that was all."
So, at the end of the run of "I Do, I Do" in 1969, Miss Martin and her husband retired to their farm in Brazil and lived there quietly until his death.
Describing herself as "devastated," the newly widowed Miss Martin returned to the United States and California to be closer to her children and grandchildren. She bought the home in Rancho Mirage, soon added another in San Francisco, and began picking up the threads with which she would reweave her career.
Always more comfortable with television than film, she starred in tributes and specials, including "Valentine" with Jack Albertson for ABC in 1979, about love between two residents of a retirement home.
"I felt that if I did anything again, it would be exciting to do it for people in the lovely September years," she said, demonstrating an attitude that made her jump at the chance to co-host "Over Easy" a few years later. "If I could contribute whatever I have to make that a happier and warmer feeling, then I would have the same joy I got from doing 'Peter Pan.' "
She also appeared often at tributes to friends in the entertainment world. She was the guest of honor at one of her own in New York in 1985. First Lady Nancy Reagan, who had performed as the handmaiden to Miss Martin in "Lute Song" when they were both young actresses, congratulated her on stage and then sang a duet with her.
Veteran actress Helen Hayes offered an anecdote illustrating both Miss Martin's ability to cope and her humor. She said she was walking through Paris with Miss Martin, once voted best-dressed woman in the theatrical profession by the Fashion Academy, when a bird made a deposit on Miss Martin's designer outfit.
"She just turned and looked at me," Hayes recalled, "and said: 'For some people, they sing.' "
After hearing of her death, Nancy Reagan recalled her long-ago performances with Miss Martin and saluted her longtime friend as "one of the brightest stars whose immense talent lit up the stage and screen like no other. She was a lady of the greatest personal courage who never let adversity get in her way."
Miss Martin returned to the stage in 1986 with Channing in "Legends," which opened in her native Texas and then moved to Los Angeles' Ahmanson Theater. The real-life stars portrayed two has-been actresses sniping at each other throughout the less than successful non-musical play. Miss Martin had refused to do the script until it was purged of four-letter words, but nevertheless startled her audiences by exposing her backside in a gesture of mock contempt.
Among her many accolades, in 1989 Miss Martin was one of five recipients of Kennedy Center honors for achievement in the performing arts.
"She was and is and always will be Peter Pan," said Gregory Peck, introducing her at that prestigious event in the nation's capital. "If we didn't have musicals, we'd have to invent them for her."
Overcoming acknowledged resentment over her devotion to her career rather than to her son in his early years, Miss Martin became very close to both her son and her daughter, and to her six grandchildren and great-granddaughter.
Relaxing at Hagman's beachfront home during her tour with "Legends" in 1986, Miss Martin did a little Peter Pan crowing for her first great-grandchild, Mary Noel Hagman, and then talked with a Los Angeles Times reporter about her ability to snap back from the San Francisco car accident and other tragedies.
"It hasn't broken my spirit. Show business teaches you more about that than anything," she said. "You have to have a strong desire and sense of what you want to do, and if it goes wrong, you have to get over it . . . (as the song says) pick yourself up, dust yourself off and start all over again."
Taking on "Legends" at the age of 72, after a decade's absence from the stage, was tough, she said, but a normal part of her life plan to have projects at all times.
"It's been difficult to get back in harness," she said. "You know, if you don't play tennis for a long time, you don't keep your tennis arm. And if you don't do anything, your brain goes."
Planning projects for her family as well, Miss Martin told another interviewer that her son can sing and dance as well as act. She said she would like to see him play Captain Hook, with granddaughter Mary Devon DeMeritt assuming her role as Peter Pan.
"I think he would be the funniest Captain Hook in the world," she said. "If I have to get into my dying wishes, I want him to play Captain Hook. I will be watching, from where I don't know, but I'll be watching."
A memorial service will be held at a future date in New York.
From the Archives: Songwriter Cole Porter Dies
From the Archives: Lana Turner, Glamorous Star of 50 Films, Dies at 75
From the Archives: Bing Crosby Dies at 73 on Golf Course
From the Archives: Opera's greatest star brought classical music to the masses
Actor who broke into television with "I Dream of Jeannie" then starred as J.R. Ewing in "Dallas."
---
Must-read stories from the L.A. Times
Get all the day's most vital news with our Today's Headlines newsletter, sent every weekday morning.
You may occasionally receive promotional content from the Los Angeles Times.