From the Archives: Red Skelton, TV and Film's Quintessential Clown, Dies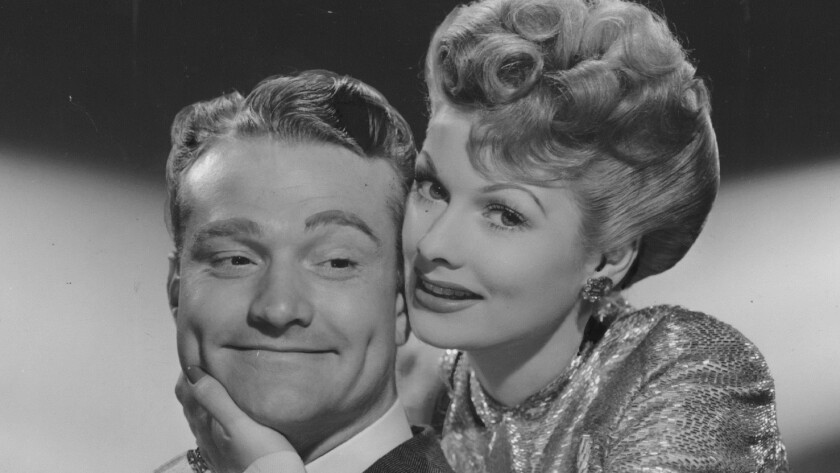 Red Skelton, the rubber-faced harlequin and pantomimist whose antics delighted stage, radio, film and television audiences with such characters as Clem Kadiddlehopper, Freddie the Freeloader and the Mean Widdle Kid, died Wednesday. He was 84.
He had been in declining health for several years before he died at Eisenhower Medical Center in Rancho Mirage.
Skelton was the quintessential clown. In his later years he even painted clown faces, earning more than $80,000 for a single canvas and about $2.5 million a year from lithographs.
His career spanned six decades, encompassed all media, made him a multimillionaire and a star in every form of entertainment from burlesque to television to the art gallery.
His waning years were spent at the easel and on stage with about 75 performances a year. But modern audiences remember him most as a pioneering television comedian. He was on the small screen from 1951 until 1971, for NBC and CBS, until viewers' changing tastes dictated cancellation.
"Red was a wonderful, wonderful man. His work was fantastic. He was a treasure," said fellow television comedian Sid Caesar.
Another vaudeville and television contemporary, Milton Berle, said, "We lost a great entertainer, a great comedian, and I lost a very, very dear friend."
"Entertainment has lost a classic," said musical comedy star Carol Channing. "He created an unforgettable cast of characters, particularly . . . when he was a genuine TV superstar. Through it all, Red retained a clear, human personality that warmed his audiences whether on radio, TV, the stage or in the movies."
Skelton's audiences felt entertained, uplifted and at peace when he ended each show with his trademark line: "Good night, and God bless."
He continued to appear as guest and host of television specials through 1995, when he was on "Inside the Dream Factory." Skelton was inducted into the Television Academy Hall of Fame in 1988.
His acceptance of the Governors Award from the Academy of Television Arts and Sciences at the Emmy Awards show in 1986 was bittersweet. "I want to thank you for sitting down," he said as the audience, which had given him a standing ovation, took their seats. "I thought you were pulling a CBS and walking out on me."
A year later, the Screen Actors Guild recognized his work in 43 motion pictures by granting him its achievement award for his outstanding career and his charitable contributions. He was particularly known for his support of children's charities, including the Shriners Hospital for Crippled Children and the Red Skelton Foundation in his hometown of Vincennes, Ind.
Evoking Tears and Laughter
In an age of prefabricated biography and press agent flamboyance, Skelton was one character who no writer—whether of comedy or tragedy—could have invented.
"I don't want to be called 'the greatest' or 'one of the greatest'; let other guys claim to be the best," he once said. "I just want to be known as a clown because to me that's the height of my profession. It means you can do everything—sing, dance, and above all, make people laugh."
Skelton had two attributes that set him apart: a talent for mime that could and did transcend the barrier of language, and the gift of evoking tears as readily as laughter—matchless abilities that are the hallmark of all great clowns.
He came by both honestly. They were his birthright—and only legacy—from a clown named Joseph Skelton who died two months before Red was born. The death of Joe, an alcoholic, left his wife, Ida, and her four sons penniless. Ida supported her family by scrubbing floors.
The two-room house in Vincennes, where Richard Bernard Skelton was born July 18, 1913, is a minor museum today, officially designated as the birthplace of the city's most famous son.
Young Richard went to work when he was 7 years old, selling newspapers on the street. At the age of 10, he got his first taste of professional show business when a snake oil purveyor named Doc Lewis hired him as an assistant—to do nothing more glamorous than fall off the stage.
Although Red's activities were originally restricted to a once-per-show tumble into the bottled goods, he advanced to doing a turn as a blackface singer and even telling an occasional joke.
Two years later, Red completed the seventh grade and was convinced that this was all the education anyone could require. He had stolen his elder brother's birth certificate, and was ready, at the end of the medicine show's summer season, to seek more advanced employment.
He was hired by the John Lawrence stock company, which put on tent shows, as a dramatic actor at $15 a week. But he never managed to collect his first week's salary.
"The audiences just wouldn't cooperate," he explained. "They laughed, only they weren't supposed to. So I was canned."
In the Center Ring
He worked in a minstrel show and then got a job on the Cotton Blossom, a showboat plying the Ohio and Missouri rivers.
"That went on for quite a while. I thought I'd found a home, you know, but I didn't understand; history was moving around and I didn't see it. The Cotton Blossom was going to be the last of the great showboats . . . and its days were numbered.
"I stuck with it almost to the end . . . and then one day I was in a town where I saw a broadside for the Hagenbeck & Wallace Circus--my father's old show.
"Well—you know—I just couldn't resist. . . ."
Skelton was hired to work the parade and walk-arounds (the entry level of clowning) and later, after displaying some of the pantomime routines he had developed during his showboat career, he became a true center-ring attraction.
But the circus world, too, was winding down, and Skelton soon abandoned the sawdust in favor of burlesque.
"It was real burlesque—not the sex show that it became in later years, but comedy parody of well-known Broadway shows and top vaudeville acts," Skelton recalled.
The 17-year-old "third banana" was introduced to a 15-year-old usherette named Edna Marie Stillwell, who became his first wife a year later.
But as Skelton advanced to top banana, burlesque began to change in favor of "blue" material. Skelton balked.
"It wasn't prudery," he explained. "The trouble was, I just didn't think the lines were funny."
So he became a master of ceremonies for "walkathons," the marathon dance contest craze. He was popular, but rarely paid, and still longed for the big time.
Edna, too, had ambitions. She began writing scripts and was soon providing the bulk of her husband's comedy material.
"It was better than anything I could buy, steal or make up," Skelton recalled. "And the price was right."
Skelton got his first screen test in 1932, but he was given a dramatic script and it was a failure. Some two-reel comedies produced by Vitaphone in New York and occasional forays into waning vaudeville were also discouraging. Skelton began to toy with the idea of "getting out of the business and into business," when his luck changed in Canada.
The Lido Club in Montreal was the kind of place where rowdy hecklers always included themselves in the evening's entertainment, and at first Skelton was nonplused by the problem—while his act died. In desperation, he began to field the insults.
"Hey, stupid . . . !" a heckler called.
"Not as stupid as you," Red retorted, "you paid to get in here!"
"You're an idiot . . . !"
"And you show signs of becoming a complete stranger!"
By the end of the first week, he was a favorite and the heckler squelches were a permanent fixture of the act. "In fact," he recalled, "now and then I would send someone from the show into the audience to needle me when the patrons got too quiet."
After a month or two at the Lido, Skelton moved to the Princess Theater in Montreal as master of ceremonies—also a smash—and on to Toronto, where he packed in audiences for nearly a year.
It was at this point that Skelton began some of the routines that would make him famous. Doughnut Dunking—a comedic exploration of every known method—became his first successful "silent spot" or pantomime, while bits and pieces of such routines as "Guzzler's Gin" and "Clem Kadiddlehopper" began to crop up in monologue from time to time.
Broadway Stardom
He made his Broadway debut in 1937—almost ending his sudden success. The Skeltons, believing that New York audiences were the most sophisticated in the world, hired a team of New York writers to provide "sophisticated" material for Red's stint as emcee and comic at Loew's State.
But audiences sat on their hands until he reverted to the kind of slapstick that had been successful in the hinterland . . . and then they nearly tore the house down.
His success at Loew's State had two immediate consequences: an invitation to make his radio debut with a guest spot on Rudy Vallee's show on Aug. 12, 1937 and a booking in Washington that gained him an invitation to the White House.
He was a success in both places.
Vallee invited him back two weeks later, and President Franklin D. Roosevelt was so taken with him that his appearances at the President's birthday ball became an annual affair.
The White House success also led to Skelton's screen debut.
A guest recommended him to Louis B. Mayer, who cast him—billed as Richard "Red" Skelton—in "Having a Wonderful Time" with Douglas Fairbanks Jr. and Ginger Rogers.
In 1940, he appeared for six weeks in New York with a vaudeville act that now included Lupe Velez, and returned to the screen for a minor role in "Flight Command" with Robert Taylor and Walter Pidgeon, followed by another comedic appearance (teamed with "Rags" Ragland) as a hospital orderly in "The People vs. Dr. Kildare."
His big breakthrough in movies, however, came in 1941 with the release of "Whistling in the Dark," in which he starred as a radio performer trying to solve a murder mystery.
He followed with similar roles in two more movies—"Whistling in Dixie" and "Whistling in Brooklyn"—while establishing himself among radio's dozen leading comics with the weekly show "Red Skelton's Scrapbook of Satire."
The radio shows became a fixture in network programming, while his film credentials were bolstered by such successes as "Lady Be Good," "Maisie Gets Her Man," "Panama Hattie" "Ship Ahoy" "Dubarry Was a Lady" "As Thousands Cheer" "Bathing Beauty" and "I Dood It," which took its title from a phrase he had coined in connection with the Mean Widdle Kid character in radio.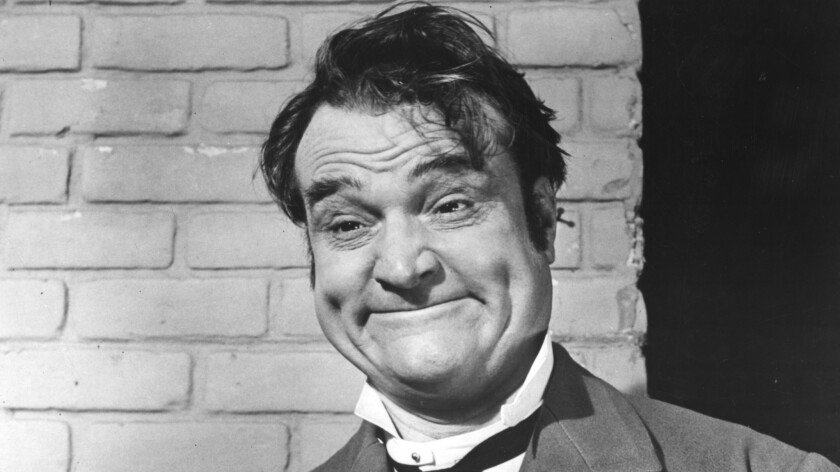 Other radio characters—many of which were translated to television a decade later—included San Fernando Red, Willie Lump Lump, Cauliflower McPugg, Freddie the Freeloader and Deadeye. In 1944, Skelton was inducted into the Army and assigned to duty as an entertainer on troop ships. He suffered a breakdown from exhaustion doing 15 shows a day, was hospitalized for three months and discharged as a private in September 1945.
Back on the air in December, he needed only two weeks to climb back to third place in audience ratings, while continuing his film career with "Merton of the Movies," "The Show-Off" and an appearance (doing his Guzzler's Gin routine) in "Ziegfeld Follies."
Through it all, Edna remained his manager, chief writer and friend, although their marriage ended in 1943 and both remarried.
The second Mrs. Skelton was Georgia Maureen Davis, a sometime artist and model, whom he married while on furlough from the Army in 1945. Their daughter, Valentina Maris, was born in 1947. A son, Richard Freeman, was born in 1948 and died of leukemia at the age of 9 during the height of Skelton's television show.
Skelton's own health problems seemed to crop up with alarming regularity after his Army discharge: he was hospitalized for an undisclosed ailment in 1952, for a severe asthma attack in 1957 and for a complete resection of his stomach in 1960.
Unhappy with his films after the war, he found new satisfaction in television. "The Red Skelton Show" first appeared on network TV in 1951; it was an immediate hit, maintaining that status until its final season two decades later. Skelton purchased the old Chaplin film studio at Sunset Boulevard and La Brea Avenue, where he produced the show live for a time, then switched to film—and finally to tape.
And what had begun as a passing interest in painting gradually developed into a major passion; at his death he had completed more than 1,000 oils—all portraits of clowns.
"I don't know why it's always clowns," he said once. "No—that's not true—I do know why. I just don't feel like thinking about it. . . ."
Friends said his young son Richard's death marked a kind of watershed in Skelton's personal and professional life.
Outwardly he was much the same: the eternal clown, always on. But there was a sadness, a special hint of tears always lurking just behind the rubber face that appeared on millions of television sets each week, and even his strongest partisans noted the occasional lack of the energy—a special elan—that had previously characterized his performances.
The bouts of depression also increased—he left his son's toy-filled room untouched, often retreating there to brood—and marital problems multiplied apace.
The Skelton family was unanimous in calling it an "accident" when Georgia Skelton wounded herself with a pistol in 1966. But the weekly television show finally wound down to its final performance in 1971, the marriage ended two years later, and in 1976—on the 18th anniversary of her son's death—Georgia Skelton took her own life.
Skelton was remarried by then to third wife Lothian Toland, daughter of cinematographer Gregg Toland. (She and his daughter from his second marriage survive him.)
The years passed and honors piled up. To his three Emmys and one Golden Globe award, he added awards from Amvets, Freedoms Foundation and American Legion and honorary degrees from Vincennes University, Emerson College and Indiana University.
"Not bad for a guy who had trouble getting through grade school," he said.
Reflecting on his life in a 1979 interview, Skelton pronounced himself "lucky."
"I'd have avoided some of the pain if I could. Anyone would," he said. "But I wouldn't have missed knowing any of the people—even the ones whose leaving hurt most. In fact, the only thing I'm sorry about is that I didn't meet one particular guy, a clown named Joe Skelton.
"You know, he sure picked the right profession.
"I mean, a clown's got it all. He never has to hold back: He can do as he pleases. The mouth and the eyes are painted on. So if you wanta cry, you can go right ahead. The makeup won't smear.
"You'll still be smiling. . . ."
From the Archives: Jane Greer; Star of Film Noir 'Out of the Past'
From the Archives: Ann Sothern; Gave Strong Women a Voice in Film and TV
From the Archives: Lucille Ball Dies; TV's Comic Genius Was 77
From the Archives: Consummate Entertainer Sammy Davis Jr. Dies at 64
From the Archives: Milton Berle, 93; Legendary Comic Trouper Dies
---
Must-read stories from the L.A. Times
Get all the day's most vital news with our Today's Headlines newsletter, sent every weekday morning.
You may occasionally receive promotional content from the Los Angeles Times.