From the Archives: Rock 'n' Roll's Roy Orbison Dies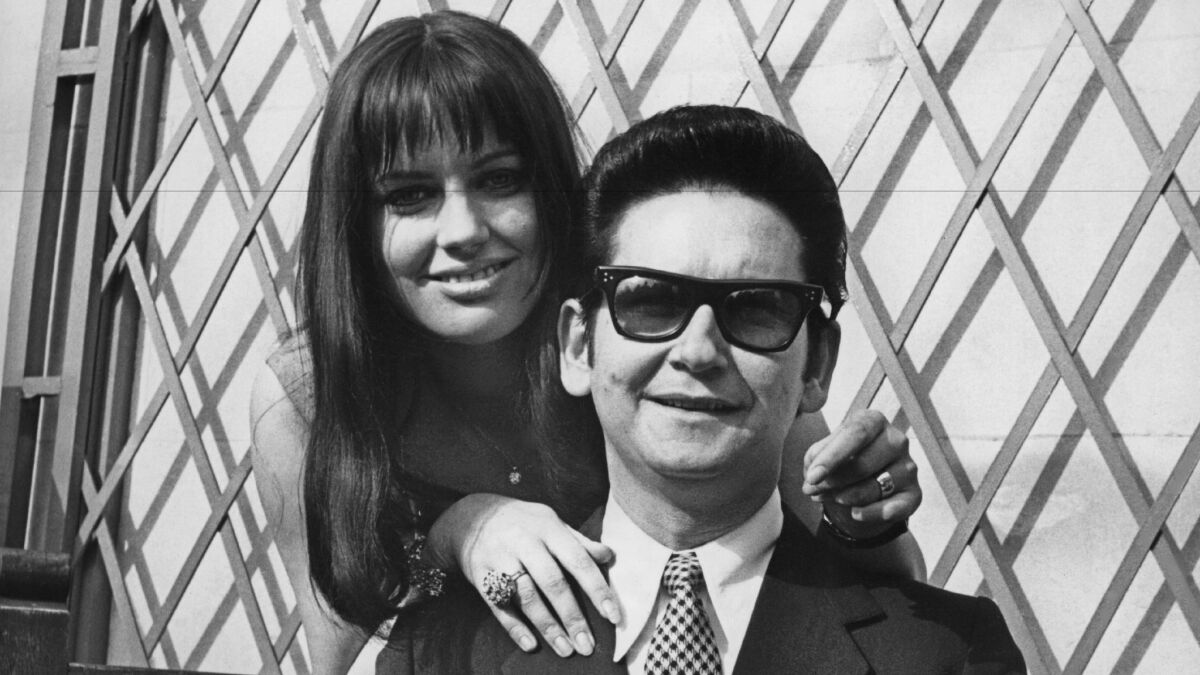 Roy Orbison, whose personal life often mirrored the melancholy themes of his music, died late Tuesday night in a Hendersonville, Tenn., hospital after suffering a heart attack.
The singer and composer, who had transcended mere performing to become a legend in the country-oriented rock 'n' roll that he had helped pioneer, was 52.
Orbison, who had a long history of heart trouble and had undergone open-heart surgery in 1978, was taken by ambulance to the hospital when he was stricken at his mother's home after spending the day with country singer Jean Shepard's family.
Shepard said she, Orbison and her husband had been playing with remote-control airplanes and "having a great time." Melanie Lamb, a hospital spokeswoman, said efforts to revive Orbison were unsuccessful and he died just before midnight.
Orbison, never seen in public without his sunglasses since that day early in his career when he misplaced his regular eyeglasses before a performance, had last performed Sunday in Akron, Ohio.
He was in the habit of detouring to Nashville to visit his mother whenever he was nearby.
With Carl Perkins, Johnny Cash, Jerry Lee Lewis and an unknown truck driver from Tupelo, Miss., named Elvis Presley, Orbison formed the nucleus of talented but untested singers and songwriters who recorded on the old Sun label in Memphis.
They began in the late 1950s and within a decade Orbison had soared to the pinnacle of rock fame with such songs as "Only the Lonely," in 1960, the first of his several million-sellers, "Blue Angel," "Cryin' " and "I'm Hurtin'." His "Oh, Pretty Woman" in 1964 sold more than 7 million copies and remains a rock standard.
Presley once called him "the greatest singer in the world" and, while critics may dispute that singular accolade, Orbison was a performer of mass appreciation whose appeal extended far into his middle years.
At his death, "Handle With Care," on which he collaborated with Bob Dylan, George Harrison and Tom Petty, was No. 8 in the Billboard magazine weekly ratings. Those four rock superstars had recorded the album calling themselves The Traveling Wilburys. In 1987 Bruce Springsteen, Elvis Costello, Jackson Browne and Bonnie Raitt filmed a concert tribute to Orbison that was shown on cable TV earlier this year.
(Springsteen also saluted Orbison by name in his song "Thunder Road.")
At one time Orbison had 27 consecutive records on the hit charts. Total sales of his records are believed to number about 30 million.
Raised in Wink, Tex., Orbison, a guitarist, was taught music by his father and was influenced primarily by the gospel and country music that permeated his formative years. He organized his first band while still in high school and began to play rock 'n' roll in response to requests from teen-age dancers.
He made his first record for Norman Petty, who also managed Buddy Holly, but little came of that relationship and he moved on to Sam Phillips' Sun Records.
His successes at Sun were minimal compared to Cash and Presley. It wasn't until he shifted to Monument Records in Nashville that his career really took off.
Distinct Style
"Only the Lonely" was to typify the Orbison style. It was a melodramatic and melodic ballad, sharply distinct from the pile-driving sounds of '60s rock. Orbison's pristine and powerful falsetto with its three-octave range pushed the song to No. 1.
His popularity extended to Great Britain and in May, 1963, he toured England with the Beatles. On Wednesday, former Beatle Paul McCartney called Orbison's death "a great shock."
"We toured with Roy in the early days and he was a really good guy," McCartney said in a statement issued in London. "It is particularly sad when he seemed to be enjoying such a comeback recently. He was and always will be one of the greats of rock 'n' roll."
Sometimes called the "Caruso of Rock," Orbison's songs over the years spoke of unrequited love and of ambitions unfulfilled.
For a performer, Orbison was inordinately shy. He appeared either in solid black or white outfits, scorning the spangles, feathers and splashy colors that were the signature of his contemporaries.
In a 1980 interview with The Times' Robert Hilburn, Orbison blamed his own lack of aggressiveness and poor direction (he sued his manager for $50 million in 1982) for his relatively low profile.
But that seemed to change after his heart surgery in 1978.
Recent Resurgence
His other hits came to include "It's Over," and "Blue Bayou" (given new life in a recording by Linda Ronstadt). Last year, he re-recorded his 1963 hit "In Dreams" after the song was revived in the movie "Blue Velvet."
This resurgence followed the decline that had marked both his life and his career in the late 1960s.
His first wife died in a motorcycle accident in 1966. Two of his three sons, ages 10 and 6, died in a fire that destroyed his lakeside Hendersonville home in 1968.
His "Too Soon to Know" was written after the death of his wife. "A little hurt went a long way," he said.
Orbison remarried, had two more sons and moved to Southern California about three years ago.
In 1980 he and Emmylou Harris were awarded a Grammy for "That Lovin' You Feelin' Again," and in 1987 he and his old Sun records colleague Carl Perkins along with Bo Diddley were inducted into the Rock 'n' Roll Hall of Fame.
On Wednesday, pop critic Hilburn said, "Orbison wasn't a revolutionary figure in rock the way Elvis Presley or Little Richard were, but there was an elegance and power in his best recordings that spoke with a unique, almost adult sense of drama that has enabled them to be as haunting today as when they first came on the radio.
Purity and Passion
"He wasn't a flashy performer. He'd stand expressionless behind his ever-present dark glasses and just sing—but the singing was unlike anything else in rock: a purity and passion that conveyed with almost surreal aura the delicateness and ache of romantic disappointment and doubt."
In a 1986 interview, Orbison said the biggest thrill of his career was "just being in the business itself."
As for being called a legend, he said: "I did say facetiously once that being a legend meant being old. But someone pointed out that not all old people are legends. Anyway, it's nice to have had longevity and to have influenced a few people for the good."
From the Archives: Renowed Jazz Bassist Charles Mingus Dies at 56
From the Archives: Ella Fitzgerald, Jazz's First Lady of Song, Dies
Louie Bellson dies at 84; Duke Ellington called him 'the world's greatest drummer'
From the Archives: The Voice of Everyman in Black
From the Archives: Elvis Presley Dies at 42; Legend of Rock 'n' Roll Era
---
Must-read stories from the L.A. Times
Get the day's top news with our Today's Headlines newsletter, sent every weekday morning.
You may occasionally receive promotional content from the Los Angeles Times.