From the Archives: Entertainer Shari Lewis Dies at 65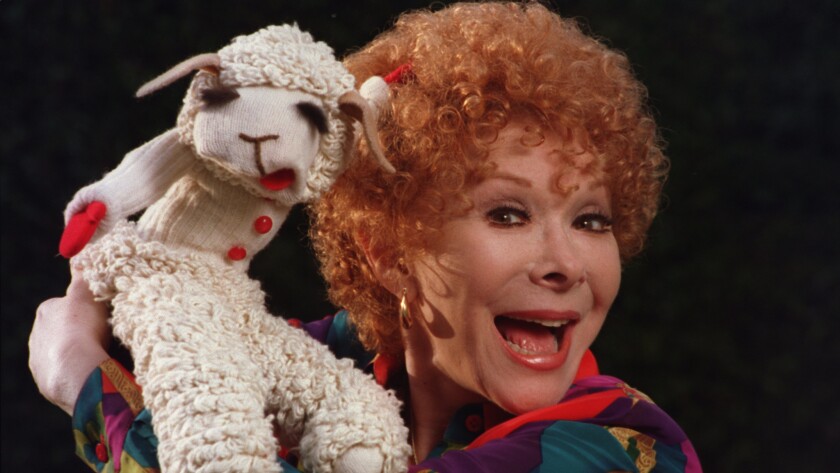 Shari Lewis, the perky strawberry blond ventriloquist, puppeteer, singer and dancer who graced the television screen and nightclub stage for four decades, accompanied by her lovable sock puppet Lamb Chop, has died. She was 65.
Lewis, who was found to have uterine cancer in June, died of pneumonia Sunday at Cedars-Sinai Medical Center, said her publicist, Maggie Begley. Lewis had been undergoing chemotherapy for the last six weeks.
The 5-foot, 98-pound overachiever amassed a dozen Emmys, a Peabody Award, the John F. Kennedy Center Award for Excellence and Creativity, seven Parents' Choice Awards, the Action for Children's Television Award, and in 1995 the new Rommie award for her CD-ROM "Lamb Chop Loves Music."
Lewis wrote more than 60 children's books and created 24 home videos, including "101 Things for Kids to Do," which won many awards. A consummate musician, she played violin and piano and conducted major orchestras, including the National Symphony in Washington and the Pittsburgh Symphony.
Educational as well as entertaining to generations of children, Lewis' programs were most often produced for PBS. Her current show, which debuted in January, is "The Charlie Horse Music Pizza" produced by KCET in Hollywood. The show, which she said was designed to teach children the joy of making music, is co-produced by Golden Books Family Entertainment, which bought Shari Lewis Enterprises Inc. last year.
"There is no way to continue the show because Shari was everything," said Laurel Lambert, spokeswoman for KCET. She said, however, that the series is airing repeats that will continue through the fall, and that three new episodes for the fall season have been taped.
Although Lewis manipulated dozens of puppets, her original Lamb Chop was the most enduring and endearing and became the trademark and alter ego of its creator. Next most famous were Charlie Horse and Hush Puppy.
In the early 1990s, Lewis created the PBS series "Lamb Chop's Play-Along" which she dubbed the "anti-couch potato show" because it encouraged sluggish youngsters to get up and interact with the program.
Interaction was integral to Lewis' shows for its educational value, she told a Times writer in 1992, quoting an ancient Chinese proverb: "I hear and I forget, I see and I remember, I do and I understand. In the doing is the learning."
Lewis' specials came to symbolize holidays for children and their parents around the world—"Shari's Christmas Concert," "Lamb Chop in the Haunted Studio," "Shari's Passover Surprise" and "Lamb Chop's Special Hanukkah."
Although she was known as a children's entertainer, Lewis also delighted nightclub crowds in Southern California and in Las Vegas, often with Donald O'Connor. Her act typically included distinct segments—such as puppets named Zsa Zsa and Phyllis comparing measurements and the unending search for men; Lewis dancing with a life-size replica of Fred Astaire; and curly-lashed Lamb Chop in adult mode, tipsy and searching for a martini. Lamb Chop always appeared, at one time aspiring to be a Playboy bunny, complete with long floppy ears attached.
Reviewing Lewis' act at the Century Plaza's old Westside Room in 1967, Times critic John L. Scott rated her "cute . . . skillful . . . with fresh and engaging material."
Lewis relished the change from the television studio, where she played to unseen children, to the nightclub stage, where she could interact with a live adult audience. "It's like roulette on stage every night," she once said.
She took her act to larger stages as well, most recently in December at the Orange County Performing Arts Center.
The extraordinarily versatile Lewis also performed in several Broadway musicals, including "Damn Yankees," "Bye-Bye Birdie" and "Funny Girl," as well as in her own "Lamb Chop on Broadway."
On prime-time television, she appeared in hundreds of movies and variety specials. She also was seen on game shows and such talk shows as "The Tonight Show With Johnny Carson."
Lewis burst into show business early—as a toddler pulling rabbits out of a hat. Her father, Abraham B. Hurwitz, official magician of the New York City parks department, taught her how.
She credited her mother, a music coordinator for the New York City Board of Education, with inspiring her boundless energy and enthusiasm and arranging her musical training. She began studying piano at age 2. As she grew up, she added music theory, orchestration, more piano and violin at New York's High School of Music and Art, dance at the School of American Ballet and acting with Sanford Meisner of the Neighborhood Playhouse.
The ventriloquism was inborn.
"Like dancing and singing, if a child develops a natural proficiency in ventriloquism, it can be refined later by careful instruction and practice," she told The Times in 1966. "But I never heard of an adult 'learning' the art sufficiently to become a successful professional."
In 1952, barely 19, Lewis was a winner on Arthur Godfrey's television talent scout show. Within five years, she introduced Lamb Chop on the "The Captain Kangaroo Show" for children.
That led immediately to "The Shari Lewis Show," which ran in NBC's Saturday morning lineup for several years.
Devoted to children, Lewis worked on their behalf far beyond the camera and microphone. She raised a daughter, Mallory Tarcher, currently producer and executive story editor of Lewis' show. She also served on the national boards of the Girl Scouts and Boy Scouts of America and of the International Reading Foundation. In 1995 she was national spokesperson for the American Lung Assn.
Fond of live animals as well as her puppet imitators, she was on the board of the Los Angeles Zoo for three years.
Lewis is survived by her husband and frequent collaborator, publisher Jeremy Tarcher; her daughter; and a sister, Barbara Okun.
Services will be private, although a public memorial will be planned. The family has asked that any memorial donations be made to the Girl Scouts of America. Cards or notes can be sent to the family care of KCET-TV in Los Angeles.
A consummate entertainer, ventriloquist and puppeteer, Shari Lewis wrote more than 60 children's books, created 24 videos and won 12 Emmy awards. Career highlights:
1952: Wins on the "Arthur Godfrey Talent Scout" program, her first big break in show business.
1957: Introduces Lamb Chop in single appearance on "The Captain Kangaroo Show," which leads to "The Shari Lewis Show" Saturday mornings on NBC.
Mid-1960s: Performs in popular nightclub act with Donald O'Connor in Las Vegas.
1968-76: Has her own Sunday night television series on the BBC in Great Britain.
1992: "Lamb Chop's Play-Along" on PBS wins the first of five consecutive Emmys.
1998: "The Charlie Horse Music Pizza" debuts on PBS Jan. 5. File name: casinos graphic
From the Archives: Johnny Carson Defined Late-Night TV
From the Archives: George Peppard, Versatile Actor, Dies at 65
From the Archives: Isabel Sanford, 86; Won Emmy for Best Actress in a Comedy
From the Archives: 'Honeymooners' Sidekick Art Carney Dies
From the Archives: Lucille Ball Dies; TV's Comic Genius Was 77
---
Must-read stories from the L.A. Times
Get the day's top news with our Today's Headlines newsletter, sent every weekday morning.
You may occasionally receive promotional content from the Los Angeles Times.