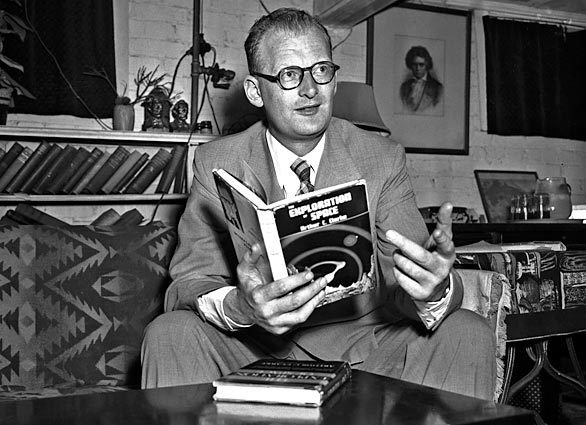 7 Images
Arthur C. Clarke | 1917-2008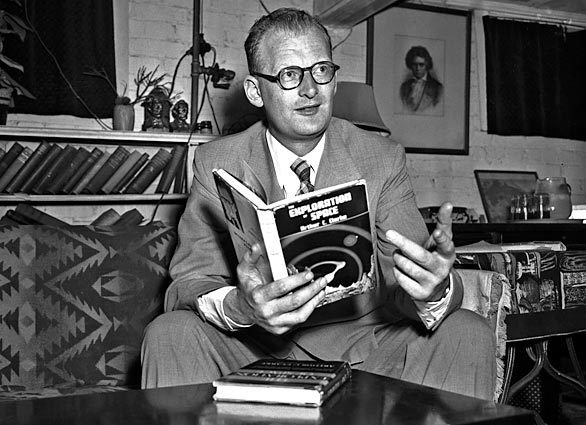 Arthur C. Clarke holds a copy of his nonfiction book "The Exploration of Space" in this June 9, 1952, file photo. After the war, he worked as assistant editor of the journal Physics Abstracts until his literary career took off with the success of this book as well as the critically acclaimed "Childhood's End."
(Associated Press)
Arthur C. Clarke, shown in this undated photo from the late 1960s, was deemed by many to be a scientific visionary. He penned a 1945 article that outlined a worldwide communications network based on fixed satellites orbiting Earth. In 1963, the world's first communications satellite was put into geosynchronous orbit.
(Associated Press)
Arthur C. Clarke collaborated with director Stanley Kubrick in writing the groundbreaking film "2001: A Space Odyssey," shown with astronaut Poole, left, (Gary Lockwood) and mission Commander Bowman (Keir Dullea).
()
"He has the kind of mind of which the world can never have enough, an array of imagination, intelligence, knowledge and a quirkish curiosity, which often uncovers more than the first three qualities," Stanley Kubrick said of the writer upon the movie's release in 1968.
(Fiona Hanson / Associated Press)
The British-born sci-fi writer mugs places a hand on the bronze bust of himself at Galle Face Hotel in Colombo, Sri Lanka, where he wrote the final chapter of "3001: The Final Odyssey." Clarke said the bronze was a remarkable resemblance of himself and dubbed it his clone.
(Sena Vidanagama / AFP)
Arthur C. Clarke, shown in 1998 communicating with actor Tom Hanks and astronaut Bill Anders via the Internet from his home in Colombo, Sri Lanka, has had an asteroid and a joint Russian-European satellite named after him.
(Gemunu Amarasinghe / Associated Press)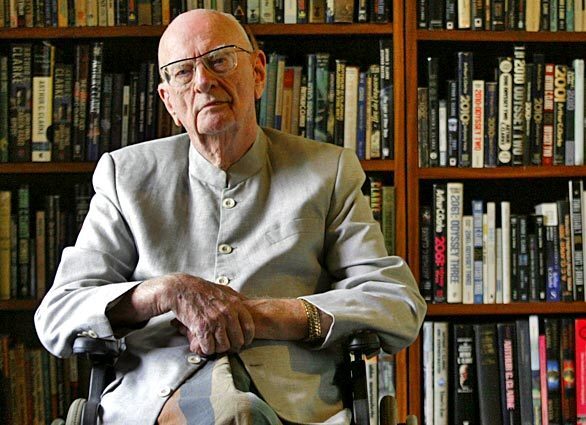 Arthur C. Clarke wrote more than 80 fiction and nonfiction books and more than 100 short stories. "It's better to be recognized for one thing, especially something of which I'm quite proud, than not to be recognized at all," Clarke once said of his "2001" acclaim.
(Gemunu Amarasinghe / Associated Press)