14 Images
Sir Edmund Hillary | 1919-2008
Mount Everest victors Sherpa mountaineer Tenzing Norgay, left, and Edmund Hillary, are shown on July 3, 1953, at London's Heathrow Airport upon their arrival from the expedition.
(AFP)
Hillary and Tenzing appear at the British embassy in Katmandu, Nepal, on June 1953 in the same gear they wore when they reached the summit of Mount Everest a month before.
(Associated Press)
Hillary, from left, John Hunt and Tenzing take a last look at Mount Everest before leaving Katmandu, Nepal, in July 1953. As a British Army colonel, Hunt led the Everest expedition and he and Hillary were knighted by Queen Elizabeth; Tenzing received the George Medal, the second-highest award for gallantry that can be given to a civilian.
(Associated Press)
In January 1954, Hillary and his wife, Louise, display a book about his Everest achievement as they arrive by train in Val D'Isere, France.
(AFP/Getty Images)
Hillary, left, confers with Lt. Commander David W. Canham Jr., the United States commander at McMurdo Sound, in January 1957. Hillary paid a visit to the United States base on Ross Island, Antarctica, as leader of the New Zealand Antarctic expedition.
(Associated Press)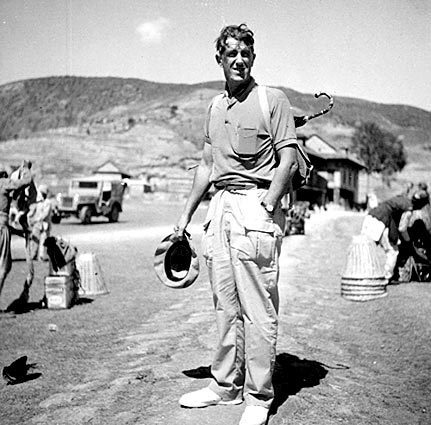 The unassuming adventurer is shown at Banepa, Nepal, in March 1963. In 1961, he founded the Himalayan Trust as a way to give back to the Sherpas who served as guides for Western expeditions in the Himalayas.
(Associated Press)
"Nothing in life can be more satisfying than being the first," he once said, "but what I'm proudest of is my work in the Himalayas." Hillary, shown in 1978, spent much of his time aiding the Himalayan Trust, which raises money for the Sherpa people.
(Los Angeles Times)
Hillary is shown at the start of his so-called "Reunion Trek" from Lukla, Nepal, on April 1, 1993. The 73-year-old joined some of the members of the original 1953 expedition to celebrate the 40th anniversary of the first conquest of the world's highest mountain.
(Binod Joshi / Associated Press)
Apart from his explorations and philanthropic efforts, Hillary -- shown in an undated photo -- wrote a number of books, including "High Adventure," "The Crossing of Antarctica," "No Latitude for Error," "From the Ocean to the Sky," "Nothing Venture, Nothing Win" and "View from the Summit."
(John Everingham / Associated Press)
The famous adventurer is shown at his home in Auckland, New Zealand, on May 3, 2002. He once said of his celebrity: "I was just a country boy. I thought the mountaineering world would be interested, but I never dreamed that it would have that effect on people who didn't climb."
(Dean Purcell / Associated Press)
Hillary is shown at his home in Auckland, New Zealand, on May 2003. Among all his accomplishments, the adventurer has said his work with the Sherpa people of Nepal has been the most significant to him.
(David White / European Pressphoto Agency)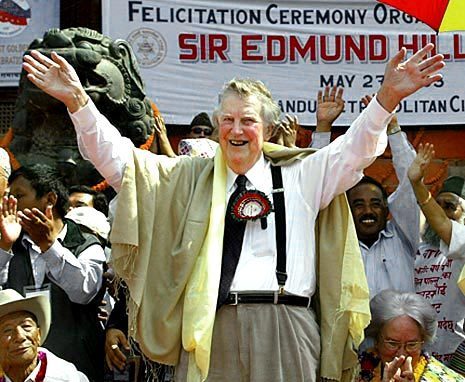 Hillary waves to fans during a ceremony in his honor at Katmandu in May 2003 as part of the Mount Everest Golden Jubilee Celebration.
(Kazuhiro Nogi / AFP/Getty Images)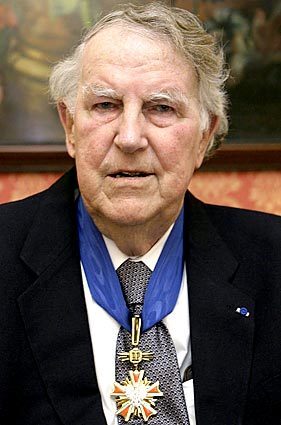 In June 2004, Hillary was awarded the Commander's Cross of the Order of Merit by Polish President Aleksander Kwasniewski at the Presidential Palace in Warsaw.
(Wojtek Radwanski AFP/Getty Images)
Last year, Hillary ventured to Antarctica to participate in the 50th anniversary of New Zealand's Scott Base. "I knew right away that this is what I wanted to do, spend my life among the mountains and the snow and the ice," he once said of his love of climbing.
(Wayne Drought / Associated Press)