Robert Silvers, founding editor of the New York Review of Books, dies at 87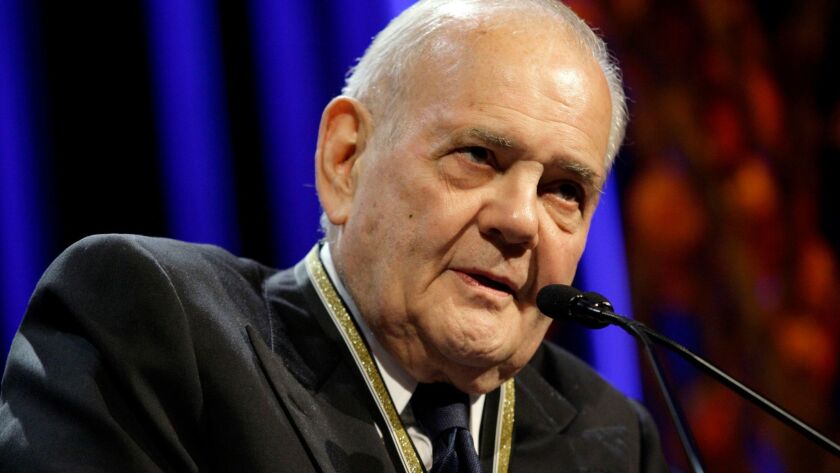 Robert Silvers, the founding editor of the New York Review of Books and a towering patron of intellectual thought who championed writers like Norman Mailer and Joan Didion, has died at the age of 87.
Silvers died Monday at his Manhattan home after a brief illness, the literary publication announced.

For the record:
7:44 p.m. Jan. 23, 2022A previous version of this story incorrectly said Silvers grew up on a farm on Long Island. He grew up on Long Island, but not on a farm. He spent part of his summers on an uncle's farm.
Under his guiding editorial hand, the New York Review of Books set a new standard for engaged literary criticism in America. Read far beyond the five boroughs, the New York Review of Books became a place readers could find the work of the era's most arresting authors — John Updike, Gore Vidal, Susan Sontag, Charles Simic, William Styron, Joyce Carol Oates, Didion and Mailer among them.
It was during a strike at the New York Times in late 1962 that the idea for the New York Review of Books blossomed. Silvers, along with Barbara and Jason Epstein, Robert Lowell and Elizabeth Hardwick, decided to step into the breach of book reviewing. The paper returned, but the New York Review of Books — launched in 1963 and intent on publishing in-depth, longer pieces — never went away.
Silvers had dreamed of a magazine that would treat books with the same passion and care that writers had poured into their work. His stamina was legendary — he was typically tucked in his office seven days a week — and his attention to detail compulsive.
Historian and author Timothy Garton Ash told the Guardian in 2004 that there was really only one story that people needed to know about Silvers.
"Four o'clock on Christmas Day: The family is gathered around the turkey, and the phone rings. It's Bob. 'Tim,' he says, 'how are you doing? On column six of the third galley, there's a dangling modifier.'"
Born Dec. 31, 1929, in New York, Silvers was raised on Long Island. A prestigious student, Silvers was studying at the University of Chicago when he was 15. He earned a degree in three years and by the time he was 19, became press secretary for the governor of Connecticut. When he was later drafted, Silvers ended up stationed in Paris.
The city suited him well — he befriended George Plimpton and became an editor at the Paris Review. In 1958, he moved back to New York and became an associate editor at Harper's Magazine.
The first edition of the New York Review of Books rolled into existence on Feb. 1, 1963, with a warning to readers that the publication would not waste its time or attention on books "trivial in their intentions or venal in their effects, except occasionally to reduce a temporarily inflated reputation or call attention to a fraud."
The issue had an astonishing lineup of contributors — Styron, Lowell, Vidal, Mailer. All agreed to accept no compensation to help the publication get off the ground.
Although some of the founders went different ways, Silvers and Barbara Epstein co-edited the New York Review of Books together for more than 40 years, laboring over every word choice, every bit of punctuation, every footnote that was dutifully added to the articles and essays, even the letters to the editor. After Epstein's death in 2006, Silvers continued at the top of the masthead.
Through the decades, the magazine provided a history of cultural America and became a beacon for intellectual thought. In large measure, it was Silvers' relentless drive that kept the Review relevant, admirers said.
"Bob knows everything that's worth knowing, a consequence of his unflagging curiosity," author Louis Begley wrote in the Paris Review in 2012.
During his tenure at the New York Review of Books, Silvers received many literary honors, including the Literarian Award at the National Book Awards, the Hadada Prize from the Paris Review and the National Book Critics Circle's lifetime achievement award.
Staff writer Steve Marble contributed to this article
---
Must-read stories from the L.A. Times
Get the day's top news with our Today's Headlines newsletter, sent every weekday morning.
You may occasionally receive promotional content from the Los Angeles Times.