Clarence Fountain, a founding member of the Blind Boys of Alabama, dies at 88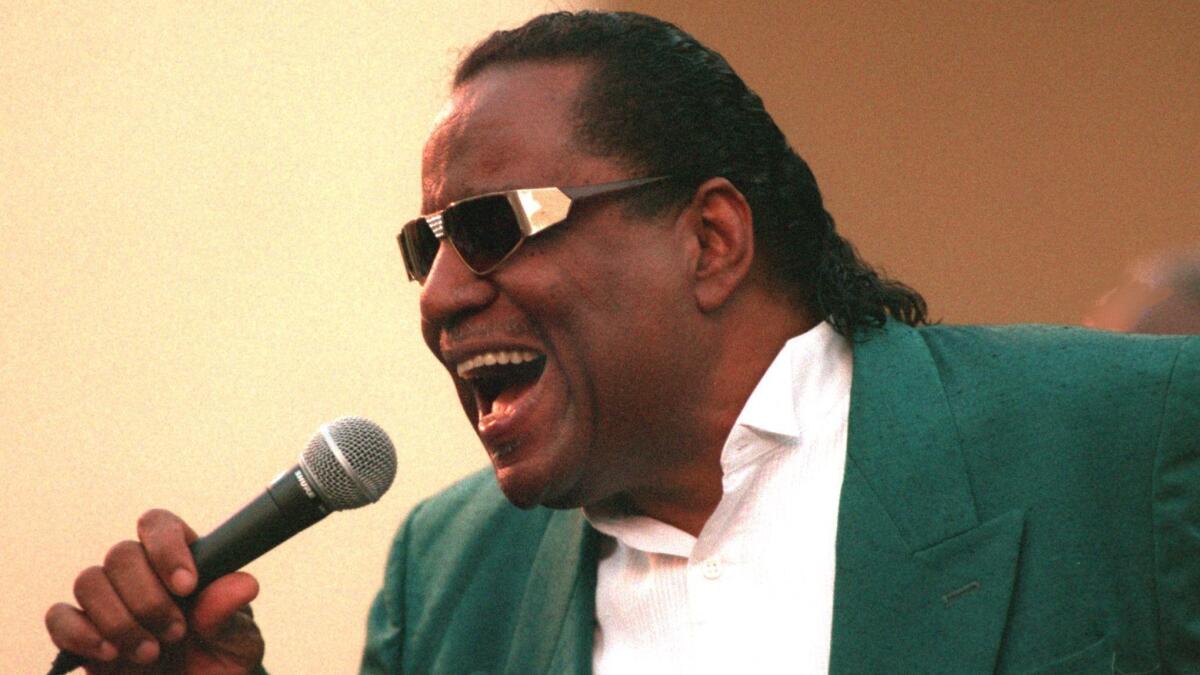 Clarence Fountain, a founding member of the Grammy-winning gospel group the Blind Boys of Alabama has died. He was 88.
Fountain died Sunday in a hospital in Baton Rouge, La., where he had been taken Friday, manager Charles Driebe of Atlanta said in an email Monday.
The group won four Grammys, a Grammy Lifetime Achievement Award and a National Endowment for the Arts National Heritage Fellowship, and is in the Gospel Music Hall of Fame.
Fountain is survived by his wife, Barbara. The family planned a private viewing Monday at its church, with a public funeral Tuesday at a larger church, which had not yet been chosen, Driebe wrote.
Fountain stopped touring with the group in 2007 because of complications from diabetes, but sang on its 2017 album, "Almost Home," according to a statement from Driebe's Blind Ambition Management. It said the album grew out of the realization that only Fountain, the group's longtime leader, and its current leader, Jimmy Carter, remained of the original members.
"These men were both raised as blind, African American males in the Deep South during the Jim Crow years, and they were sent to a school where the expectation for them was to one day make brooms or mops for a living," Driebe said. "But they've transcended all that. The arc of their lives and of the band reflects the arc of a lot of changes in American society, and we wanted to find a way to capture their experiences in songs."
Fountain and friends started their first singing group as students at the Alabama Institute for the Negro Deaf and Blind in Talladega, where Fountain was enrolled when he was 8. The Happy Land Jubilee Singers sneaked off campus to sing for soldiers at a nearby training camp.
"Buoyed by the praise (and money) they received, the group left the school in 1944 while still in their teens," Driebe wrote in the news release about Fountain's death.
They were still called the Happy Land Jubilee Singers when they had their first hit single in 1948, "I Can See Everybody's Mother But Mine."
The name they used for the rest of their careers came from a double billing later in 1948 with another group of blind singers, the Jackson Harmoneers — an event promoted as a battle between the Five Blind Boys of Alabama and the Five Blind Boys of Mississippi.
"The crowd loved us, the name stuck, and things took off for us," Fountain said, as quoted in the news release.
After a series of concerts with the Jackson Harmoneers, he said, Ray Charles' manager offered a big touring deal if they would cross over to other genres. "There was no way we were going to go pop or rock," Fountain said. "Who needed it? Our bellies were full, we had no headaches, we were happy. At least I was happy, singing real gospel."
They signed with Specialty Records in 1953, but left after five years because of more pressure to sing secular music. They sang in 1960s benefits for the Rev. Martin Luther King Jr. and kept singing hard-driving gospel, even as it became less popular.
They won national acclaim in 1983 for the off-Broadway stage production of Gospel at Colonus, an adaptation of Sophocles' tragedy Oedipus at Colonus set in a black Pentecostal church. Morgan Freeman played young Oedipus and the Blind Boys sang the part of the blinded Oedipus. The play received two Obie awards and was nominated for a Pulitzer Prize and a Tony Award.
The group's first Grammy nomination came in 1992, and it won its first Grammy for best traditional gospel album in 2001 with "Spirit of the Century," the Blind Boys' first release with Peter Gabriel's Real World Records.
They won Grammys in 2002, 2003 and 2004 for "Higher Ground," ''Go Tell It on the Mountain" and "There Will Be A Light," the last a collaboration with Ben Harper. The lifetime achievement came in 2009. They recorded with artists including Lou Reed, Bonnie Raitt, Tom Waits, k.d.lang, Justin Vernon of Bon Iver, Susan Tedeschi, Aaron Neville and Mavis Staples.
Driebe quoted Fountain: "My theory is do something good in the end and that will close out your longevity. After that, you can go on home and sit down."
Sign up for Essential California for the L.A. Times biggest news, features and recommendations in your inbox six days a week.
You may occasionally receive promotional content from the Los Angeles Times.