Jane Henson, Muppets collaborator, dies at 78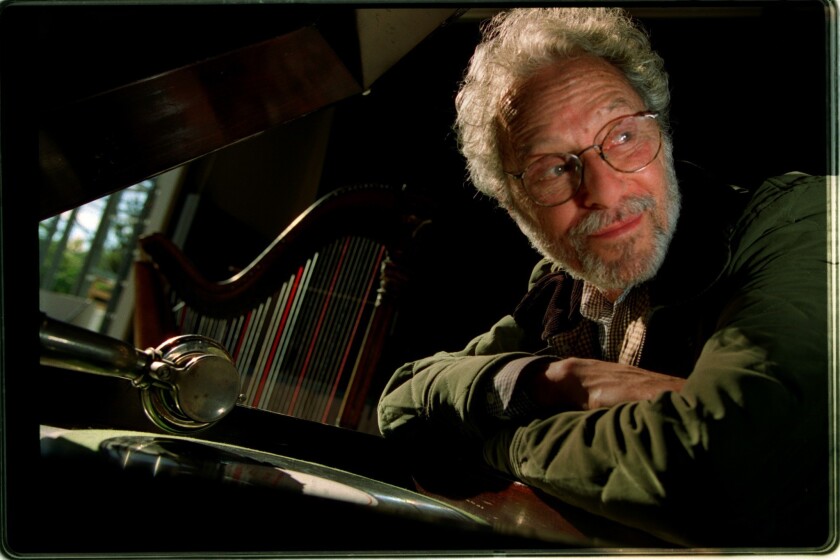 Allan Arbus, an actor best known for his recurring role as the wise, caring psychiatrist who ministered to shellshocked surgeons and troops on the hit television series "M*A*S*H," died Friday at his home in Los Angeles, his family said. He was 95.
Full story:
Allan Arbus, wise psychiatrist on TV's 'M*A*S*H,' dies at 95
(Don Bartletti)
Annette Funicello was the dark-haired darling of TV's "The Mickey Mouse Club." In the 1960s, she further cemented her status as a pop-culture icon by teaming up with Frankie Avalon in a popular series of "beach" movies. She died on April 8, 2013. She was 70.
Full story:
'Mickey Mouse Club' star Annette Funicello dies at 70
()
Dale Robertson starred as stagecoach troubleshooter Jim Hardie in the TV series "Tales of Well Fargo" from 1957 to 1962.
(L. J. Willinger / Getty Images)
Conrad Bain, center, played the wealthy Phil Drummond for eight seasons on the NBC comedy "Diff'rent Strokes." He also co-starred in the long-running "Maude." The actor died on Jan. 14, 2013. He was 89.
(NBC)
Doris Singleton, an actress who played one of Lucy and Ricky Ricardo's neighbors on "I Love Lucy," died June 26. She was 92.
(Valerie Macon / Getty Images)
Dick Clark, the youthful-looking television personality who introduced rock 'n' roll to much of the nation on "American Bandstand" and for four decades was the first and last voice many Americans heard each year with his New Year's Eve countdowns, died on April 19. He was 82.
Clark died after suffering a heart attack following an outpatient procedure at St. John's Health Center in Santa Monica.
Full obituary
|
Stars react
|
Appreciation
Notable deaths of 2011
(Kevork Djansezian / Associated Press)
In a 60-year career that began on stage, the gravel-voiced
Ben Gazzara
appeared in more than 100 films and TV movies. He also starred in the 1960s series "Run for Your Life," enjoyed a renaissance in the '90s and won an Emmy in 2002. He was 81.
Full obituary
|
Photos
Notable deaths of 2011
(United Artists)
Don Cornelius created "Soul Train," a groundbreaking show that helped bring black music, dance, fashion and style to mainstream America. In the process of presenting the soul, funk and R&B of the day, the Afro-haired, dapper Cornelius became a TV icon, his sonorous baritone welcoming viewers to "the hippest trip in America." He was 75.
Full obituary
|
Photos
Notable deaths of 2011
(Damian Dovarganes / Associated Press)
Robert Hegyes, Jewish-Puerto Rican character Juan Epstein was one of the Sweathogs on the 1970s TV sitcom "Welcome Back, Kotter." Above, Hegyes as Juan Epstein in 1978 and in 2011. He was 60.
Full obituary
Notable deaths of 2011
(Associated Press)
The director of landmark sitcoms followed his acclaimed work on
"The Dick Van Dyke Show"
with "All in the Family." His credits over an almost 50-year career also included "Gunsmoke," "The Twilight Zone" and "MacGyver." Above, Rich, right, with Norman Lear in 1973 when they won an Emmy for outstanding series for "All in the Family." He was 86.
Full obituary
Notable deaths of 2011
(Los Angeles Times)
James Farentino was best known for his TV work, with nearly 100 credits, including recurring appearances in such series as "The Bold Ones: The Lawyers," "Dynasty," "Blue Thunder" and "Police Story." His private life was sometimes as dramatic as his roles. He was 73.
Full obituary
|
Photos
(File photo)
Jane Nebel Henson, who collaborated with her husband, Jim Henson, in creating, designing and marketing the Muppets, died Tuesday at her home in Connecticut after battling cancer. She was 78.
Her death was announced by the Jim Henson Co.
The couple met in a puppetry class at the University of Maryland in the 1950s. Combining marionettes and puppets, Jim Henson began performing with his creations on a TV show called "Sam and Friends" in Washington, D.C. He asked Jane to join him on the program as a performer and puppet designer, and she became his creative and business partner in the endeavor that spawned Kermit the Frog, Miss Piggy and the "Sesame Street" characters Big Bird, Ernie and the Cooke Monster.
PHOTOS: Notable Deaths of 2013
They married in 1959 and Jane Henson raised their five children while teaching art.
She continued her involvement in her husband's company and in the 1970s the Hensons launched "The Muppet Show" and a series of Muppets movies.
She also served on the board of the Jim Henson Foundation, which promotes puppetry and makes grants to puppet artists.
Jim Henson died in 1990.
A complete obituary will follow at latimes.com/obits.
ALSO:
Jim Henson's Hollywood Star Walk page
Henry Bromell, 65, Emmy-winning TV writer
Don Payne, 48, 'Simpson' writer and producer
---
Must-read stories from the L.A. Times
Get all the day's most vital news with our Today's Headlines newsletter, sent every weekday morning.
You may occasionally receive promotional content from the Los Angeles Times.