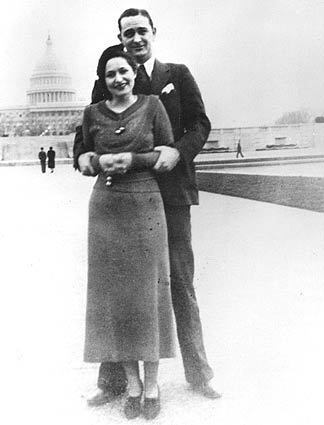 22 Images
Lady Bird Johnson, 1912 - 2007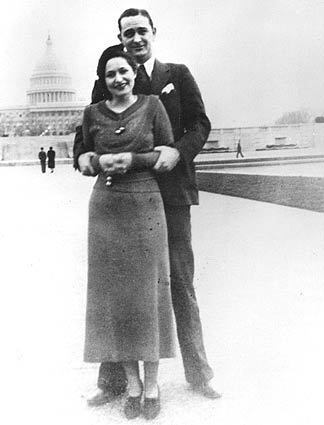 Lady Bird Johnson and Lyndon B. Johnson in Washington in 1934, the year they were married. The future president was a congressional aide at the time. Lady Bird, born Claudia Alta Taylor in Texas on Dec. 22, 1912, received her nickname as a child from a nurse who thought she was as "purty as a lady bird."
()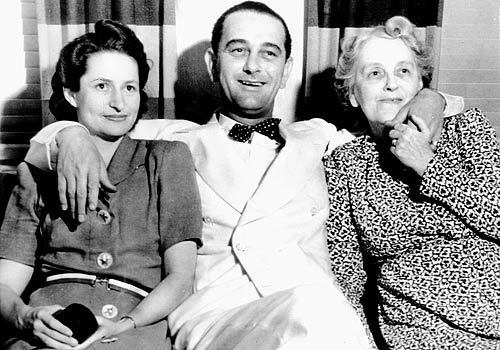 Lady Bird Johnson, left, with her husband, Lyndon B. Johnson, and his mother in 1941, the year the young Texas congressman lost a bid for the Senate. Later that year, after the Japanese attack on Pearl Harbor sent the country into World War II, Johnson fulfilled a campaign pledge by joining the Navy. He put Lady Bird in charge of his congressional office, which she managed efficiently.
(AP)
Lady Bird and Lyndon in Austin, Texas, in 1948, with their children Lynda Bird, left, and Luci Baines. Johnson was elected to the Senate that year, winning a disputed race by 87 votes. He rose rapidly through the ranks, from minority whip in 1951 to majority leader in 1955.
(LBJ Library)
Lady Bird and Lyndon at the Democratic National Convention in Los Angeles in 1960. After losing his party's nomination for president, Johnson accepted the No. 2 slot and became vice president in one of the closest presidential elections in history.
(LBJ Library)
President Kennedy tries to persuade Lady Bird to speak at a White House event in 1961. Behind Kennedy, at right, is Lyndon Johnson. "Lady Bird Johnson's remarkable ability to make anyone feel at home" gave her husband's career a major boost, wrote one of Lyndon Johnson's biographers.
(AP)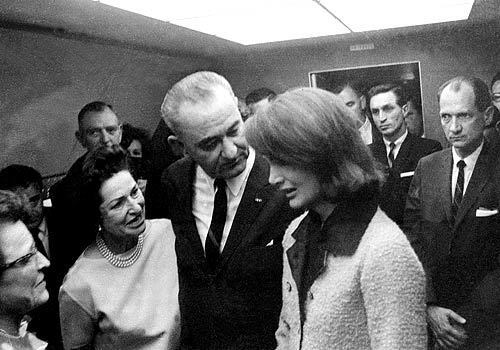 Lady Bird and Lyndon console Jacqueline Kennedy after President Kennedy was assassinated in Dallas on Nov. 22, 1963. Only moments before, Johnson took the oath of office to become president.
(White House / AP)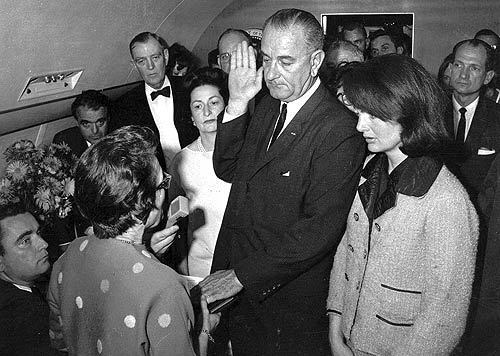 Lyndon Johnson takes the oath of office to become president as Lady Bird, left, and Jacqueline Kennedy look on. Lady Bird was a passenger in the presidential motorcade in Dallas on Nov. 22, 1963, when President Kennedy, riding two cars ahead of her, was shot. After Lyndon became president, Lady Bird told a friend, "I feel like I am onstage for a part I never rehearsed."
(Cecil Staighton / AP)
President Johnson and Lady Bird at the LBJ Ranch in Texas on Christmas Day in 1963.
(Yoichi Okamoto / LBJ Library)
President Johnson and Lady Bird leave the home of a Kentucky family in 1964, during an election-year effort to shine a light on poverty in the United States. Lady Bird gave her husband crucial support when he suffered doubts before the 1964 Democratic National Convention about running for his first full term. "You are as brave a man as Harry Truman or FDR or Lincoln," she wrote in a letter. "To step out now would be wrong for your country, and I can see nothing but a lonely wasteland for your future."
(AP)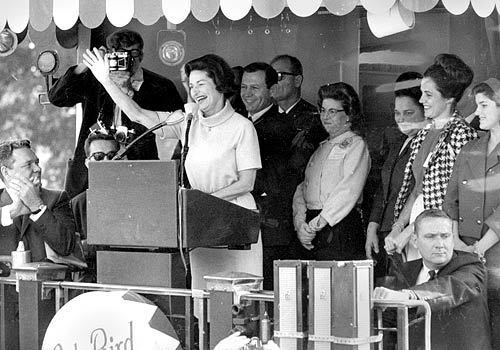 Lady Bird, with her daughters, at right, campaigns for her husband in Georgia in 1964. She organized a 1,628-mile whistle-stop tour on the "Lady Bird Special." She campaigned in eight Southern states, where the hostility among whites toward Lyndon Johnson's civil rights goals was so strong that the president was advised to stay away. A few months earlier, he had signed the Civil Rights Act, a far-reaching law that protected African Americans' right to vote and guaranteed access to public accommodations.
(AP)
Lady Bird and President Johnson on the South Lawn of the White House in 1965. Lady Bird's love of nature was enshrined in law when her husband signed the Highway Beautification Act of 1965. Conceived primarily to restrict junkyards and unsightly signs along the nation's highways, it was the first major legislative campaign launched by a first lady.
(AP)
Lady Bird gives a speech at the 1965 dedication in Washington of a statue of Sam Rayburn, who was speaker of the House for 17 years. "Mr. Sam," as Rayburn was known, died in 1961. A legend in Texas politics, Rayburn was Lyndon Johnson's mentor. He once told Lyndon that marrying Lady Bird was the wisest decision he had ever made.
(AP)
President Johnson gives Lady Bird the pen he used to sign the Highway Beautification Act of 1965. Although often eclipsed by protests over the Vietnam War and civil rights — the dominant issues of President Johnson's tenure from 1963 to 1969 — her effort to replace urban blight with flowers and trees prepared the way for the environmental movement of the 1970s.
(AP)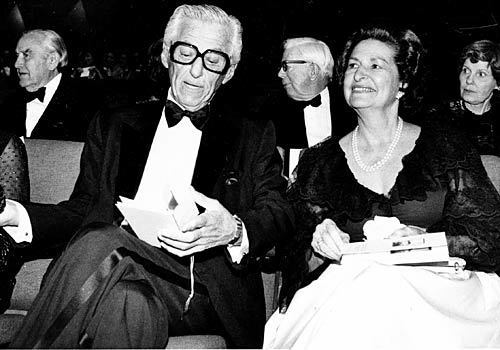 Lady Bird sits with Lew Wasserman at the premiere of the documentary, "The First Lady: A Portrait of Lady Bird Johnson," in Washington in 1981. Wasserman produced the film for the LBJ Library in Texas.
(AP)
A portrait of Lady Bird Johnson in 1987. "Among first ladies of the 20th century, Lady Bird Johnson deserves to rank with Eleanor Roosevelt as one of the significant innovators in the history of the institution," presidential historian Lewis L. Gould once wrote.
(Frank Wolfe / LBJ Library)
Lady Bird was interviewed by Barbara Walters in 1995 at the National Wildflower Research Center in Austin, Texas, which the former first lady co-founded. Later renamed the Lady Bird Johnson Wildflower Center, it is devoted to preserving and researching native American flora and, Lady Bird said, "to pay the rent on the space I've taken up in this world."
(ABC)
Lady Bird at the opening ceremony for the National Wildflower Research Center in Austin, Texas, in 1995. With her are Walter Cronkite, left, and Nash Castro, president of the research center.
(Michelle Bridwell / AP)
Lady Bird looks over blooming bluebonnets at the National Wildflower Research Center.
(Jack Plunkett / AP)
Lady Bird on a visit to Georgia in 1997. After her husband's death, Lady Bird traveled widely and collected awards, including the Medal of Freedom, the nation's highest civilian award, and a Congressional Gold Medal.
(Columbus Ledger Enquirer / AP)
Lady Bird Johnson, second from right, with former first ladies, from left, Betty Ford, Barbara Bush and Rosalynn Carter, in 1999.
(Diane Bondareff / AP)
President Clinton and First Lady Hillary Rodham Clinton, center, preside over a dinner in 2000 to honor the 200th anniversary of the White House. They are joined by former President Bush, left, and his wife, Barbara; Lady Bird Johnson, second from left; former President Ford and his wife, Betty; and former President Carter and his wife, Rosalynn.
(Hyungwon Kang / AFP)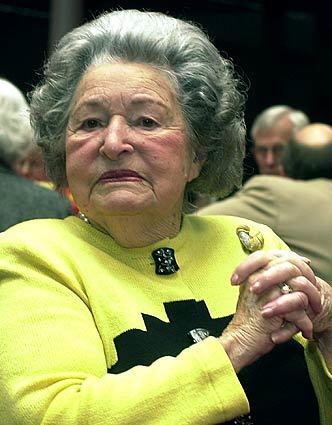 Lady Bird in 2002 in Texas. Until the end, she remained doggedly loyal to her husband's memory. "Ours was a compelling love," she told a biographer. "Lyndon pushed me, he drove me, at times he even humiliated me, but he made me become someone bigger and better than I would have been."
(Harry Cabluck / AP)