Singer Frank Sinatra Jr. dies at 72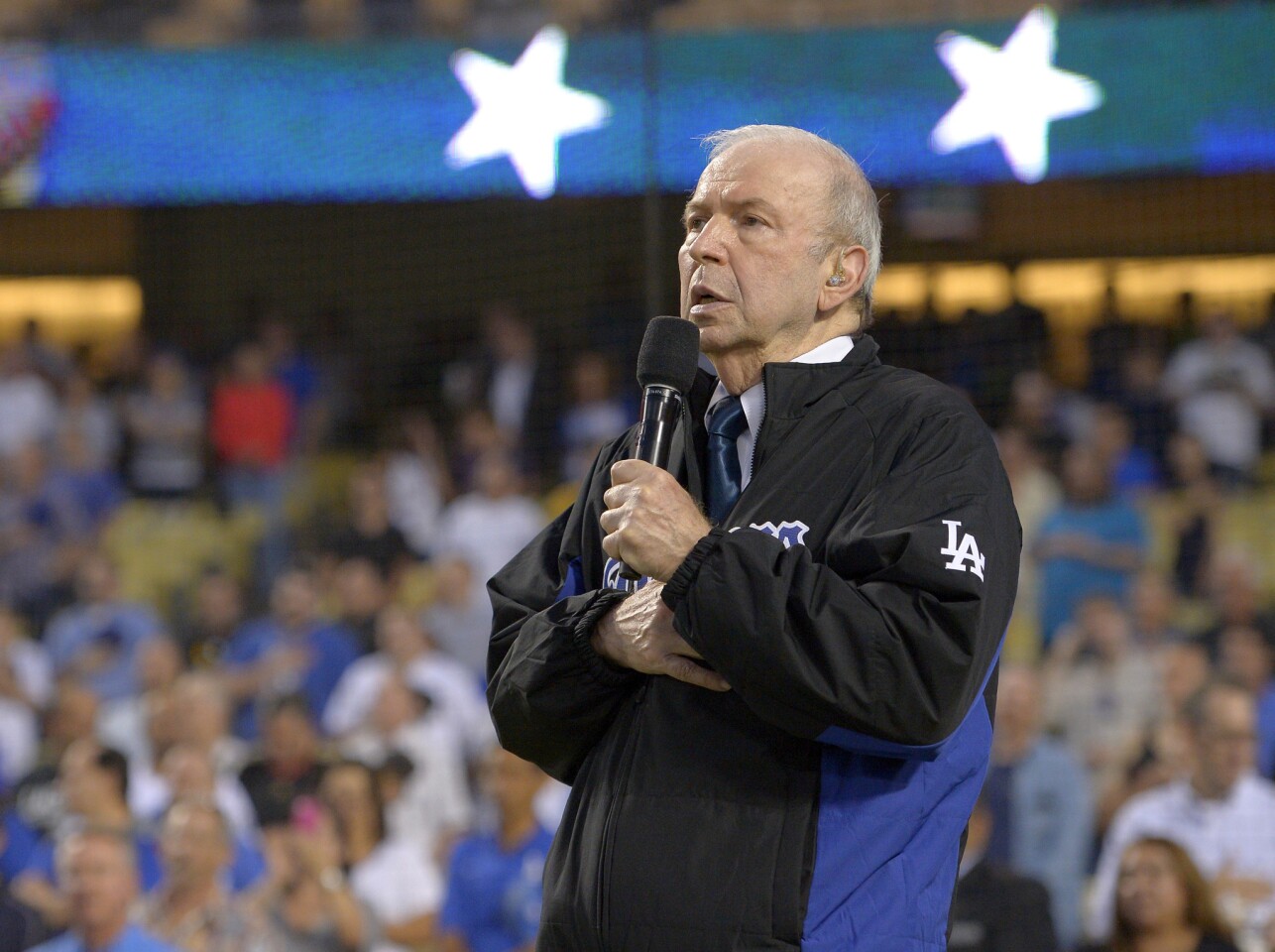 Frank Sinatra Jr. sings the national anthem before a 2015 game between the Dodgers and the Pittsburgh Pirates in Los Angeles.
(Mark J. Terrill / Associated Press)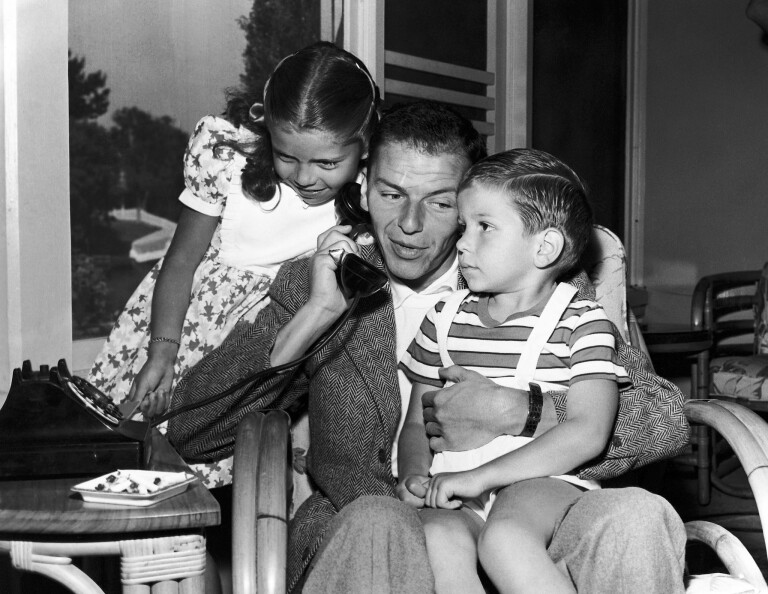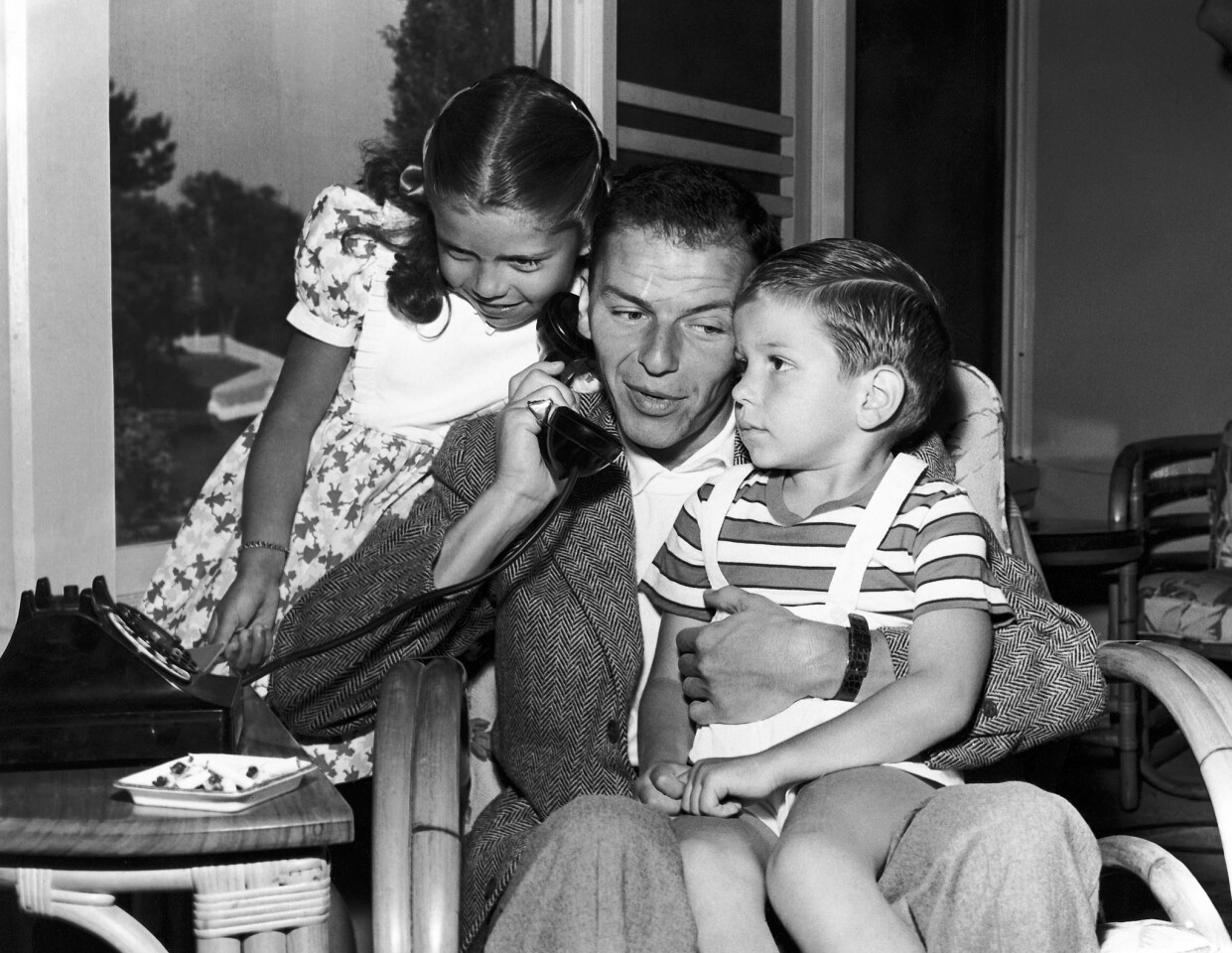 Frank Sinatra Jr. as a boy in 1948 with his father and sister Nancy.
(Associated Press)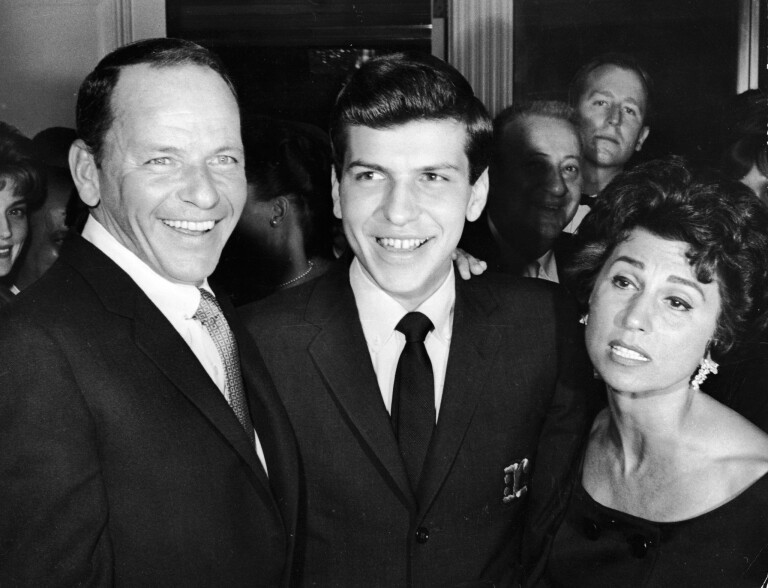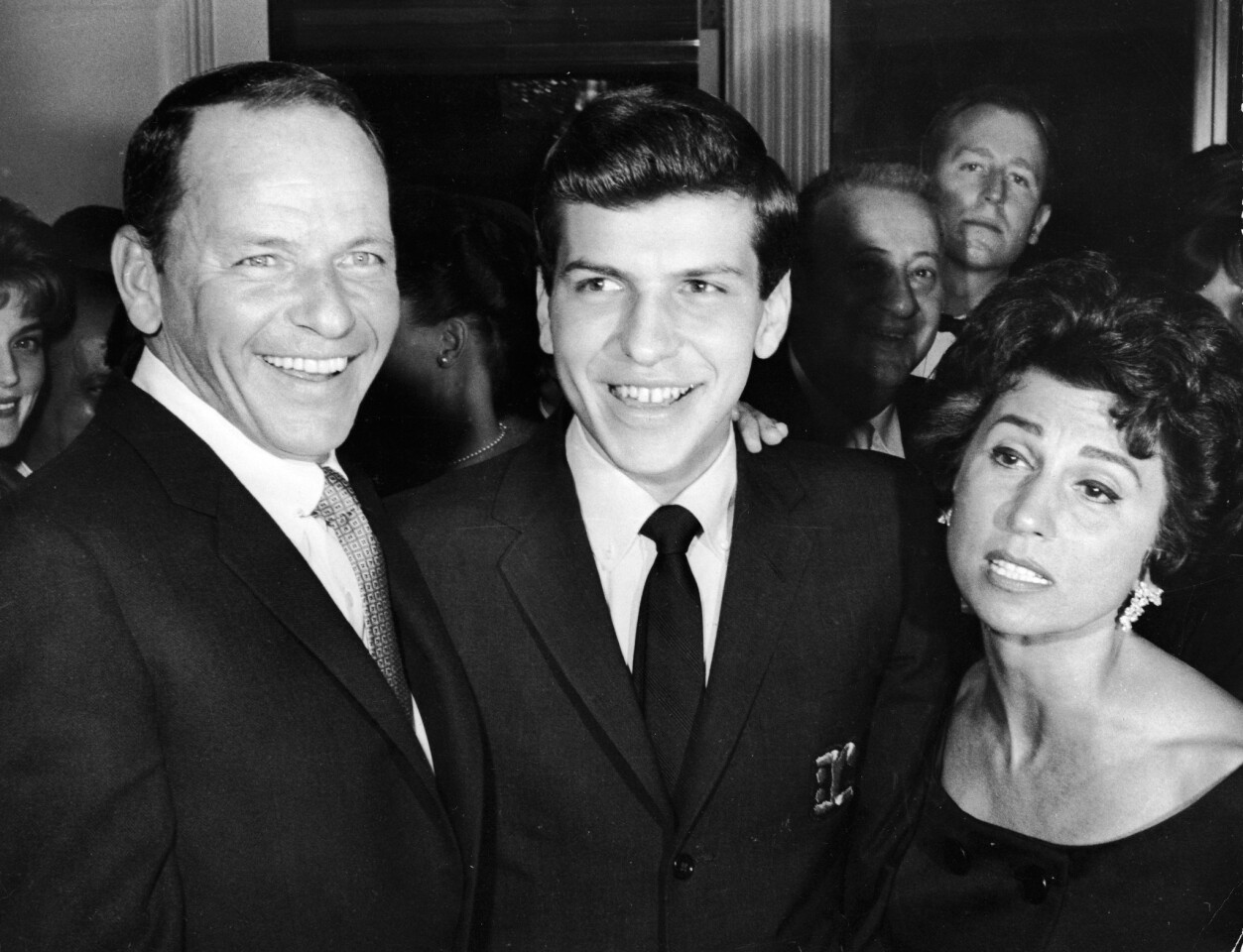 Frank Sinatra Jr. with hs father and mother, Nancy Barbato Sinatra, at the Cocoanut Grove in March 1967.
(Darlene Hammond / Getty Images)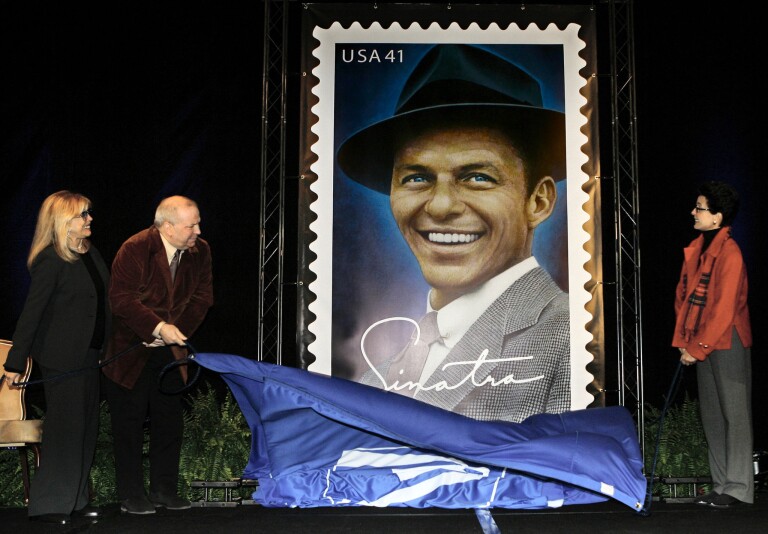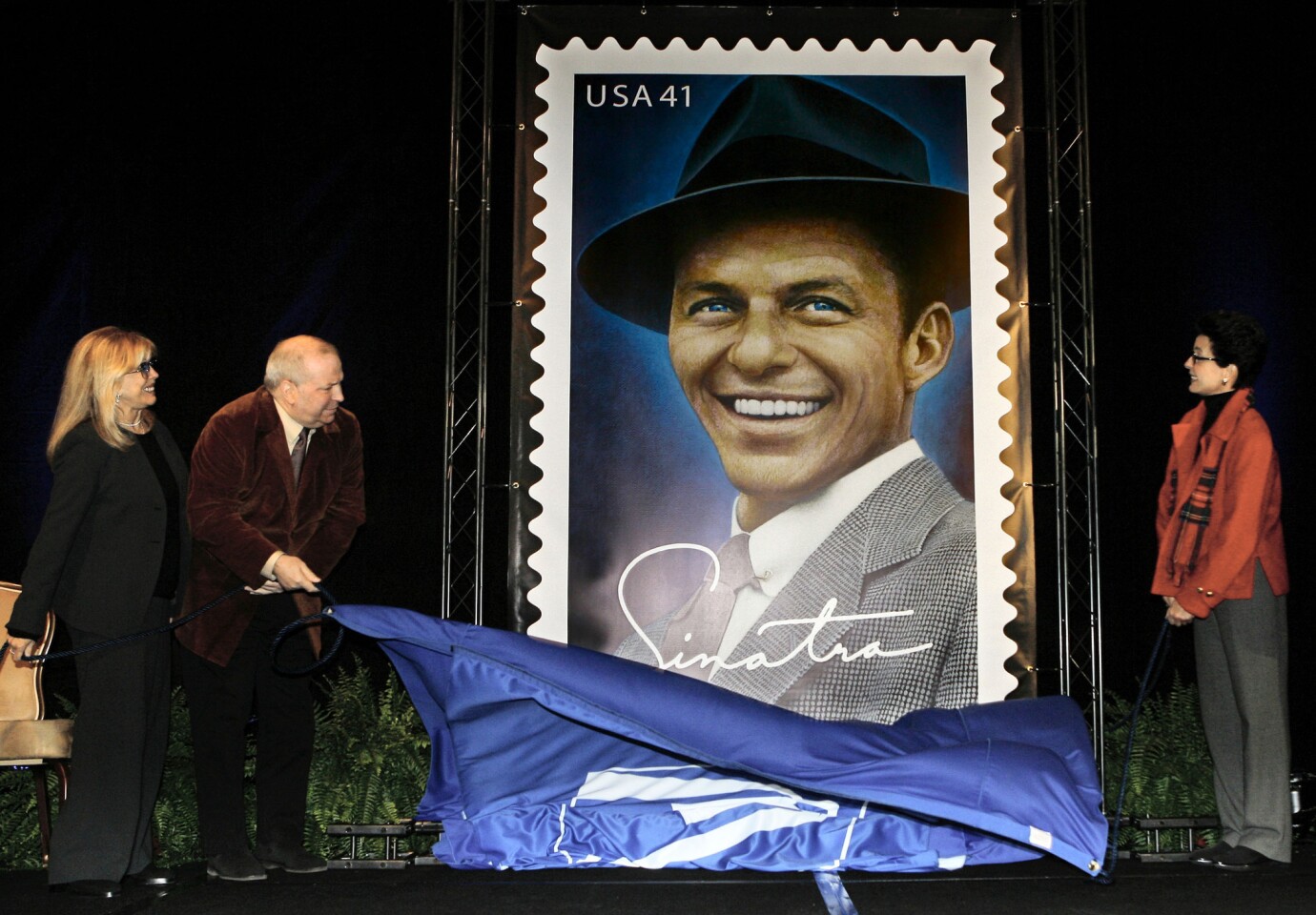 Frank Sinatra Jr., with siblings Nancy, left, and Tina, unveils a 10-ft. image of a commemorative postal stamp honoring their father at a 2007 ceremony in Beverly Hills commemorating the elder Sinatra's 92nd birthday.
(Damian Dovarganes / Associated Press)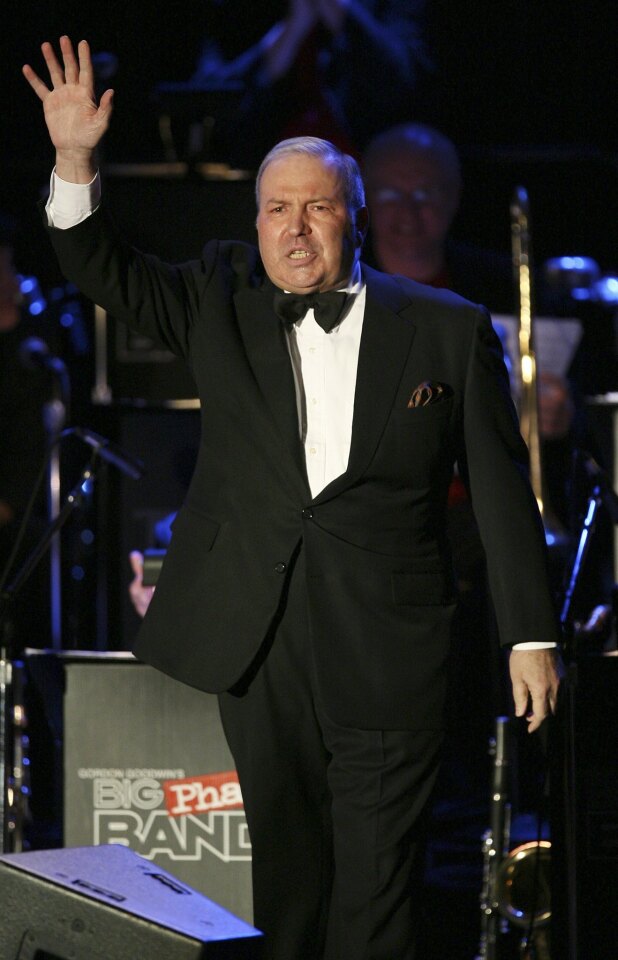 Frank Sinatra Jr. on stage to perform at the15th Annual Ella Awards at the Beverly Hilton Hotel in 2006.
(Frederick M. Brown / Getty Images)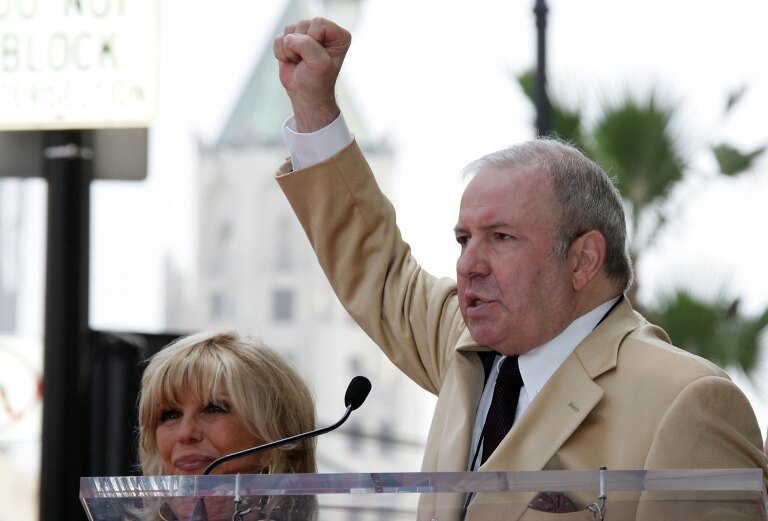 Frank Sinatra Jr. with his sister Nancy as she receives a star on The Hollywood Walk of Fame in 2006.
(Frazer Harrison / Getty Images)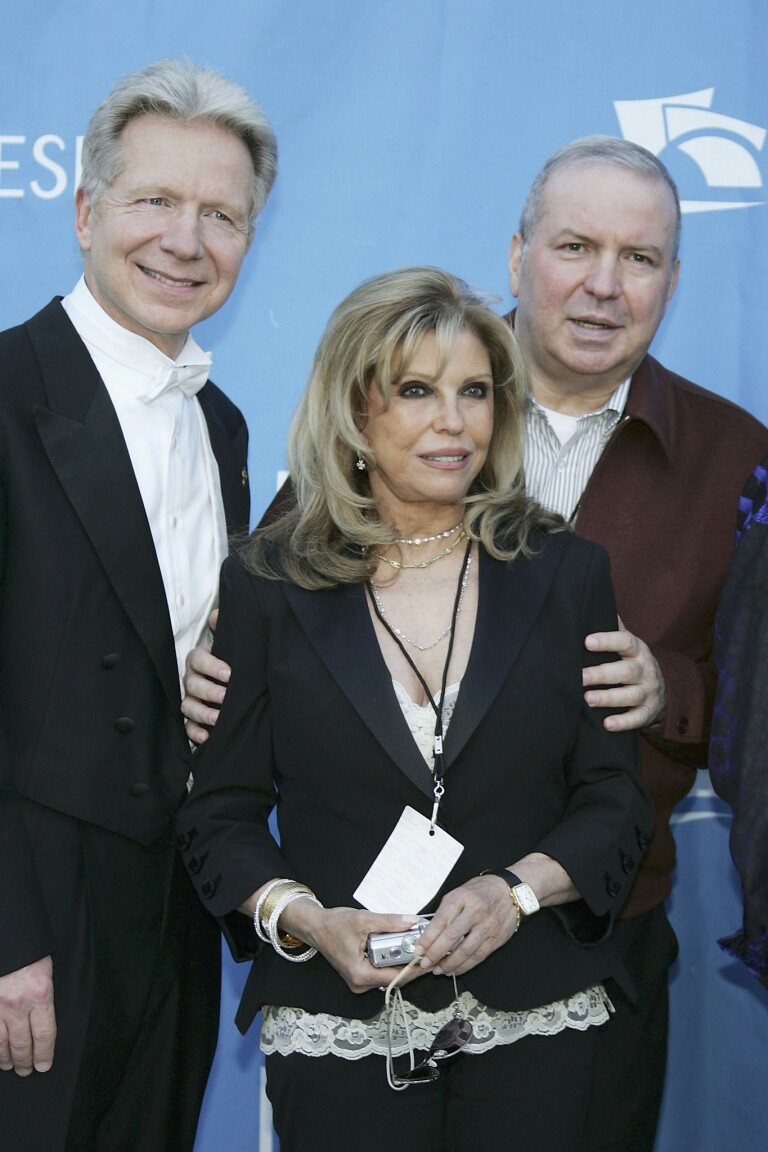 Frank Sinatra Jr. right, with his sister Nancy and conductor John Mauceri at the Hollywood Bowl Hall of Fame induction ceremony in 2005.
(Frazer Harrison / Getty Images)
Frank Sinatra Jr., who carried on his famous father's legacy with his own music career and whose kidnapping as a young man added a bizarre chapter to his father's legendary life, died Wednesday. He was 72.
The younger Sinatra died unexpectedly of cardiac arrest while on tour in Daytona Beach, Fla., the Sinatra family said in a statement to the Associated Press.
The statement said the family mourns the untimely passing of their son, brother, father and uncle. No other details were provided.
His real name was Francis Wayne Sinatra — his father's full name was Francis Albert Sinatra — but he went professionally by Frank Sinatra Jr.
Sinatra Jr. was the middle child of Sinatra and Nancy Barbato Sinatra, who was the elder Sinatra's first wife and the mother of all three of his children. Sinatra Jr.'s older sister was Nancy Sinatra, who had a successful musical career of her own, and his younger sister was TV producer Tina Sinatra.
He was born in Jersey City, N.J, in 1943, just as his father's career was getting started, and he would watch his dad become one of the most famous singers of all time. But he usually watched from a distance, as Sinatra was constantly away on tours and making movies.
He did, however, sometimes get to see him from the wings of the stage, especially when his father performed for long stints in Las Vegas. Sinatra Jr. got to see many other storied performers, too, such as Dean Martin, Sammy Davis Jr. and Count Basie.
"I saw all the top stars perform," Sinatra Jr. told the AP in 2002. He said one of his favorite memories of his father was a show in the late 1960s at Caesars Palace in Las Vegas.
"He was sitting on a little stool, and he sang the Beatles song 'Yesterday' and 'By the Time I Get to Phoenix' and 'Didn't We,'" Sinatra Jr. said. "We were all crying and singing."
Sinatra Jr. followed his father into music as a teenager, eventually working for the senior Sinatra as his musical director and conductor.
The elder Sinatra died of a heart attack May 14, 1998, at 82.
Sinatra Jr. was able to provide a link to his father's music after his death, performing his songs and arrangements on tours and especially in Las Vegas.
"Since my father's death, a lot of people have made it clear that they're not ready to give up the music," Sinatra Jr. said in the 2002 AP interview. "For me, it's a big, fat gift. I get to sing with a big orchestra and get to sing orchestrations that will never be old."
When Sinatra Jr. was 19 in 1963, three men kidnapped him at gunpoint from a Lake Tahoe hotel. He was returned safely after two days when his family paid $240,000 for his release.
Barry Keenan, a high school friend of Nancy Sinatra, was arrested with the other two suspects, Johnny Irwin and Joe Amsler, and convicted of conspiracy and kidnapping.
Keenan masterminded the kidnapping, prosecutors said. He was sentenced to life plus 75 years in prison, but was declared legally insane at the time of the crime, had his sentence reduced and was paroled in 1968 after serving 41/2 years.
Sinatra Jr. had nearly two dozen TV and movie credits as an actor, including appearances on "The Love Boat" and "Marcus Welby, M.D.," most recently providing his own voice for two episodes of "Family Guy."
Sinatra Jr. was married in 1998, but divorced in 2000. He is survived by a son, Michael.
ALSO
Gwen Stefani draws on raw wounds for frank and powerful 'This Is What the Truth Feels Like'
Michelle Obama releases a new song, but won't run for president, she tells SXSW crowd
Bruce Springsteen & the E Street Band revisit 'The River' in L.A.
---
Must-read stories from the L.A. Times
Get all the day's most vital news with our Today's Headlines newsletter, sent every weekday morning.
You may occasionally receive promotional content from the Los Angeles Times.