14 Images
Luciano Pavarotti 1935 | 2007
Fans at Dodger Stadium were treated to a mixture of opera and pops -- not pop-ups -- as Pavarotti performed with Placido Domingo, left, and Jose Carreras, center, in "Encore! The Three Tenors" on July 16, 1994. The tenors originally performed together in 1990 as part of the World Cup festivities.
(Robert Gauthier / LAT)
It was one tenor -- and a soprano -- as Pavarotti shared the stage at the Forum in Inglewood with Cynthia Lawrence on Jan. 4, 1995. Note the signature handkerchief in his left hand.
(Al Seib / LAT)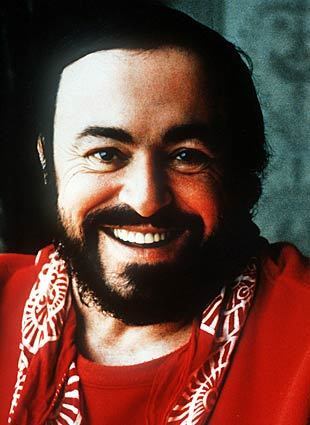 "Pavarotti: My World," featuring the tenor's work around the globe, aired on PBS on Dec. 6, 1995, as part of the "Great Performances" series. Times music critic Martin Bernheimer found little to like, though, noting that the special "isn't great" and "it isn't much of a performance."
(Robert Cahan)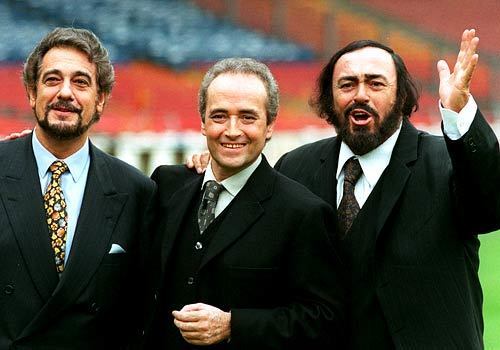 Together again, from left, Three Tenors Domingo, Carreras and Pavarotti gathered at Wembley Stadium in London on Oct. 11, 1995, to announce that they would be performing in concert there the following July 6.
(Max Nash / AP)
Pavarotti rehearses at Wembley late in the day July 4, 1996, two days before the Three Tenors took the stage in London.
(Neil Munns / AP)
Tenors Domingo, from left, Carreras and Pavarotti strike the by now familiar pose, performing July 10, 1998, at the foot of the Eiffel Tower as part of the entertainment program leading up to the World Cup soccer final match two days later between France and Brazil. Speaking of threes, host nation France would go on to win, 3-0.
(Paul Vicente / AFP)
The Three Tenors meet with President Nelson Mandela of South Africa after their performance in Pretoria on April 18, 1999.
(Grant Leversha / AP)
Pavarotti arrives in Beirut on June 10, 1999, for a concert.
(H. Malla / AP)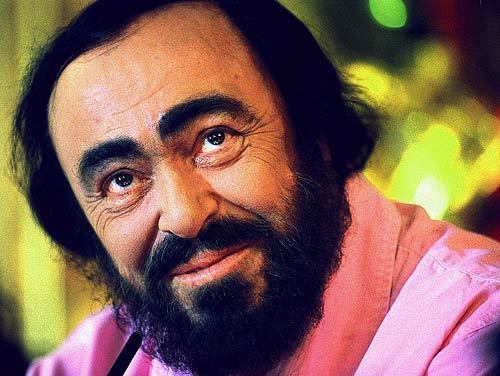 Pavarotti appears at a news conference in London on June 17, 1999, to promote his performance two nights later at Earl's Court with sopranos Kallen Esperian, Kathleen Cassello and Cynthia Lawrence.
(Dave Thomson / AP)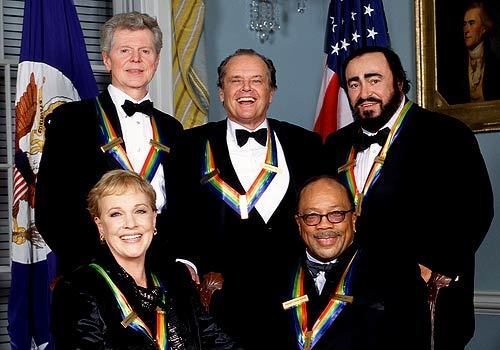 Pavarotti joined four other luminaries in 2001 in winning Kennedy Center Honors, a recognition of his lifetime of contributions to the arts and culture. Clockwise from front left: actress-singer Julie Andrews, pianist Van Cliburn, actor Jack Nicholson, Pavarotti and music producer and composer Quincy Jones.
(Diana Walker / CBS)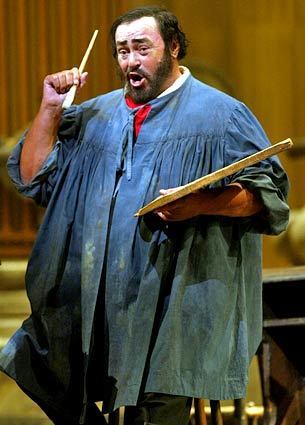 Pavarotti during final dress rehearsal on May 6, 2002, for his role as Cavaradossi in "Tosca" at the Metropolitan Opera in New York. The tenor would end up canceling his two performances there because of flu, disappointing a sell-out crowd of 4,000 on the first night. "Fat Man Won't Sing," blared a front-page headline in the New York Post.
(Beth A. Keiser / AP)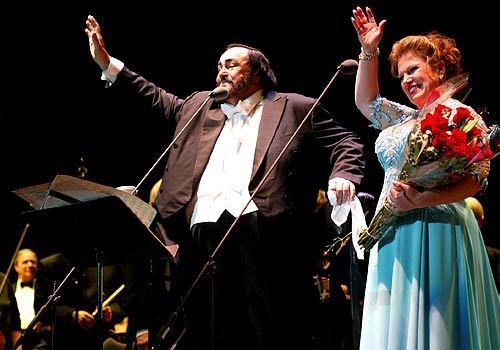 Pavarotti with soprano Cynthia Lawrence at Staples Center in Los Angeles in 2003.
(Alexander Gallardo / LAT)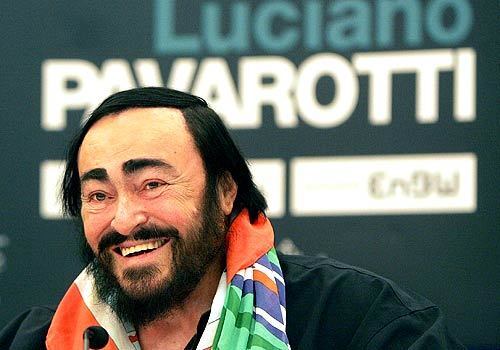 Pavarotti at a news conference in Stuttgart, Germany, in October 2005.
(Daniel Maurer / AP)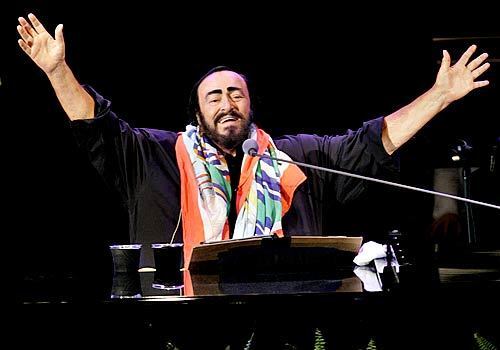 Luciano Pavarotti sings at the Hollywood Bowl in his farewell tour on Sept. 24, 2005.
(Lori Shepler / LAT)