7 Images
'Star Wars' designer Ralph McQuarrie
Ralph McQuarrie
Ralph McQuarrie, an illustrator who designed the visual concept for Darth Vader and other characters in the "Star Wars" series, has died in Northern California. McQuarrie, who shared an Academy Award for visual effects for "Cocoon," was 82.
(Lucasfilm Ltd.)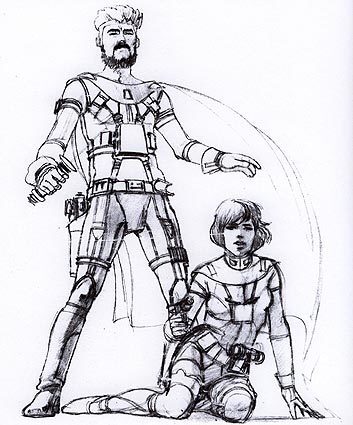 1975 sketch
An 1975 sketch by Ralph McQuarrie shows logo concept art for "Star Wars."
(Lucasfilm Ltd.)
Early Death Star painting
Ralph McQuarrie, a onetime technical artist for
Boeing
, created the look of Darth Vader, C-3PO, R2-D2, the Stormtroopers and many other "Star Wars" characters.
(Lucasfilm Ltd.)
Shootout in the Cantina
Ralph McQuarrie's illustration of the shootout in the Cantina.
(Lucasfilm Ltd.)
Darth Vader
As for the iconic look of Darth Vader, McQuarrie said, "George had described Vader as having flowing black robes. In the script, Vader had to jump from one ship to another and, in order to survive the vacuum of space, I felt he needed some sort of breathing mask. George said, 'OK,' suggested adding a samurai helmet, and Darth Vader was born. Simple as that."
(Lucasfilm Ltd.)
Production paintings
McQuarrie's production paintings also were used as models for the design of many of the film's locales such as the desert planet of Tatooine and the Death Star.
(Lucasfilm Ltd.)
Stormtroopers
A production painting of the Stormtroopers on the Death Star shows laser swords as the weapon of choice.
(Lucasfilm Ltd.)