Maurice Chase dies at 92; 'Father Dollar Bill' gave cash to poor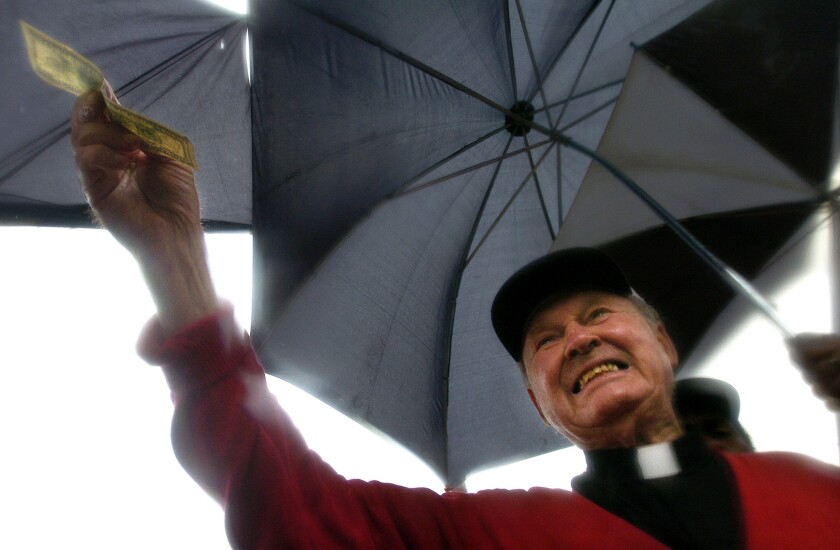 Nearly every Sunday morning, Thanksgiving and Christmas for almost three decades, the man they called Father Dollar Bill, Father Dollar or just D.B. for Dollar Bill showed up on a skid row sidewalk. He was a white-haired man in a red sweater and a Notre Dame cap, his pockets jammed with crisp green bills, which he patiently handed out until the money was gone.
Father Maurice Chase didn't mind what name the destitute men, penniless mothers, people in wheelchairs, drug addicts, winos and ex-cons called him. He didn't care how they planned to spend the money. Nor was he bothered by the criticisms other skid row service providers sometimes voiced: that he was a self-promoting attention hound whose hit-and-run assistance had little, if any, enduring effect on the desperate individuals who gathered for his handouts, blessings and hugs.
"I'm out here to tell people I love them and God loves them," he told the Los Angeles Times several years ago. "I met Mother Teresa in Mexico City once, and she told me to touch the poor. Do you hear that? Touch the poor."
Today he would have been preparing for another Thanksgiving on skid row, but Chase, 92, died Sunday at his Los Angeles home. The cause was cancer, said his nephew, Robert Boyd.
In an era of multimillion-dollar agencies for the homeless, Chase was an anomaly.
"Maury Chase just planted his feet right on the sidewalk, the last place on earth where the poorest of the poor can live," Alice Callaghan, founder of the skid row advocacy center Las Familias del Pueblo, said Tuesday. "He didn't attempt to single out the undeserving poor from the deserving poor; I'm sure he handed money out to thieves. But it wasn't the dollar that mattered. It was the gift of human love."
Boyd said he did not know how much money his uncle distributed since the mid-1980s, when he began soliciting donations from wealthy benefactors such as Bob Hope, Frank Sinatra, Jackie Autry, Merv Griffin and Vin Scully, but the amount reached hundreds of thousands of dollars. Each Sunday Chase usually handed out $2,000 to $2,500. On Thanksgiving and Christmas, he gave out more, as much as $15,000.
He began his direct charity when he was a fundraising assistant to the president of Loyola Marymount University. His job was to loosen the purse strings of potential donors and persuade them to write checks to the Catholic university. Through his friendship with actress Irene Dunne, he hit the Los Angeles party circuit and became known as "the society priest," a description that was not entirely complimentary. He took press kits about his fundraising to parties and was frequently mentioned in society columns. To make sure his accomplishments were duly recorded, he sent news clippings and photographs of himself to the obituary editor of The Times to help the newspaper prepare its write-up.
He came up with his skid row charity after contemplating the instructions of Loyola Marymount's president, Father Donald P. Merrifield, who hired him in 1985. Merrifield told him: "I'm sending you out among the rich and famous. You better have a balance in your life."
So, after every high society event, Chase would send letters to potential donors he'd met, telling them how wonderful their party was. Then he pointed out that many people were less fortunate and needed their help. The society mavens usually wrote back and included a check for the priest's nonprofit skid row ministry.
This wasn't the life his lawyer father had envisioned for him. Born in Dinuba, Calif., on March 17, 1919, Chase had intended to follow his father's career path. After graduating from UCLA, he studied law at UC Berkeley's Boalt Hall and was president of his class but left after two years to enter the priesthood. In 1953, after completing his studies at St. Paul's College in Washington, D.C., he was ordained by Archbishop Fulton J. Sheen, one of the first televangelists.
After seminary, he worked at Sacred Heart Church in Palm Desert, where he met the Eisenhowers and other famous retirees. Seeking a more cosmopolitan experience, he moved to Los Angeles in the mid-1960s.
He began every trip to skid row with a prayer about serving the poor: "When you have done it to the least of men, you have done it to me." Then he prepared the stacks of new dollar bills he had withdrawn from the bank earlier. "Everything is so dirty on skid row," he told the Los Angeles Daily News in 2004. "I want to give them something fresh and new."
He drove a small white Toyota, sometimes festooned with American flags. When he arrived outside the Fred Jordan Mission on Towne Avenue, a long line of people would be waiting.
He had a system: women with children and the disabled first, then everyone else. Most people got a dollar, but if they had special needs, Chase gave more — $5, $20, sometimes $100. He found several trustworthy men to keep the line orderly and act as his guards. He said he once fended off a knife attack and was punched in the stomach, but such acts of aggression were rare.
When he reached his 80s, he began to agonize about who could continue his work after he died. "Every priest I know has to be in church on Sunday," he said several years ago.
He had no successor. Those who observed his street ministry said he had no peers. "He was a true man of God," said Willie Jordan of the Fred Jordan Missions; the sidewalk outside their skid row facility was where Chase's beneficiaries gathered every week. In his honor, Jordan plans to hand out dollar bills to the 700 or 800 homeless people expected Thursday for the annual Thanksgiving meal.
"We want everyone to remember him," Jordan said. "I dare say we will not see his kind again."
Chase is survived by two sisters and 14 nieces and nephews.
A memorial service in Los Angeles is being planned.
---
Must-read stories from the L.A. Times
Get all the day's most vital news with our Today's Headlines newsletter, sent every weekday morning.
You may occasionally receive promotional content from the Los Angeles Times.