A.C. Lyles dies at 95; producer and popular Paramount lot figure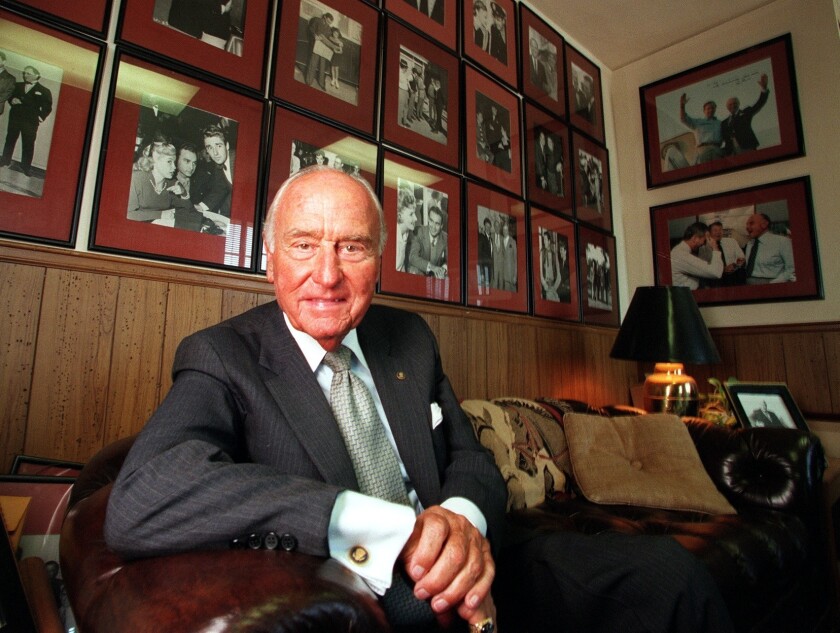 A.C. Lyles' Paramount career began early in one century and ended well into the next.
His unrivaled affiliation with the studio began in 1928 in his Florida hometown when a silent film he saw at a Paramount-owned theater inspired him to ask for a job. At age 10, he was hired to hand out fliers.
As a movie-struck teenager, he bought a one-way ticket to Hollywood in the late 1930s, knocked on the studio's famous gates and was put to work in the mailroom. He became a studio publicist and by the late 1950s rose to producer.
As the decades passed, Lyles became famous for his longevity at Paramount, marking 85 years at the studio in May. He eventually functioned as an unofficial goodwill ambassador, representing the studio at various events, where he might regale guests with first-hand recollections of such Hollywood legends as Mae West, W.C. Fields and Steve McQueen.
Lyles, who still maintained an office on the Paramount lot, died Friday night at his home in Bel-Air, said his wife, Martha Lyles. He was 95 and had been in declining health in the last year.
"His history in the movie business is certainly unique," Sherry Lansing, then chairman of Paramount's motion picture division, told The Times in 1998. "There's nobody I met who doesn't love him, and there are very few people I've met who don't know him."
He was a walking repository of Hollywood history, much of it his own. He once counted Ronald Reagan and James Cagney among his best friends.
The gentlemanly and gregarious Lyles, deeply tanned and typically clad in an immaculate suit and crisp white shirt, was the last link on the lot to Paramount's golden era and to such stars as Gary Cooper, Bing Crosby, Barbara Stanwyck and Dorothy Lamour.
As Lyles often put it, he "had the shortest resume in Hollywood history."
At Paramount, he was once an office boy for studio founders Adolph Zukor and Cecil B. DeMille.
"Looking back on those two giants of Hollywood, I know how fortunate I was to be sort of adopted by them," Lyles told The Times in May.
Eventually he handled publicity for more than 70 films at the studio and made his debut as a producer on the only feature that Cagney directed, the 1957 crime drama "Short Cut to Hell."
"It was a little gangster picture," Lyles had said. "He wouldn't accept any money for doing it."
Among western-film buffs, Lyles was best known for producing a string of low-budget westerns in the 1960s that included "Young Fury," starring Rory Calhoun and Virginia Mayo, and "Waco" with Howard Keel and Jane Russell.
As of 2006 – the year he turned 88 – Lyles was still active in Hollywood, serving as a consulting producer on the HBO western series "Deadwood."
In later years, he was often interviewed for television documentaries chronicling the careers of Clara Bow, DeMille and Marlene Dietrich. And he was frequently called upon to deliver eulogies for such famous friends as Bob Hope and Donald O'Connor.
The walls of his large office on the fourth floor of the William S. Hart Building – once occupied by his friend Fred Astaire – were covered with framed photos of him with his celebrity friends.
Next to his large desk was a hand-cranked movie camera used on Paramount's Oscar-winning silent film "Wings," a World War I flying epic.
And therein lies the beginning of Lyles' Paramount story.
He was born Andrew Craddock Lyles Jr. on May 17, 1918, in Jacksonville, Fla. At 10, he found his future when his local theater screened "Wings" and he pluckily inquired about employment.
"I just fell in love with the movie," Lyles said in a 1998 Times interview.
After passing out advertisements for the theater, he became a pageboy, a job that included keeping track of doctors in the audience who were on call. At 14, he was promoted to usher.
When Zukor came to town for the opening of a Paramount film, young Lyles made a point of introducing himself.
"I said, 'Mr. Zukor, would you take me to Hollywood? I want to learn about making movies.' He said, 'Well, you are 14. You finish high school. Keep in touch.'"
Taking Zukor at his word, Lyles wrote the studio boss every Sunday for years.
When Paramount star Gary Cooper arrived to promote a movie, Lyles told the actor that he was writing weekly letters to Zukor and that he was certain the executive was expecting him in Hollywood after he graduated from high school, Lyles said during a 2001 salute to Cooper.
Cooper asked for paper and pencil and wrote: "Dear Mr. Zukor, I'm looking forward to A.C. Lyles being with us out at the studio." Lyles included the note in his next letter to Zukor.
He finally heard from Zukor's secretary, who said: "Mr. Zukor's been getting your letters every week. However, he thinks you don't have to write every Sunday."
When Lyles finally arrived in Hollywood, he told the guard at the studio gate that Zukor was expecting him.
"Mr. Zukor remembered me," Lyles said in The Times interview. "A young kid was going on vacation, so they put me right in the mail room, but I was assigned to Mr. Zukor's office to run errands and take visitors around."
Lyles was new to the studio when he noticed that Bing Crosby regularly rode around the lot on a bicycle singing. Lyles often followed him.
"One day ... I was so interested in hearing him singing, I hit him," Lyles said. "We were both on the pavement. I didn't know if I killed him or what. He said, 'Kid, what didn't you like? The song or the singer?'"
After serving as an Army Air Forces public relations officer during World War II Lyles was briefly married to actress Martha Vickers in the late 1940s. When he married his second wife, Martha, in 1955, the Cagneys and the Reagans were at the ceremony.
Lyles later produced a few TV movies and was executive producer of NBC's "Here's Boomer," an early 1980s adventure series about a stray dog.
In 1988, Lyles tapped his political connections to produce a one-hour special for ABC, "Conversations With the Presidents," in which groups of children interviewed former Presidents Ford and Carter and then-President Reagan.
During Reagan's presidency Lyles served as an advisor on private sector initiatives. In that role, he regularly attended White House meetings with the president.
For both the Reagan and George H.W. Bush administrations, Lyles acted as a Hollywood liaison, lining up celebrities to entertain at the White House and other presidential functions.
At Paramount, Lyles was famed for his fastidious dress: He wore a suit and tie to work every day, which over the years made him increasingly unique as the studio lot became a more casual place. "He was known as the best dressed man in Hollywood," Martha Lyles said Monday. "Everything had to be perfect – and it was."
Paramount eventually named a building on the lot after Lyles, who remained smitten with his chosen career.
"I get the same thrill coming on the Paramount lot as I did the first day I came here," he said during his 70th year in the business. "I grew up here. I feel like this is my home. When people say, 'Who owns Paramount?' I'm tempted to say, 'I do.'"
Lyles is survived by his wife and by his niece Wendy Johnsen.
McLellan is a former Times staff writer.
Times staff writer Daniel Miller contributed to this report.
---
Must-read stories from the L.A. Times
Get all the day's most vital news with our Today's Headlines newsletter, sent every weekday morning.
You may occasionally receive promotional content from the Los Angeles Times.