Albert Finney, star of 'Tom Jones' and 'Erin Brockovich,' dies at 82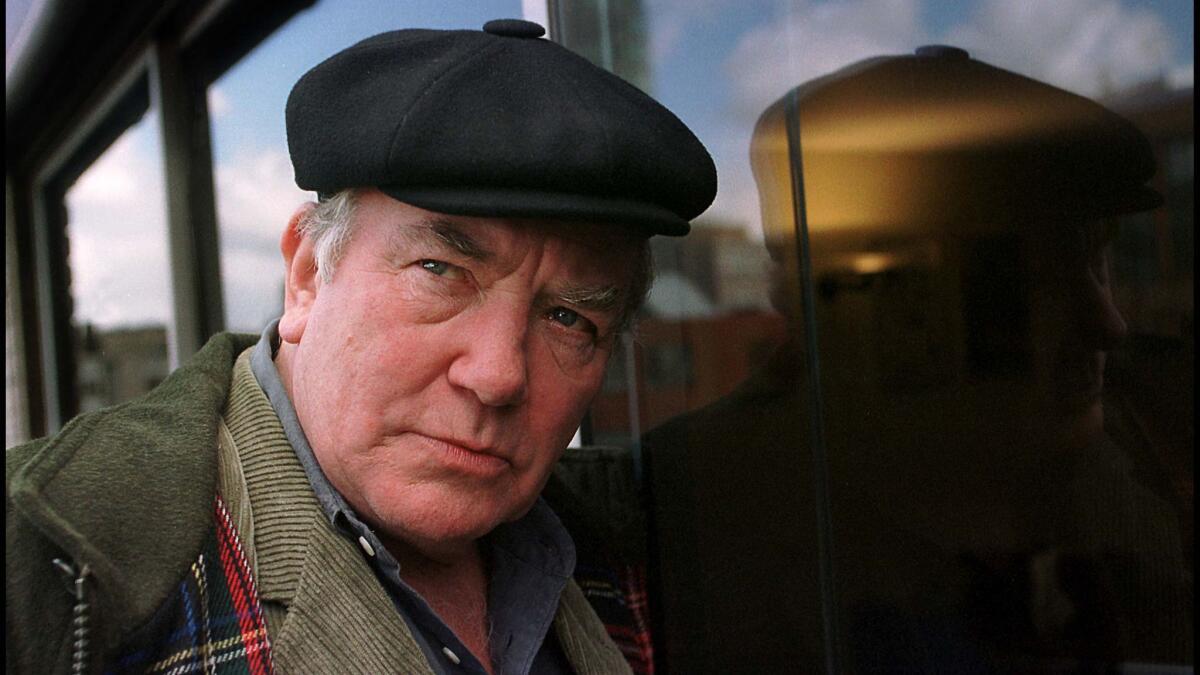 Reporting from London —
Albert Finney, one of the most respected and versatile actors of his generation and the star of films as diverse as "Tom Jones" and "Skyfall," has died. He was 82.
From his early days as a strikingly handsome and magnetic screen presence to his closing acts as a brilliant character actor, Finney was a British treasure known for charismatic work on both stage and screen.
Finney's family said Friday that he "passed away peacefully after a short illness with those closest to him by his side." He died Thursday from a chest infection at the Royal Marsden Hospital in London, a cancer treatment center.
Finney burst to international fame in 1963 in the title role of "Tom Jones," playing a lusty, humorous rogue who captivated audiences with his charming, devil-may-care antics.
He excelled in many other roles, including "Saturday Night and Sunday Morning," a 1960 drama that was part of the "angry young man" film trend.
Finney was a rare star who managed to avoid the Hollywood limelight despite more than five decades of worldwide fame. He was known for skipping awards ceremonies, even when he was nominated for an Oscar.
"Tom Jones" gained him the first of five Academy Award nominations. Other nominations followed for "Murder on the Orient Express," ''The Dresser," ''Under the Volcano" and "Erin Brockovich." Each time he fell short.
In later years he brought authority to big-budget and high-grossing action movies, including the James Bond thriller "Skyfall" and two of the Jason Bourne films. He also won hearts as Daddy Warbucks in "Annie."
He played an array of roles, including Winston Churchill, Pope John Paul II, a southern American lawyer and an Irish gangster. There was no "Albert Finney"-type character that he returned to again and again.
In one of his final roles, as the gruff Scotsman Kincade in "Skyfall," he shared significant screen time with Daniel Craig as Bond and Judi Dench as M, turning the film's final scenes into a master class of character acting.
"The world has lost a giant," Craig said on learning of his former costar's death.
The world has lost a giant
— Daniel Craig
Although Finney rarely discussed his personal life, he told the Manchester Evening News in 2012 that he had been treated for kidney cancer for five years, undergoing surgery and chemotherapy.
He also explained why he had not attended the Academy Awards in Los Angeles even when he was nominated for the film world's top prize.
"It seems silly to go over there and beg for an award," he told the paper.
The son of a bookmaker, Finney was born May 9, 1936, and grew up in northern England on the outskirts of Manchester. He took to the stage at an early age, doing a number of school plays and — despite his lack of connections and his working-class roots — earning a place at London's prestigious Royal Academy of Dramatic Arts.
He credited the headmaster of his local school, Eric Simms, for recommending that he attend the renowned drama school.
"He's the reason I am an actor," Finney said in 2012.
Finney made his first professional turn at 19 and appeared in several TV movies, including "She Stoops to Conquer" in 1956 and "The Claverdon Road Job" the following year.
Soon some critics were hailing him as "the next Laurence Olivier," a commanding presence who would light up the British stage. Britain's preeminent theater critic, Kenneth Tynan, called the Finney a "smoldering young Spencer Tracy" and warned established star Richard Burton about his prowess. In London, Finney excelled both in Shakespeare's plays and in more contemporary offerings.
Still, the young man seemed determined not to pursue conventional Hollywood stardom. After an extensive screen test, he turned down the chance to play the title role in director David Lean's epic "Lawrence of Arabia," clearing the way for fellow Royal Academy graduate Peter O'Toole to take what became a career-defining role.
But stardom came to Finney anyway in "Tom Jones," in which he won over audiences worldwide with his good-natured, funny and sensual portrayal of an 18th century English rogue.
That was the role that introduced Finney to American audiences, and few would forget the lusty, blue-eyed leading man who helped the film win a best picture Oscar. Finney also earned his first lead actor nomination for his performance, and the smash hit turned him into a Hollywood leading man.
Director Tony Richardson said his goal for "Tom Jones" was simply to produce an enjoyable romp.
"No social significance for once," he said. "No contemporary problems to lay bare. Just a lot of colorful, sexy fun."
Finney had the good fortune to receive a healthy percentage of the profits from the surprise hit, giving him financial security while he was still in his 20s.
"This is a man from very humble origins who became rich when he was very young," said Quentin Falk, author of an unauthorized biography of Finney. "It brought him a lot of side benefits. He's a man who likes to live as well as to act. He enjoys his fine wine and cigars. He's his own man, I find that rather admirable."
The actor maintained a healthy skepticism about the British establishment and even turned down a knighthood when it was offered, declining to become "Sir Albert." Finney once said he did not believe in such honors.
"Maybe people in America think being a 'sir' is a big deal," he said. "But I think we should all be 'misters' together. I think the 'sir' thing slightly perpetuates one of our diseases in England, which is snobbery. And it also helps keep us 'quaint,' which I'm not a great fan of."
Instead of cashing in by taking lucrative film roles after "Tom Jones," Finney took a long sabbatical, traveling slowly through the United States, Mexico and the Pacific islands, then returned to the London stage to act in Shakespeare productions and other plays. He won wide acclaim and many awards before returning to film in 1967 to costar with Audrey Hepburn in "Two for the Road."
This was to be a familiar pattern, with Finney alternating between film work and stage productions in London and New York.
Finney tackled Charles Dickens in "Scrooge" in 1970, then played Agatha Christie's super-sleuth Hercule Poirot in "Murder on the Orient Express" — earning his second lead actor Oscar nomination — and even played a werewolf hunter in the cult film "Wolfen" in 1981.
He earned more Oscar nominations for his roles in the searing marital drama "Shoot the Moon" in 1982, costarring with Diane Keaton, and "The Dresser" in 1983. He was nominated again in 1984 for his role as a self-destructive alcoholic in director John Huston's "Under the Volcano."
Even during this extraordinary run of great roles, and his critically acclaimed television portrayal of the pope, Finney's life was not chronicled in People or other magazines, although the British media were fascinated with his marriage to the sultry French film star Anouk Aimée.
He played in a series of smaller, independent films for a number of years before returning to prominence in 2000 as a Southern U.S. lawyer in the film "Erin Brockovich," which starred Julia Roberts. The film helped introduce Finney to a new generation of moviegoers, and the chemistry between the aging lawyer and his young, aggressive assistant earned him yet another Oscar nomination, this time for supporting actor.
His work also helped propel Roberts to her first lead actress Oscar. Still, Finney declined to attend the Academy Awards ceremony — possibly damaging his chances at future wins by snubbing Hollywood's elite.
He went on to star in director Tim Burton's "Big Fish" and portrayed Britain's wartime leader Winston Churchill in "The Gathering Storm."
Finney also tried his hand at directing and producing and played a vital role in sustaining British theater.
The Old Vic theater in London said his "performances in plays by Shakespeare, Chekhov and other iconic playwrights throughout the '60s, '70s and '80s stand apart as some of the greatest in our 200-year history."
Finney is survived by his third wife, Pene Delmage, son Simon and two grandchildren.
Katz writes for the Associated Press.
Billionaire Ross Perot blazed across America in the 1990s as a third-party presidential candidate and won nearly 19% of the popular vote in the 1992 election, finishing third behind Democrat Bill Clinton and Republican President George H.W. Bush. The diminutive Texan was an early tech entrepreneur who founded Electronic Data Systems, a computer services company, in 1962 with $1,000 in savings. He was 89.
(Peter Muhly / AFP/Getty Images)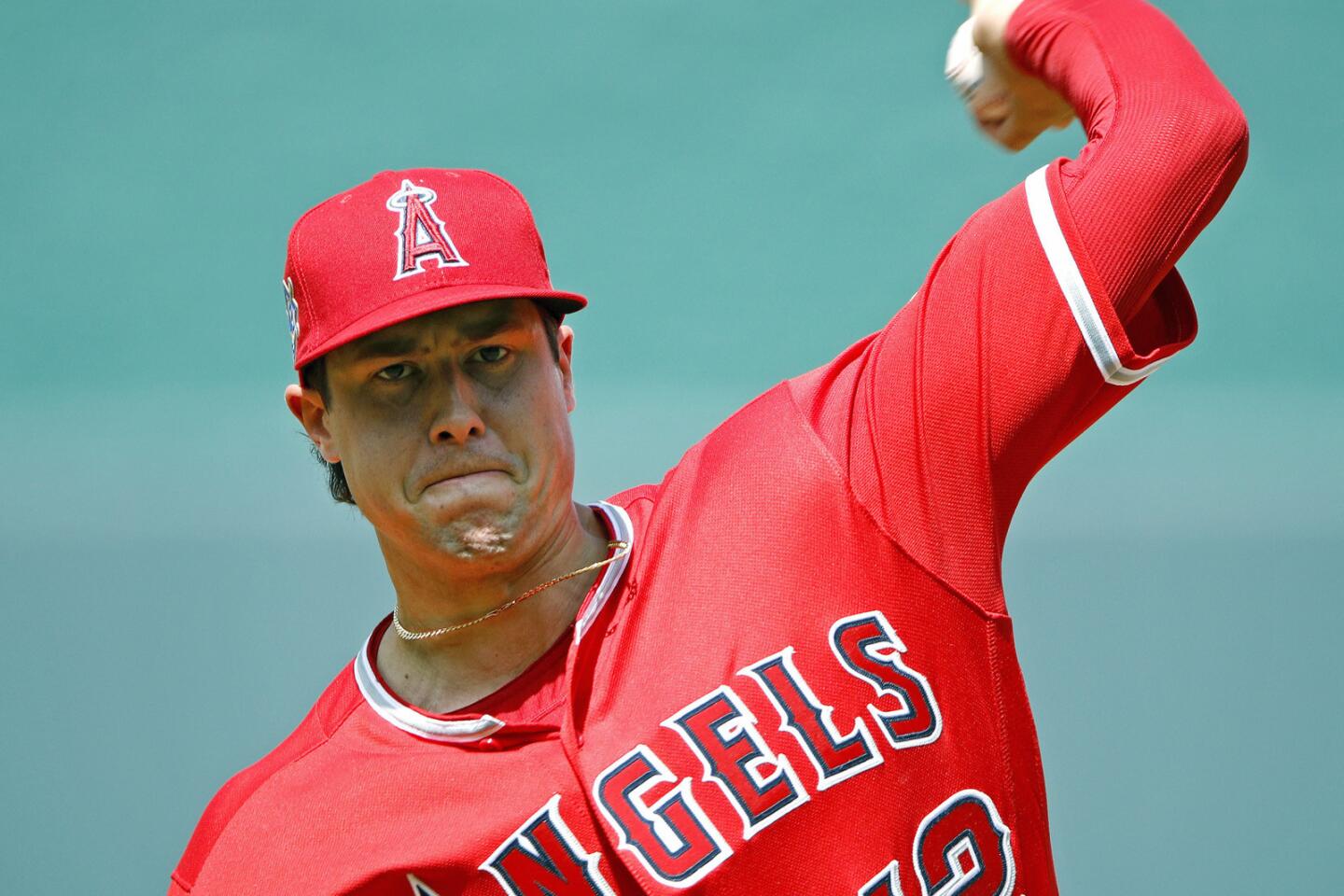 Pitcher Tyler Skaggs grew up an Angels fan in Santa Monica and joined the organization as a first-round draft pick. He battled injuries throughout his career but started 24 games last season and showed signs of dominance this year. He was 27.
(Charlie Riedel / AP)
Judith Krantz wrote blockbuster romance novels including "Scruples" and "Princess Daisy" that sold more than 80 million copies worldwide. Her books have been translated into more than 50 languages, and seven have been adapted as TV miniseries, with her late husband, Steve Krantz, serving as executive producer for most. She was 91.
(Aaron Rapoport / Getty Images)
Italian director Franco Zeffirelli was best-known for his films, including the 1968 critical and box office hit "Romeo and Juliet" and a 1990 "Hamlet" with Mel Gibson. His massive opera productions included a version of Puccini's "La Boheme" that became the most-often presented production in the Metropolitan Opera's history. He was 96.
(Paolo Cocco / AFP/Getty Images)
Danish-born socialite Claus von Bulow, left, shown with attorney Alan Dershowitz in April 1985, was convicted in 1982 and then acquitted three years later on two counts of attempting to murder his American heiress wife, Sunny, with injections of insulin. The high-profile case has been called one of the most sensational courtroom dramas in modern U.S. history. He was 92.
(Charles Krupa / AP)
Herman Wouk explored the moral fallout of World War II in the Pulitzer Prize-winning "The Caine Mutiny" (1951) and other widely read books. Determined to produce a "great war book," Wouk wrote "The Winds of War" and its sequel, "War and Remembrance," in the 1970s, and the two sweeping novels became the basis for a pair of television miniseries. He was 103.
(Douglas L Benc Jr / AP)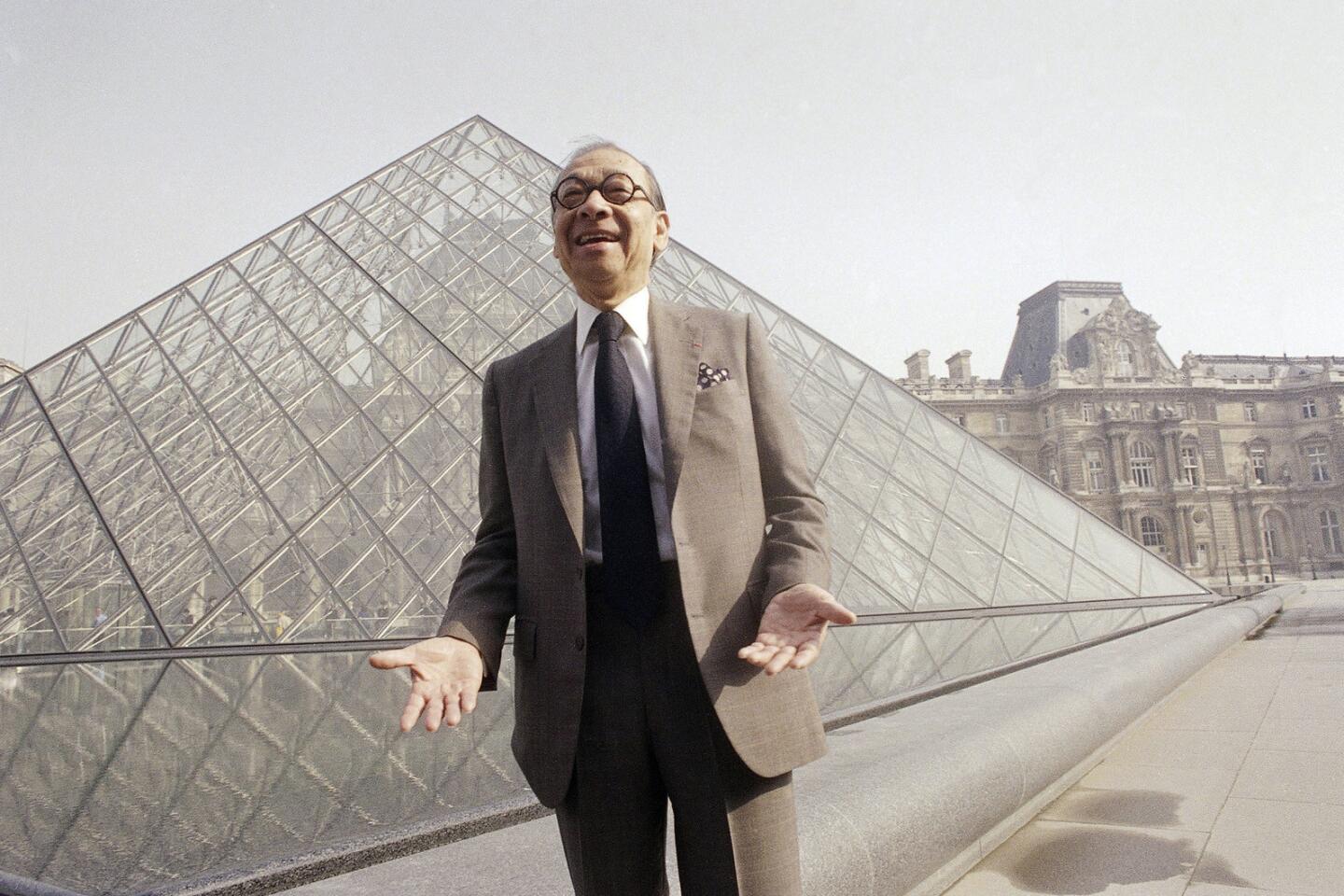 Architect I.M. Pei had a client list that included French President Francois Mitterrand for the Louvre and Jacqueline Kennedy Onassis for the John Fitzgerald Kennedy Library in Boston. Among several Pei projects in the Los Angeles area are the former Creative Artists Agency headquarters in Beverly Hills and the Ronald Reagan UCLA Medical Center. He was 102.
(Pierre Gleizes / AP Photo)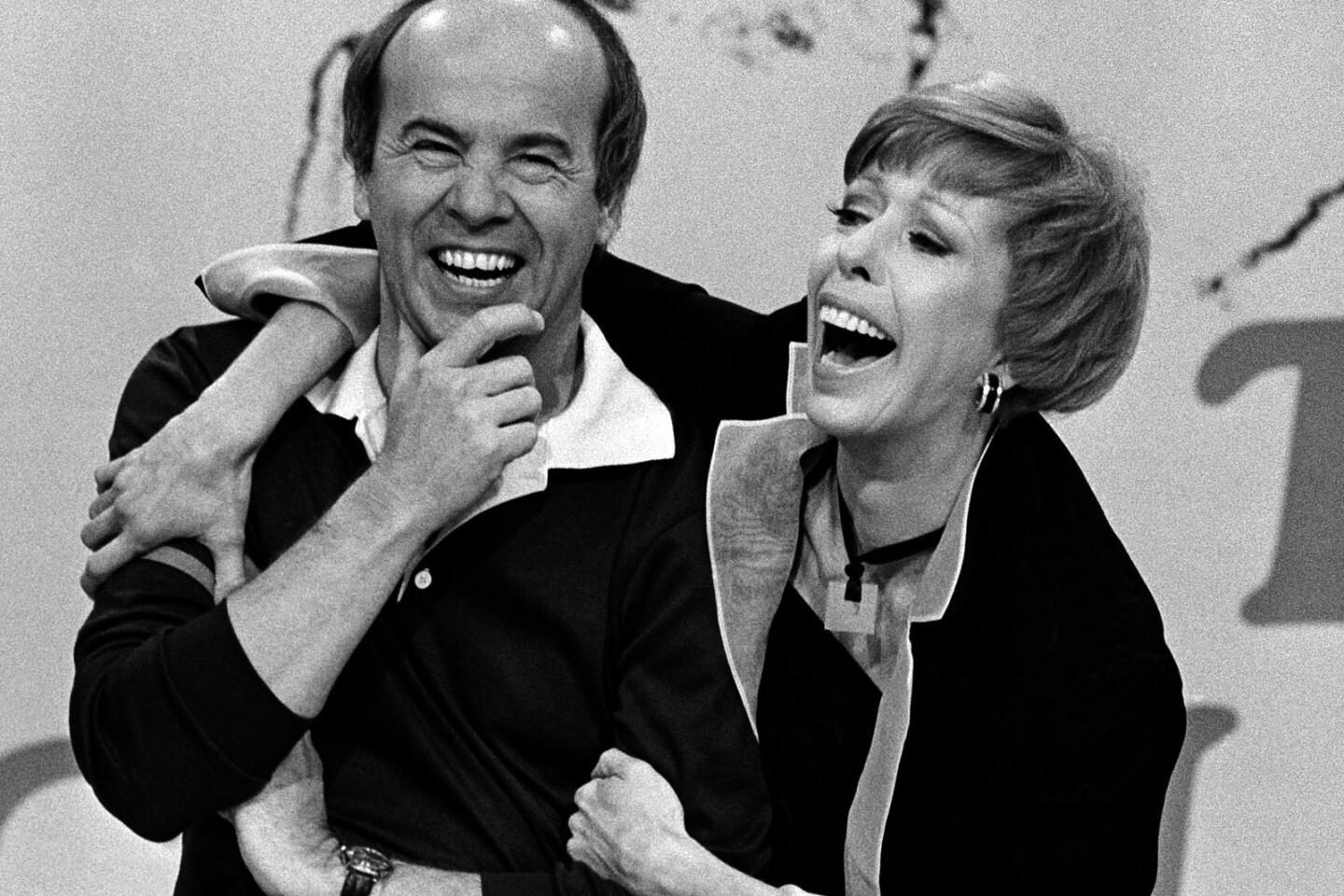 Tim Conway came to prominence on television as a bumbling ensign in "McHale's Navy" opposite Ernest Borgnine from 1962 to 1966, then became a regular on "The Carol Burnett Show," where he famously developed a knack for making costar Harvey Korman crack up. He also starred in the "Apple Dumpling Gang" movies in the 1970s and gained fame with a new generation as the voice of Barnacle Boy on "SpongeBob SquarePants." He was 85.
(George Brich / AP)
John Singleton's 1991 debut, "Boyz n the Hood," was an inner-city coming-of-age story that earned two Oscar nominations and put the young filmmaker in the company of emerging black moviemakers such as Spike Lee and Mario Van Peebles. Singleton went on to direct "Poetic Justice" (1993), "Higher Learning" (1995) and "Baby Boy" (2001), which featured Taraji P. Henson at the start of her career. He was 51.
(Christopher Polk / AFP/Getty Images)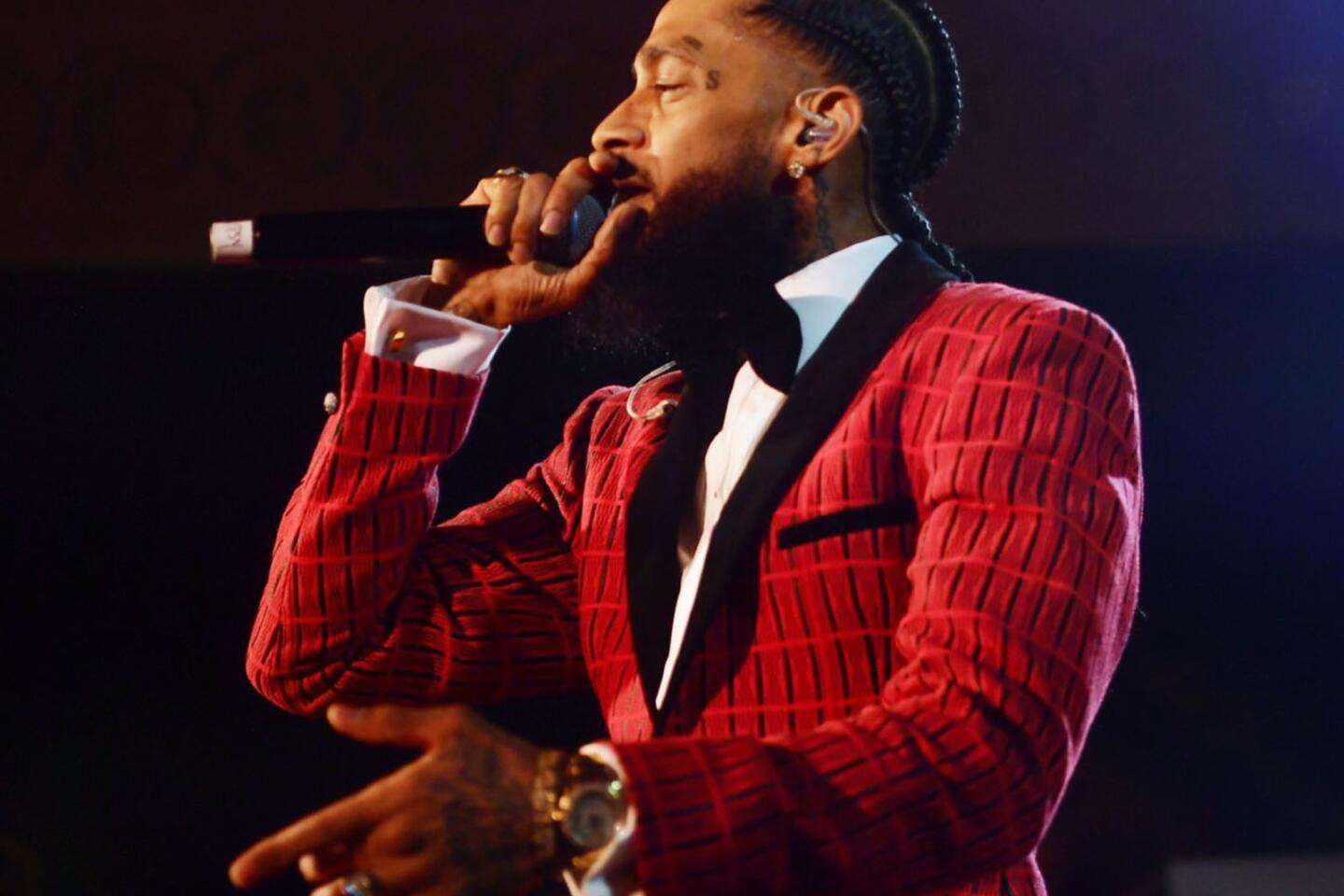 Grammy-nominated rapper Nipsey Hussle was gunned down outside his Marathon Clothing store in the same South L.A. neighborhood where he was known as much for his civic work as he was for his hip-hop music. He was 33.
(Matt Winkelmeyer / Getty Images for Warner Music)
Sidney Sheinberg, right, with Steven Spielberg and Lea Adler, Spielberg's mother, at a 1994 Beverly Hilton gala.
(Shepler, Lori / Los Angeles Times)
Jan-Michael Vincent was a golden boy of 1970s Hollywood action films and went on to star in the mid-1980s TV adventure series "Airwolf." But his erratic behavior and cocaine consumption was a major reason "Airwolf" was canceled. He was 74 by most accounts, but the death certificate listed him as 73.
(Alex Garcia / Los Angeles Times)
Sitcom star Katherine Helmond had memorable roles as ditzy matriarchs in "Soap," "Who's the Boss?" and "Coach." Her work as Jessica Tate on the 1970s parody "Soap" earned her seven Emmy nominations, and she was nominated again in 2002 for her guest role in "Everybody Loves Raymond." Helmond also starred in director Terry Gilliam's films "Brazil" and "Time Bandits." She was 89.
(Chuck Burton / AP)
André Previn conquered L.A. with his artistic genius twice: first as an Academy Award winning composer of Hollywood movie music, then as music director of the Los Angeles Philharmonic. A conductor and pianist who toggled between classical, pop and jazz, Previn won Oscars for "My Fair Lady" (1964), "Irma la Douce" (1963), "Gigi" (1958) and "Porgy and Bess" (1959). He was 89.
(Patrick Downs/ Los Angeles Times)
Dodgers right-hander Don Newcombe was the first outstanding African American pitcher in the major leagues and in 1949 became the first to start a World Series game. The 6-foot-4, 240-pound hurler was also the first player in major league history to have won the rookie of the year, Most Valuable Player and Cy Young awards. He was 92.
(Luis Sinco / Los Angeles Times)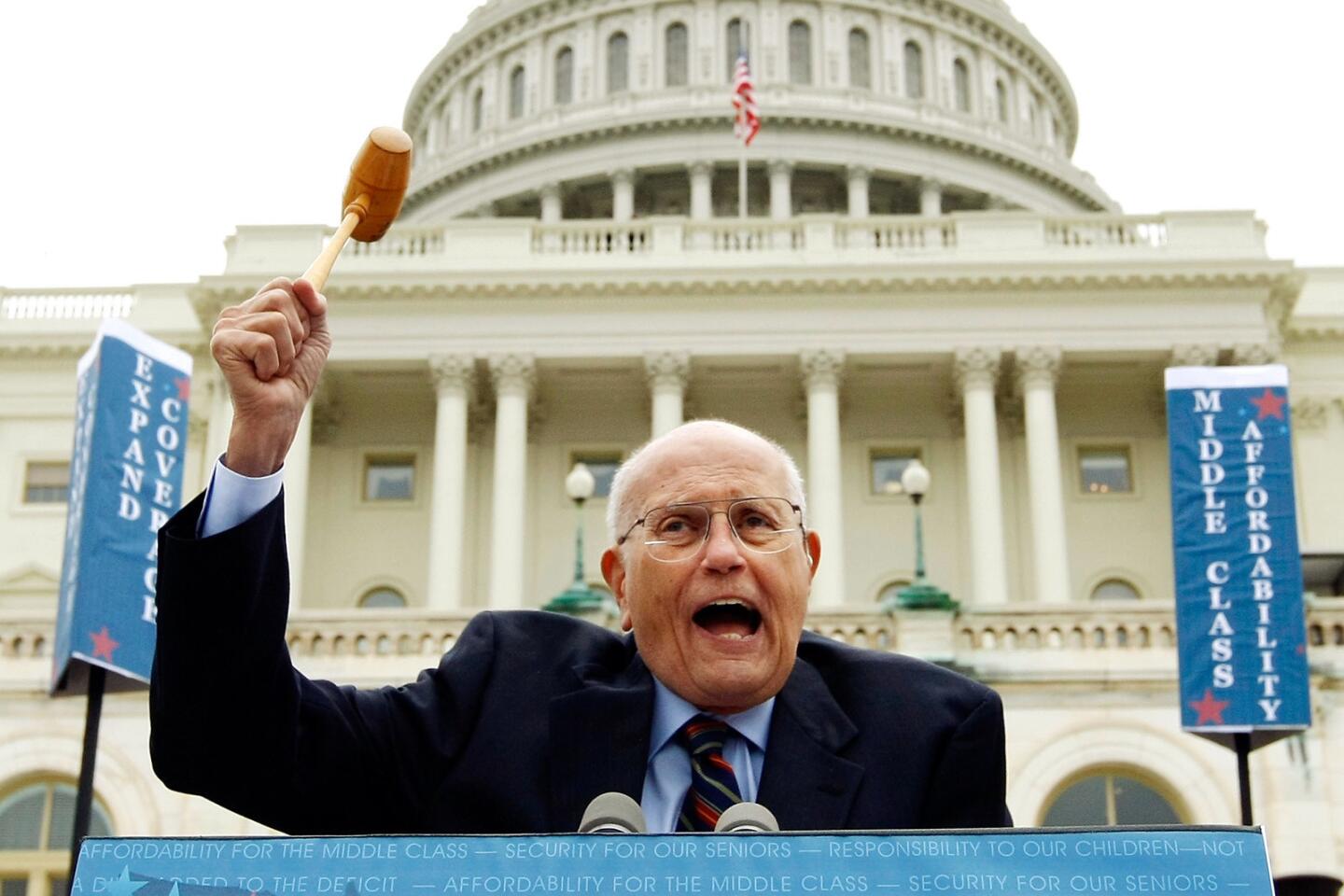 Michigan Democrat John Dingell Jr. used his considerable power in the House of Representatives to uncover government fraud and defend the interests of the automobile industry. Known as "Big John" and "The Truck" for his forceful nature and 6-foot-3-inch frame, Dingell was the longest-serving member of Congress in U.S. history. He was 92.
(Win McNamee / Getty Images)
Albert Finney starred in films as diverse as "Tom Jones," "Annie" and "Skyfall." One of the most versatile actors of his generation, he played an array of roles, including Winston Churchill, Pope John Paul II, a southern American lawyer and an Irish gangster. He was 82.
(Graham Barclay / For The Times)
Michelle King was the first African American woman to lead Los Angeles Unified School District. Her major accomplishment was pushing the graduation rate to record levels by allowing students to quickly make up credits for failed classes. She was 57.
(Al Seib / Los Angeles Times)
Grammy-winning singer and songwriter James Ingram topped the charts in the '80s with hits like "Baby, Come to Me" and "Somewhere Out There." He also co-wrote the Michael Jackson hit "P.Y.T. (Pretty Young Thing)." He was 66.
(Stefano Paltera / AP)
Emmy Award-winning writer Bob Einstein was best known as stuntman Super Dave Osborne, whose feats always went wrong. The comedy veteran got his start writing for 1970s variety shows such as "The Smothers Brothers Comedy Hour," and he later played Larry David's devout friend Marty Funkhouser on HBO's "Curb Your Enthusiasm." He was 76.
(Archive Photos / Getty Images)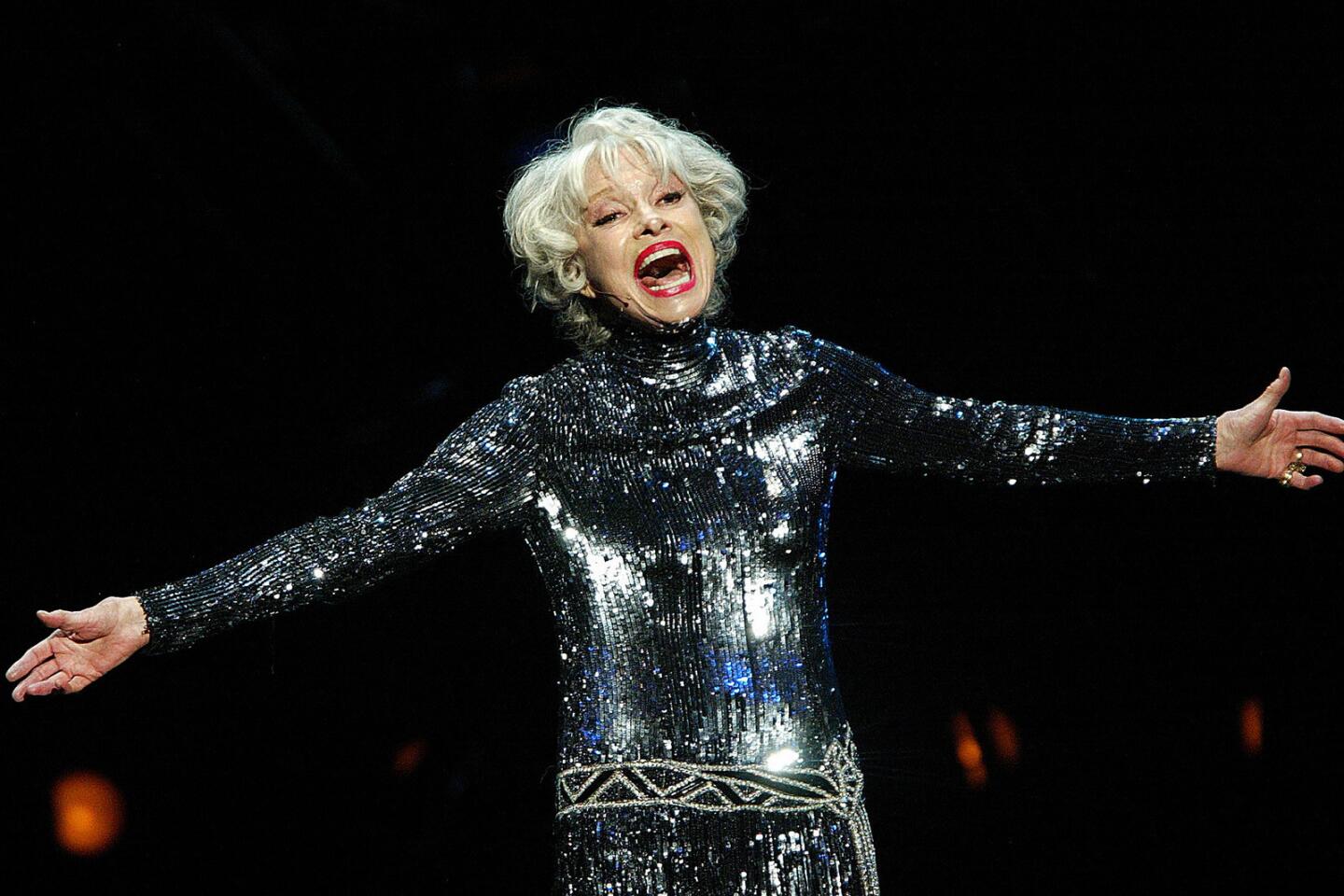 Carol Channing was a Broadway star best known for her enduring portrayal of the title character in the musical "Hello, Dolly!" A winner of three Tony Awards, including one for lifetime achievement, she appeared in the play at least 5,000 times. She was 97.
(Frederick M. Brown/Getty Images / Frederick M. Brown/Getty Images)
Mary Oliver, one of the country's most popular poets, focused on spirituality, nature and New England. Her poems won the Pulitzer Prize in 1984 and the National Book Award in 1992. She was 83.
(Josh Reynolds / For the Times)
Herb Kelleher built Southwest Airlines into the biggest discount carrier and set the standard for budget air travel for more than three decades. He and co-founder Rollin King used a formula of short, no-frills trips that spawned dozens of imitators. He was 87.
(Ed Betz / AP)
Sign up for Essential California for the L.A. Times biggest news, features and recommendations in your inbox six days a week.
You may occasionally receive promotional content from the Los Angeles Times.