Andre Cassagnes dies at 86; Etch A Sketch inventor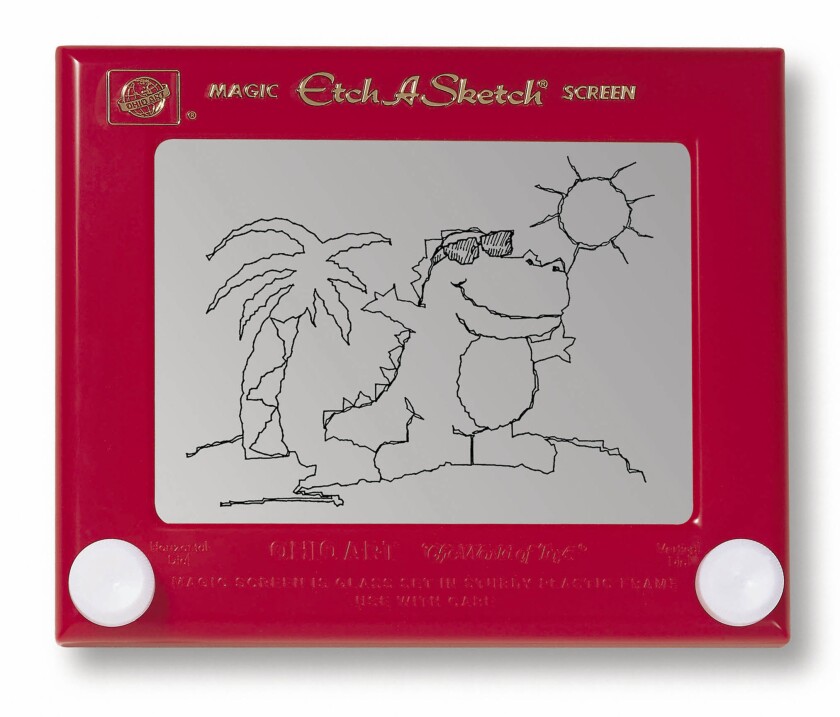 Invented in Paris in the late 1950s, the mechanical drawing toy that would eventually be marketed as "the world's first laptop" became wildly popular soon after an Ohio company introduced it under a new name: Etch A Sketch.
French electrician Andre Cassagnes stumbled upon the concept for what he called the "Telecran" — or telescreen — while peeling a decal from a switch plate and noticing how his pencil marks had transferred from one surface to another.
After an Ohio Art Co. executive discovered it at the 1959 Nuremberg Toy Fair, he bought the rights for $25,000 and launched it in time to become the best-selling toy of the 1960 holiday season.
PHOTOS: Notable deaths of 2013
Cassagnes, who was also a noted kite designer, died Jan. 16 in a Paris suburb, the Toy Industry Assn. announced. A cause was not given. He was 86.
Named one of the top 100 toys of the 20th century by the New York-based toy association, Etch A Sketch appears on the list with such other classics as the Duncan yo-yo, the Barbie doll, Silly Putty and Mr. Potato Head.
The drawing device is fondly recalled by baby boomers and their offspring, who were captivated by the ability to doodle on the flat silver screen as if by magic.
Yet the science behind his invention is relatively simple, based on the fact that an electrostatic charge could hold aluminum powder to glass.
Cassagnes — pronounced "kah-sahn-YEH" — developed the toy with that in mind and designed it to look like a television set. Instead of the now-familiar knobs, he used a joystick to erase the aluminum powder from the glass screen, enabling the user to draw.
Since he couldn't afford to pay for a patent, he borrowed money from an investor who sent his treasurer, Arthur Granjean, to complete the paperwork. But Granjean's name ended up on the patent, helping to obscure Cassagnes' role. When the New York-based National Toy Hall of Fame inducted Etch A Sketch in 1998, it wrongly listed Granjean as the toy's creator.
An official history on Ohio Art's website gives Cassagnes credit for the invention.
"Etch A Sketch has brought much success to the Ohio Art Company, and we will be eternally grateful to Andre," company President Larry Killgallon said in a statement released after Cassagnes' death. "His invention brought joy to many over such a long period of time."
As of 2010 a total of 150 million units of various models of Etch A Sketch had been sold, the Toledo Blade reported that year.
Working with Ohio Art's chief engineer, Cassagnes helped refine the Etch A Sketch before the first one rolled off the production line on July 12, 1960.
A small bar with a point that touches the back of the screen is attached to two metal bars, one horizontal and one vertical, that are moved by nylon strings attached to knobs on the front of the toy. A small ball erases the silver dust, which is actually aluminum powder, creating a black line that can be sent zipping around the screen.
The drawing apparatus reflected a fascination with geometric patterns, which was apparent in the complex kites Cassagnes later created that made him "the most famous kitemaker in France," according to a 1992 article in Kite Lines magazine.
"Mentally, he was into designs involving the X and Y axis," Ohio Art Chairman Bill Killgallon told the Toledo Blade in 2010. "That's one of the reasons he was able to invent the Etch A Sketch."
Born near Paris on Sept. 23, 1926, he grew up in the southern suburbs of the French capital and lived much of his life there.
At 18, he took a job at his family's bakery, but a flour allergy forced him to find other work.
He became an assistant electrician at a small French company that made artificial seat and picture frame coverings in a production process that included aluminum powder. Cassagnes worked at the factory, which was eventually sold to a major French chemical group, until he retired in 1987.
Inspired by the sight of a kite flying at the Normandy seaside, Cassagnes bought his first kite — a long Mylar serpent — at age 50. After reading a few how-to books, he began designing elaborate kites, according to Kite Lines, that "almost never followed any existing plans."
With his wife, Renee, he had three children, Sophie, Patrick and Jean Claude.
---
Must-read stories from the L.A. Times
Get all the day's most vital news with our Today's Headlines newsletter, sent every weekday morning.
You may occasionally receive promotional content from the Los Angeles Times.